15 Essential Pre-Camp Childish Gambino Songs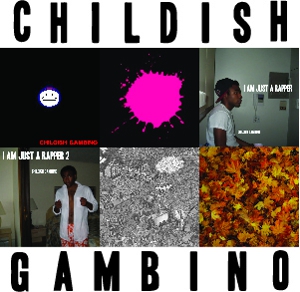 Page 1 of 2
Childish Gambino's first official album may have dropped yesterday, but the rapper has released a series of impressive mixtapes and free downloadable albums plus countless miscellaneous songs and covers since starting his impressive rap career in 2008. We take a look at his 15 best songs from the pre-Camp era.
15. "New Prince" – I AM JUST A RAPPER
I ain't got no jewelry, I leave it at the pawn shop
Two of your chains equals one of my shirts, sir
You got Jacob's Jeweler, I got Anna Wintour
The whole idea behind the I AM JUST A RAPPER mixtapes released in close succession in 2010 was to take indie rock songs, remix them and rap over the beat. The first song on these mixtapes, "New Prince," incorporates Sleigh Bells' "Crown On the Ground" chorus and infectious guitar riffs.
14. "Almost There" – Poindexter
My biggest fear is that you won't give a fuck
When you play this song on your MacBook
"Is that CG? Yo, he is old news
I'm way too busy with my new dude"
Poindexter, Gambino's second album released in Sept. 2009 was chock full of well-written songs, but it was obvious he was still working out his style. "Almost There" is a prime example of pre-Camp and more importantly before his partnership with composer Ludwig Göransson.
13. "What The Fuck Are You?" – I AM JUST A RAPPER 2
My face is broken out
My shirt is hand-me-down
This kid named Vincent wanna take my shit and lay me out
A few months after the first JUST A RAPPER dropped, Gambino quickly released a follow-up. This song, with music by The Knife, might be the best one off of that mixtape. One of the reoccurring themes throughout Childish's career is discussing the childhood bullying he received by Vincent, which this song not-so-subtly references.
12. "Easy" – Sick Boi
Sick boys don't die
They're fresh to death
This is the first introduction to Donald Glover's rap career as CG. The opening track from 2008's Sick Boi features his nerdy rap style, but doesn't focus on the duality of his life that later tracks often do. The beat sounds more like a Lupe Fiasco (who he name drops) song, but somehow Gambino manages to make it vastly different that an Lupe track.
11. "Fuck It All" – Culdesac
Ex-girlfriend on my mind, she really fucked me up
Doing shots of whiskey 'til my friends are saying that's enough
I really, really miss her, sometimes I wanna fuck it all
Mix some warm Guinness with 20 tablets of Tylenol
"Fuck It All" is one of the Glover's most underrated songs. The lyrics basically lay out that he knows life is short and it's time to have fun. While the first verse is quite a down note, he changes course later in the song and he questions why, considering he's so good at it, rapping is just a hobby. He answers: "Oh that's right, because I'm gifted in another field, and another field, and another field." That would be acting, stand-up and writing for 30 Rock.
10. "Rolling In The Deep (Jamie xx Remix)" – single
I'm saying that my life's swell, Cortazone
Fuck Macaulay Culkin, never goin' home alone
iPhone photos, show 'em just to mock you
Read your Twitter messages, too proud to block you
Spread shit around: "You know that his glasses fake"
That's why I'm dating girls now who asses ain't
The first half of this song is the Jamie xx remix that implements Adele's voice as well as a deeper male's jazz voice. Live performances use John Legend's vocals before Childish comes in with a vengeance halfway through the song. It's a rebuttal to a girl who obviously did him wrong; at the end of his short, but impactful rap, he tells the girl he is addressing that she's the childish one, not him.

9. "Bitch Look At Me Now" – I AM JUST A RAPPER
Sick boy I make moves like a chess piece
And I move real quick like Nestle
Let me make it clear for a second like Pepsi
I was never worried 'bout my wallet being empty
While using the catchy pop piano riff from Grizzly Bear's "Two Weeks" Gambino manages to throw in countless pop-culture references including everything from Will Smith in Hitch to being childish like Maggie Simpson. It's the epitome of what the JUST A RAPPER mixtapes were supposed to do: mix indie culture with the rap culture.
Others Tagged With