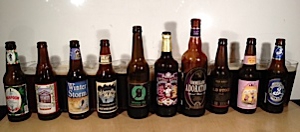 Winter may still be more than a month away, but try telling that to your local craft-beer store (unless you don't have a local craft-beer store, in which case you have my deepest sympathy). As squirrels pack their nests with chestnuts and acorns, November is a month for stocking up on old ales, strong lagers and winter warmers for those cold days ahead.
We picked 10 beers of various styles that claim to be made for winter (but not Christmas beers, an entirely different style which we'll be ranking this weekend). Eight Paste staff and interns voted on the selections with the help of beer expert Eric Johnson of Athens' Trappeze pub and Wild Heaven Craft Beers rattling off insight via speakerphone. Here, we count them down for you. (If your favorite winter beer is missing, let us know about them in the comments section below.)

10. Harpoon Winter Warmer
City: Boston
ABV: 6%
Style: Winter warmer
Key ingredient: Nutmeg
Perfect for: Fall football
The verdict: This winter warmer had more cinnamon and nutmeg than hops or malt, making it seem more akin to the pumpkin ales we tasted last month than its malty brethren. It's a style that harkens back to the wassail tradition before hops became the predominant source of flavor in beer.


9. New Belgium Snow Day Winter Ale
City: Fort Collins, Colo.
ABV: 8.7%
Style: American Black Ale
Key ingredients: Dark malts and three West Coast hops
Perfect for: A January work lunch
The verdict: Black IPAs using dark roasted malts and American hops are gaining traction among beer drinkers. This is good representation of that style, but the thinness and bitterness didn't measure up to some of the heftier ales we tasted.


8. Red Brick Old Stock
City: Atlanta
ABV: Unknown
Style: Old Stock Ale
Key ingredient: Bourbon barrels
Perfect for: A warm winter day
The verdict: The latest offering from one of our local breweries, Red Brick's Old Stock, part of the "Brick Mason" series is an homage to the reserve beers English breweries would age and blend with milder "young" ales to customers' tastes. This one, however, remains fairly mild itself, its bourbon flavor barely discernible.


7. Brooklyn Winter Ale
City: Brooklyn, N.Y.
ABV: 6%
Style: Scottish Ale
Key ingredients: English, Belgian and American malts
Perfect for: Building a gingerbread house
The verdict: Using only malts and hops, Brooklyn's Winter Ale still calls to mind holiday spices like nutmeg, cloves, allspice, cinnamon, and ginger, and has a viscous mouthfeel, making it a good replacement for eggnog.


6. Ommegang Adoration Special Winter Ale
City: Cooperstown, N.Y.
ABV: 10%
Style: Belgian Strong Dark Ale
Key ingredients: Mace and Grains of Paradise (Guinea Pepper)
Perfect for: Washing down fancy chocolates at Christmas or Valentine's.
The verdict: A hearty Belgian strong ale whose malt profile is completely overwhelmed by what Ommegang calls "a twist of unusual spices." They're not kidding with coriander, cardamom, mace, grains of paradise and sweet orange peel. It's a unique flavor that turned off several of our judges.


5. Heavy Seas Winter Storm Category 5 Ale
City: Baltimore, Md.
ABV: 7.5%
Style: Imperial ESB
Key ingredient: English hops
Perfect for: Tuesday
The verdict:: It's called an Extra Special Bitter, but Heavy Seas gives equal airtime to both the sweet malts and bitter hops, making it an easy-drinking, well-balanced beer. This meant it was the first beer polished off in our tasting, even with an extra bottle opened.


4. Nøgne Ø Winter Ale
City: Grimstad, Norway
ABV: 8.5%
Style: Strong Dark Ale
Key ingredient: Local Grimstad water
Perfect for: Smoking a cigar with your gloves on
The verdict:: With a peat flavor that split our judges nearly in half, this Norwegian beer tastes like a blend of a Scotch ale and a Winter Warmer. Nothing mild about this one.


3. Bell's Hell Hath No Fury
City: Kalamazoo, Mich.
ABV: 7.7%
Style: Belgian Strong Dark Ale
Key ingredient: Belgian Yeast
Perfect for: Braving the windchill to grill a steak
The verdict:: "Gives you either sympathy for the devil or the courage to face him," proclaims the label, which also features an illustration of Lucifer cowering before a woman scorned. We're not sure what that has to do with the chocolaty goodness contained within.


2. Samuel Smith Winter Welcome
City: Tadcaster, North Yorkshire, England
ABV: 6%
Style: English Old Stock
Key ingredient: Subtle spices
Perfect for: Watching some footie on Boxing Day
The verdict:: This is what an English Old Stock should taste like. A few bottles of this traditional wassail will make any family feast a bit jollier—even if it includes black pudding.


1. Great Divide Hibernation
City: Denver
ABV: 8.7%
Style: English Style Old Ale
Key ingredient: Roasted malts
Perfect for: A cold night by the fireplace
The verdict:: The winner by a landslide, Hibernation has a clear hop profile, but it's matched by a burst of caramel and roasted malt flavors. Falling somewhere between an imperial brown and a Scotch ale, this flavorful, well-balanced creation is something special.

Others Tagged With