The 10 Best Sitcoms of 2011
If the last few years of television were all about the rise of reality, 2012 was marked by a resurgence of the sitcom. Just looking at some of the supporting cast members in the list below—Zach Galifianakis, Danny DeVito, Alec Baldwin, Rob Lowe and Chevy Chase—it's been a while since sitcoms have been this strong. Here are our 10 favorites of the bunch.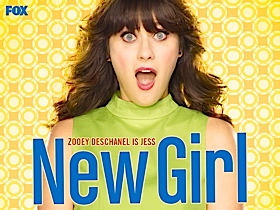 10. New Girl
Creator: Elizabeth Meriwether
Stars: Zooey Deschanel, Jake Johnson, Max Greenfield, Lamorne Morris, Hannah Simone
Network: FOX
Moving way past "too adorably quirky" into the territory of "so self-consciously too adorably quirky that it's funny," Deschanel circles all the way back to her old charming self in this fall debut. The supporting cast of male roommates has helped it find it's footing since Damon Wayans left after the pilot for another solid new sitcom, Happy Endings.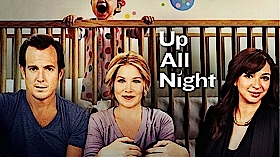 9. Up All Night
Creator: Emily Spivey
Stars: Christina Applegate, Maya Rudolph, Jennifer Hall, Will Arnett
Network: NBC
Will Arnett and Christina Applegate play a couple with a new baby, but it's Maya Rudolph as Applegate's Oprah-like boss Ava Alexander who steals NBC's best new show this season.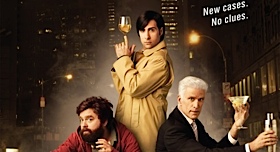 8. Bored To Death
Creator: Jonathan Ames
Stars: Jason Schwartzman, Zach Galifianakis, Ted Danson
Network: HBO
Writer Jonathan Ames' series features Jason Schwartzman as a writer named Jonathan Ames who decides to advertise his private investigative services on Craigslist. Zach Galifianakis plays Ames' best friend, Ted Danson quickly makes us forget he was ever in Becker, and the parade of guest stars and recurring characters continues this season with Patton Oswalt and Isla Fisher. But it's Schwartzman's absurd mix of self-obsession and sincerity that makes the show so fun to watch.—Josh Jackson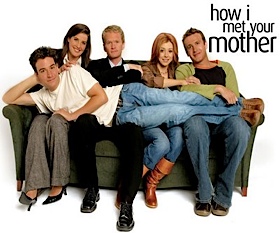 7. How I Met Your Mother
Creators: Craig Thomas, Carter Bays
Stars: Josh Radnor, Jason Segel, Alyson Hannigan, Cobie Smulders, Neil Patrick Harris
Network: CBS
Very few shows are able to teeter on the tightrope of daytime soap opera and a laugh-out-loud sitcom without going overboard. For over half a decade HIMYM has spun a hilarious tale of how Ted met his children's mother without growing stale. Sure, fans were starting to grow weary, but since the dramatic and uplifting turn in Marshall and Lily's life and the return of the Ted-Robin-Barney love triangle, the show is back in top form and geting more like Friends than ever. We're closing in on a lot of mysteries (Who exactly is the mother? Will Barney marry Robin? How will the baby change the Eriksens?), but so much more has developed to keep us intrigued for a few more seasons. Bonus: Neil Patrick Harris is as loveable as ever.—Adam Vitcavage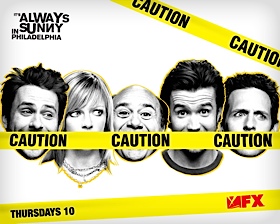 6. It's Always Sunny in Philadelphia
Creator: Rob McElhenney
Stars: Charlie Day, Rob McElhenney, Glenn Howerton, Kaitlin Olson, Danny DeVito
Network: FX
In its seventh season, It's Always Sunny In Philadelphia continues to surprise, keeping it among FX's highest-rated shows. This season The Gang has tackled The Jersey Shore, beauty pageants, Facebook and hurricanes, each in a way that only the show's anti-sitcom mentality could. It's Always Sunny remains as shocking and consistently hilarious as it's always been, while becoming self-referential and staying original, even after hitting syndication.—Ross Bonaime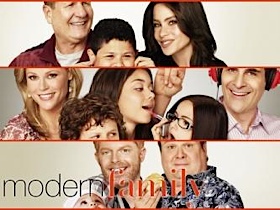 5. Modern Family
Creators: Steven Levitan, Christopher Lloyd
Stars: Ed O'Neill, Ty Burrell, Sofia Vergara, Julie Bowen, Jessie Tyler Ferguson, Eric Stonestreet
Network: ABC
Modern Family liberally borrows some of the finest elements of two of the best sitcoms of the last decade: Arrested Development and The Office. But it applies them to one of the greatest ensembles currently on TV, making each family interesting and fun in their own way. Modern Family has been able to take ideas we've seen before, but wrap them up in a way that feels fresh each week.—Ross Bonaime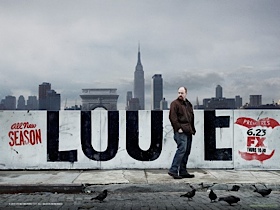 4. Louie
Creator: Louis C.K.
Stars: Louis C.K., Hadley Delany, Pamela Adlon
Network: FX
When life gives you lemons, you can make lemonade. But as comedian-turned-divorced dad Louis C.K. proves on a week-to-week basis, you don't have to be happy about it. Louie offers a painfully real but hilarious look at Louis C.K.'s fictional, jaded version of himself and explores the humor in divorce, aging and parenthood.—Tyler Kane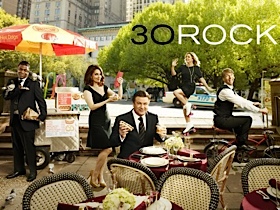 3.. 30 Rock
Creator: Tina Fey
Stars: Tina Fey, Tracy Morgan, Jane Krakowski, Jack McBrayer, Scott Adsit, Judah Friedlander, Alec Baldwin
Network: NBC
Season Five of Tina Fey's oft-celebrated sitcom helped re-establish the show's critical clout after what was considered a relatively weak fourth season. With varying degrees of success, Fey and company experimented with form more than ever with a two-hour "100th episode" special, an episode recorded live à la classic sitcoms, and even an entire episode stylized as a fictional reality TV show starring Tracy Jordan's wife. That adventurousness aside, 30 Rock's fifth season faced a tremendous obstacle: Central actor Tracy Morgan underwent an emergency operation related to diabetes during production, forcing him to miss several episodes. The show headed off this potential debacle with finesse, which is a further testament to the strength of the comedic interplay between Fey and Alec Baldwin.—John Barrett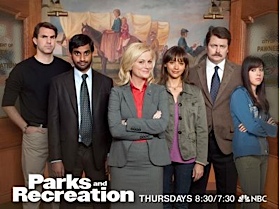 2. Parks and Recreation
Creators: Greg Daniels, Michael Schur
Stars: Amy Poehler, Nick Offerman, Aziz Ansari, Adam Scott, Rob Lowe, Chris Pratt, Aubrey Plaza, Rashida Jones
Network: NBC
Parks and Recreation started its run as a fairly typical mirror of The Office, but in its third season, the student became the master. As it's fleshed out with oddballs and unusual city quirks, Pawnee has become the greatest television town since Springfield. The show flourished this year with some of the most unique and interesting characters in comedy today. With one of the greatest writing staffs of any show right now, Parks and Recreation is only getting better with time.
—Ross Bonaime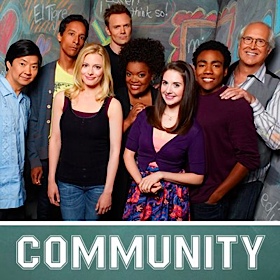 1. Community
Stars: Joel McHale, Donald Glover, Danny Pudi, Alison Brie, Gillian Jacobs, Yvette Nicole Brown, Ken Jeong, Chevy Chase
Network: NBC
There are so many aspects of Community that are fresh, smart and creative that it's beyond head-scratching that the entire world isn't walking around quoting lines from the sitcom. For two-and-a-half seasons now we've followed Jeff Winger and his merry study group around a community college campus, hanging onto every pop-culture reference and absurd plotline, like we'd never heard or seen them before. But we have heard and seen them, just never taken to their ridiculous extremes. And that's why Community is such a top-notch show. Dan Harmon has created a world that we feel a part of. We know how ridiculous it is, and so do the characters. We love the gang because we can hang out with them and know that they'll love us back just as much.—Adam Vitcavage