The Top 10 Moments of David Letterman's First 30 Years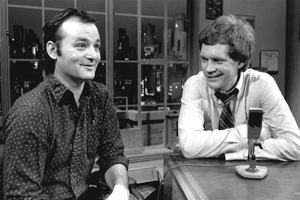 David Letterman has spent 43 years expanding his audience. Early on it was Hoosiers in need of a weather report, early Sunday morning 4-H project enthusiasts, kiddies catching the 1968 "Freeze-Dried Movies,&#8221 Indi 500 junkies. But tomorrow will mark 30 years of Letterman using his sardonic comedic enthusiasm on late-night national TV. It's enough to make even NBC question Jay Leno's credentials.
For three decades, he's seen and done it all: death threats, a record label, stalkers, Leno feuds, Oscar-hosting, rumors, apologies, Wideworld Pants and seven Emmys.
On his 30th Anniversary we honor Mr. Letterman by giving you our very own
Top 10 Memorable Moments of David Letterman
10. Dave Works Taco Bell
9. Dave Introduces Oprah To Uma
8. Dave Gets The Virgin
7. Dave Hangs With A Dead Beatle
6. Dave Receives A Kick To The Head
5. Dave Tricks Bill Murray
4. Dave Does Leno
3. Dave Gets A Leg Full
2. Dave Wasn't the Coolest Kid in School
1. Dave Is Still Here
Others Tagged With