The 10 Best Songs By The Roots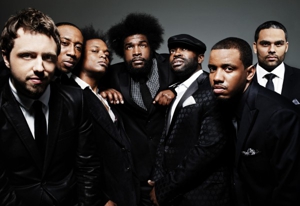 Last month, The Roots released their 11th studio album undun. The Philadelphia hip-hop group's latest work exhibits at band at the top of its game a quarter century after it began. But longevity doesn't even begin to summarize a career marked by creativity and collaboration.
Tariq "Black Thought" Trotter and Ahmir "?uestlove" Thompson founded The Roots in 1987, helping redefine hip hop ever since. From their early jazz-based beginnings to their first-ever concept album, The Roots' legacy is nothing short of legendary.
To celebrate ?uestlove's birthday today, we dug through The Roots catalog, revisiting the band's 10 best songs.
10. "Dear God 2.0" [How I Got Over]
One of The Roots' greatest attributes has been their penchant for teaming up with other artists. While they've long done so within their own genre, they proved their ability to team up with just about anyone and any type of music—here with indie-rock supergroup Monsters of Folk.
9. "75 Bars (Black's Reconstruction)" [Rising Down]
This stripped-down, aggressive track serves as a vehicle for Black Thought's focused lyrical flow, as he rapidly fires from bar to bar with as much intensity as ever.
8. "Game Theory" [Game Theory]
The title track off The Roots' seventh studio album hits harder than nearly anything else the band had done, as the bandmates forced themselves out of their usual groove.
7. "What They Do" [Illadelph Halflife]
Joined by Raphael Saadiq, Black Thought jabbed at his band's early peers, calling out the cliché Golden Age rapper lifestyle while cementing The Roots' own conscious perspective moving forward.
6. "Here I Come" [Game Theory]
While "Here I Come" is a solid track in its own right, it's The Roots' performance of this song live takes it to a different level. Watching Black Thought and ?uestlove in perfect stride on this song is simply a beautiful thing.
5. "Mellow My Man" [Do You Want More?!!!??!]
This early hip-hop/jazz classic not only represented the essence of what The Roots were doing back in 1994, but also showcase the talents of a band who would help shape hip hop in the 2000s.
4. "Make My" [undun]
The Roots didn't disappoint with their first-ever concept album in 2011—it's a complete record in every sense of the word. "Make My" anchors undun, spinning the tale of a fictional protagonist named Redford Stephens. Big K.R.I.T. joins Black Thought, ?uestlove and company for an underrated appearance that ranks among the best Roots collaborations.
3. "You Got Me" [Things Fall Apart]
This high-powered, laid-back effort with Erykah Badu netted The Legendary Roots Crew it's first Grammy 13 years ago.
2. "The Seed (2.0)" [Phrenology]
The Roots reworked Cody ChesnuTT's "The Seed" (1.0) into a track that combines the best of neo-soul and hip hop over the past quarter century.
1. "The Next Movement" [Things Fall Apart]
On one of the staple tracks of their fourth album Things Fall Apart, The Roots stood halfway between the jazz-influenced grooves prevalent throughout their '90s work and their more accessible work of the past decade. The result is the best of both worlds musically as The Roots began building a legacy.
Others Tagged With