The 15 Best Band Cameos on TV
Page 1 of 3
There's a sort of weirdness in seeing a group of musicians that you adore on the same show that people across the country are tuning into on a weekly basis. From The Ramones horrifying Mr. Burns in The Simpsons to Iggy Pop sweetly serenading his daughter in The Adventures of Pete and Pete, TV appearances can be charming, hilarious and even cringe-worthy. Here are some of our favorites.
15. Polyphonic Spree – Scrubs
The Tim DeLaughter-led burst of choral goodness is enough to lighten up any of Zach Braff's epiphanies that wrap up most episodes of Scrubs.
14. Aimee Mann – Buffy the Vampire Slayer
Aimee Mann is one of the few songwriters who's had the opportunity to complain about gigging in vampire towns on TV. In "Sleeper," (Season 7, Episode 8) Mann played "This is How it Goes" and "Pavlov's Bell."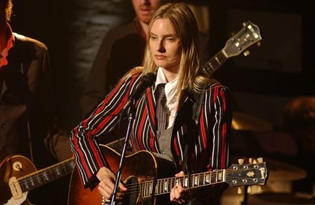 13. Smashing Pumpkins – The Simpsons
Homer Simpson's hilarious interaction with Smashing Pumpkins' singer Billy Corgan perfectly summed up the gap between baby boomers and alt-rockers.
12. Devo – Square Pegs
Devo busted out a quick and to-the-point set at Muffy Tepperman's Bat Mitzvah party in a 1983 episode of Square Pegs. Keep your eye out for a young Sarah Jessica Parker.
11. Stevie Wonder – The Cosby Show
Stevie Wonder brings out the best in Clair Huxtable's voice in this heartwarming take on "I Just Called to Say I Love You."
Others Tagged With