The 30 Best Coachella Performances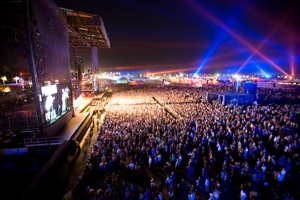 Page 1 of 3
Coachella buzz is ablaze since the lineup came out a few days ago. Once again, the festival website was down thanks to an overflow of traffic this week—and Facebook and Twitter newsfeeds were flooded with posts about the lineup, conversation about "the best" bands performing, personal scheming of ways to score rides to California and promises of making it this year. We're not discouraging it.
The truth is, some of our favorite live performances have come from those desert stages since the first Coachella Valley Music and Arts Festival back in October 1999.
As you make your 2012 plans, we thought it'd be fun to remember the performances of the past. With the notable shift in video technology, some of our favorites didn't make YouTube status (Wilco we're talking about you). That however, doesn't imply we don't appreciate them all the same.
Here's a list of 30 of our favorite Coachella performances, in chronological order:
1. Pavement (1999)
Here's to the first. And to the end of a decade.
2. Rage Against the Machine (1999)
Having just performed at Woodstock '99, the band's release of The Battle of Los Angeles debuted at number one selling 450,000 copies in the first week and went on to go double-platinum. They returned in 2007 to headline again.
3. Jane's Addiction (2001)
Thanks to a fan, here's a montage of the 2001 performances including, Weezer, Paul Oakenfold, FatBoy Slim and Chemical Brothers.
4. Oasis (2002)
Björk headlined Saturday and Oasis ended Sunday following the acts of Prodigy, Foo Fighters and The Strokes.
5. The White Stripes (2003)
A surprise commentator, Mos Def, opens the video with praise for Meg and Jack.
6. The Stooges (2003)
Performing for the first time since the '70s, Coachella brought the reunion of Iggy Pop and the Stooges.
7. Air (2004)
The band's new album Le Voyage Dans La Lune is coming out this year. Here's a teaser of the genius to come.
8. The Pixies (2004)
The band opened its reunion set with "Bone Machine" and ended with "Into the White."
9. The Flaming Lips (2004)
The crowd-surfing hamster ball has become synonymous with Wayne Coyne, but in 2004, we'd never seen anything like it.
10. Radiohead (2004)
They are perhaps, the band most played at Coachella. Thom soloed in 2010. The band will be back headlining in 2012. We expect tracks from their newest album The Kings of Limbs as well as a few seasoned favorites.