10 Atlanta Bands to Watch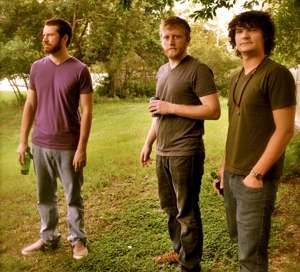 Atlanta breathes dexterity into the bones of its artists. It is the city's innate understanding of true talent that facilitates the recognition its pursuers gain.
As residents of this fair city, we at Paste understand the inspiration this place conjures. It is fruitful, and it is delicious. Today we salute those aspiring talents as we give you 10 emerging bands, from the heart of Atlanta, that you need to know and need to listen to right now.
10. The N.E.C.
They've been local staples seemingly forever, but they still haven't received the recognition they deserve. They have just about the best cover art there is—insert the plump backside of a white-haired woman wrapped in a red one-piece with a matching red pineapple in the center of her back and a bottle of booze on the bench beside her. Then take notice that all track titles (like "All Night Drug Kids," "Creatures Flaming" and "Hate City Serenade") carry a thematic train that chugs "hear us roar." It's not surprising that the N.E.C. (Natural Extension Concept) plays off intellect and delivers bare-chested lyrics.
9. Mermaids
This five-piece "tropsicle" punk band has an unapologetic aura of psychedelic precision and '60s-inspired doo-wop that shimmers like a desert mirage. The beach-pop group pairs an occasional Beach Boys melody with sharp hooks and mixes their sonic guitar riffs seamlessly into the unique aquatic voice they call Mermaids.
8. Royal Thunder
Their open-heart blues-infused rock 'n' roll is infectious. Frontlady Mlny Parsonz has always done it herself. As a self-taught instrumentalist who writes plot-driven metaphoric lyrics and works relentlessly to create dynamic on the stage, Parsonz's music is explosive. We asked her last April what she thought of Atlanta's Southern roots. She replied, "Atlanta is diverse. It's modern. I mean, look at the bands coming out of here, man. It's smart music. There's no room for stereotypes or scenes."
7. Mogul Street Reserve
The sonic space Ryan Wood, Byron Clark and Jack Pfiester create is unabashed. The prog-rock trio recently opened for Annuals, stormed the stage with the charisma of seasoned musicians and rooted themselves on a vibrant platform of originality. Within their sound lies the singular heartbeat of power-breathing-dance-your-ass-off tonality that will impress even the unimpressible.
6. Oryx and Crake
Orxy and Crake are not new faces to Paste. We're fans, and we're quick to tell you that this nine-piece ensemble need their entire gang—their instrument manipulation creates an accessible magic that is not limited to electronics or strings, but rather opens the audience to a new universe the combination creates. Oryx and Crake offer imaginative lyricism and interwoven harmonies that bleed together and produce an orchestra of delight.
5. Lucy Dreams
They started with a few rough, self-released demos and soon after the four-piece opened to highest praises at one of Atlanta's favorite backyard bars, 529. Last September brought the release of their first album Vivian and opening slots for Deerhunter and the Black Lips. Their sound is fluid and inspired; it screams into your ears and makes you want to move.
4. The Coathangers
Hello, you Atlanta quartet that started as a mere excuse to hang out and evolved into an infectious all-lady rock band. You've snaked your way across the globe touring, carrying your reckless energy and peeling paint off the walls with your rabble-rousing vocals. We promise we're not complaining—in fact we quite enjoy your noisier side, and we enjoy your serious one just the same. We'd like to say you're just plain cool.
3. Turf War
These rowdy Cheers To The Years creators moved from Augusta to Atlanta knowing that the city could bring their band to fruition—and they were right. Soon after they found themselves in the hands of Ian St Pé of the Black Lips and signing a deal with Old Flame Records. With their own take on influences like Springsteen, Nirvana and old garage rock, it's not a surprise the band headed to Austin last summer for their debut at SXSW, which has led to a full-blown 2012 spring tour.
2. Adron
20-year-old Adrienne McCann has infused her lyrical sensibility with a rare vintage sound of international textures to produce an honest, distinctively pleasing lullaby for the ages. The intelligent yet childlike observations distinctive to both Adron's style and musicianship possess classic beauty. Earnest and yearning, songs like "Renegade" and "Timid Young Ones" remind that we are all on an expansive journey, and that voyage is one McCann believes is full of blistering notes and youthful exuberance.
1. Little Tybee
Twin Sister and Local Natives need pay mind to this mini orchestra. It is these influences which have been taken and adapted to create the authentic gold that is the looming sound of Little Tybee. The intricate musicianship that swarms within the ever-evolving 5-member band is provocative. Their ballads, melodies and ginger voices swim in and out of each other, paint waves and crash effortlessly on a bed known as Humorous To Bees.
Others Tagged With