32 Musicans Share Their Favorite Recipes
Page 1 of 8
When musicians spend days, weeks and months on the road, there's certain comforts of home that automatically go out the window. So it's not a surprise that many find the inability to prepare their own meals a real challenge (unless you're Jonny Corndawg). If there's one thing that most musicians learn, it's that there's nothing like eating in your own food in your own kitchen.
We asked 32 musicians to share their beloved recipes with us. What we received in return included a wide variety of cuisines for just about any level of cook. Whether you're looking for something simple like a breakfast hangover cure from Firehorse's Leah Siegel or the "greatest southern seafood GUMBO in the world" courtesy of The Antlers' Darby Cicci—these artists have prepared something for everyone.
Jennie Kelley
The Polyphonic Spree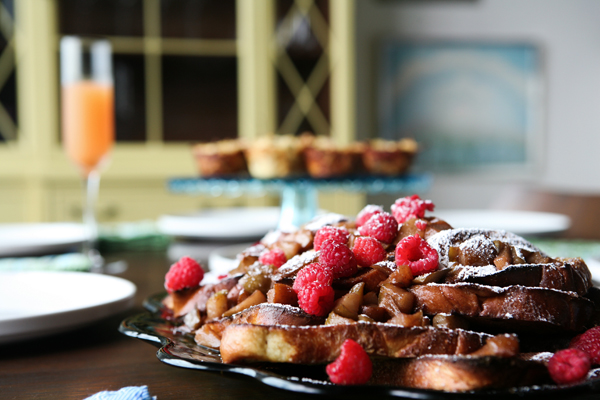 Dish: JK's Challah French Toast with Port infused Pears and Raspberries
Description: Description of the recipe: One of my favorite meals is brunch as a good one is usually full of my dear friends and will last several hours. The French toast can be done ahead of time and tented with foil so you can spend more time with your guests (just don't do the powdered sugar until the end as it will melt). A lot of people make French toast but don't think of how to elevate it. The Challah bread is key as it can really handle the liquid and not get mushy. The port infused pears make an elegant sauce that rounds everything out—like a syrup, but better!
Ingredients: 1 loaf challah bread, 3 eggs, beaten, 1/2 cup milk, 1 tsp. vanilla, 1 tsp. cinnamon, 1/2 stick of butter, 3 bosc pears (cubed), 1 cup tawny port , 1 cup raspberries, powdered sugar
Recipe: – Slice the challah bread into 1/2" slices and the butter into small pads.
- Combine the beaten eggs, the milk, the cinnamon and vanilla in a large shallow bowl.
- Dip the sliced bread into the egg and spiced milk mixture. Heat a large skillet over medium high heat and melt a few pads of butter.
- Add the soaked bread to the skillet and cook approximately 5 minutes on each side, until golden brown. Set the French toast aside and add the pears to the skillet absorbing some of the flavors from the toast.
- Pour in the port wine and sauté until the port has reduced by half, about 10 minutes.
- Add the warm pears to the French toast and top with fresh raspberries and a light dusting of powdered sugar.
Darby Cicci
The Antlers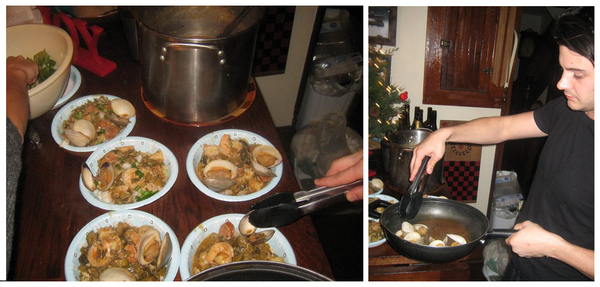 Photo by Naomi Firestone-Teeter

Dish: The greatest southern seafood GUMBO in the world.
Description: Gumbo is BY FAR my favorite food. It takes a long time to make and requires a lot of chopping, but it's really easy. I make this recipe every year during the holidays. It will make a large pot of gumbo, enough for all of your friends/family. There will be leftovers, and gumbo is just as delicious the next day. Enjoy.
Ingredients: 1 cup canola oil, 1/2 cup flour, 2 cups fresh okra, sliced thin, 1 large white onion (diced), 2 cups minced green onions (you can include the green parts), 2 cups celery (diced), 1/2 cup green bell pepper (diced), 3 or 4 minced garlic cloves, 28 oz. vegetable or chicken broth, 8 cups boiling water, 2-3 lbs. peeled and deveined shrimp (cut half of the shrimp in half, Leave the other half whole), 1 tbs. Tabasco, 2 tbs. sea salt, 1 tsp. ground black pepper, 1 tsp. cayenne pepper, 1 tsp. Old Bay, 2 large bay leaves, 1/3 cup ketchup, 2 packages fresh crab meat (white lump or claw-don't get the cheapest stuff, you really don't want shells in your gumbo), Basmati rice. Optional: a few Littleneck clams (steamed in vegetable broth) per serving, Andouille sausage (sautéed in pan)
Recipe: – First you make ROUX, the foundation of any excellent gumbo. It takes a long time, but it's super easy, and if you have someone helping you, this is a great job for them. In a big iron skillet combine 1/2 cup oil and 1/2 cup flour. Keep the stove on LOW. This is very important. DO NOT BURN YOUR ROUX. Stir the flour until the combination becomes brown and it sort of separates a little. This will take a little over an hour to get right. Stir the whole time and make sure you have a bottle of wine nearby and some good music on. You will need to listen to music and drink wine to pass the time.
- Meanwhile, in another skillet, heat the other 1/2 cup oil over medium-low heat. Sauté the okra and onions until they wilt and the onions are kind of translucent. Add the other veggies and the salt and pepper and stir until it's all wilted and sticky and mushy. Okra has a ton of slimy starch that kind of resembles Ectoplasm. This is why gumbo is so thick and rich and amazing.
- So when the roux is brown, add to the veggies skillet. Stir well and transfer to a giant soup pot. Seriously find a really, really big pot. Add the broth, boiling water, half of the shrimp (the half you cut up) and all of the seasonings.
- At this point, feel free to toss in any kind of seasonings you want. Worcestershire sauce (which is NOT vegetarian FYI!), soy sauce, parsley, thyme, oregano, that strange Cajun seasoning you got somewhere, gumbo file, hot sauce, more hot sauce, beer, brandy, white wine. Seriously go nuts. Just keep tasting it until you love it.
- Simmer this for about an hour over low heat. Your entire house will now smell delicious. Your guests will start getting very hungry at this point; so make sure they have plenty of alcohol and music to keep them occupied.
- If you want to make some of the gumbo servings vegetarian, it's easy. Just make sure you use vegetable broth (instead of chicken), and at this point move some of the gumbo to a different pot before adding the shrimp in this step. And don't add Worcestershire sauce!
- At some point cook the whole shrimp in a saucepan with `/1 cup boiling water and a pinch of salt. When they're pink (it will take little to no time), put the shrimp and water in the gumbo pot. If you're going to use Andouille sausage or Littleneck clams, now is the time to cook those as well. I recommend both. Just slice and sauté the sausage in a pan and add to the gumbo when cooked through.
- If you've never cooked clams before, it's easy. Scrub the outside of the clams with a stiff brush to remove dirt and sand. Put them in a saucepan with 1/4 cup broth or white wine per dozen. Cover and heat on high. As soon as the clams open, they are done. The liquid can go in the gumbo. Set the clams aside.
- When the gumbo tastes delicious, remove from the heat add the crabmeat. The gumbo is now ready to eat.
- Serve the gumbo over basmati rice, garnish with some leftover green onions, and clams.
Dish: Laura and Tracey's Pasta Ceci, A Ray Family Tradition!
Description: My sister Laura and her partner Tracey concocted this hot pasta recipe and gave it me in a cookbook, It has become a tradition in my house. Chickpeas, olive oil, onions, garlic, and Parmesan cheese—perfect combo and easy!
Ingredients: 3 16 oz. cans of chickpeas (or prepare your own from 2 cups dried chickpeas), 5 medium yellow onions (coarsely chopped), 6 cloves of garlic (finely minced), 2 tbs. of olive oil, freshly ground pepper, Parmesan cheese (shaved)
Recipe: – Heat olive oil in large skillet (with lid) on medium.
- Add chopped onions to sauté, stir frequently until onions are translucent and sweet.
- Turn Heat to low, add garlic and stir (add more olive oil if it's too dry at this point). Cook for about 5 more minutes.
- Add chickpeas and enough cooking liquid until liquid is even with the surface of other ingredients in skillet. Simmer covered on low for 15 minutes.
- To thicken sauce, use a fork to mash up some of the chickpeas. Add pepper and salt as needed.
- Prepare pasta. Farfalle and Penne are great for this, but use what you want. Serve chickpeas over warm pasta and most importantly—add plenty of shaved parmesan cheese.
Alex Cooper
Parlovr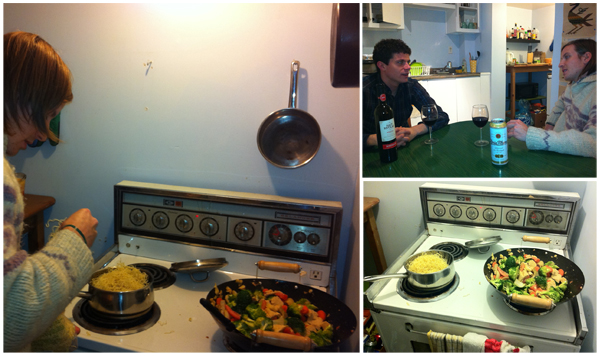 Dish: I Should Coco Curry
Description: This is the culmination of a many year's effort and [the] curiosity of a super ignorant white guy who's been trying to make a Thai meal as good as the ones that he eats all the time at small southeast Asian [restaurants] for $10+/plate. I recently moved near the Jean-Talon market here in Montreal and, while everyone raves about the market itself, the real treasure is this place called Marché Oriental where you can buy all these seemingly rare ingredients (e.g. lime leaves, Thai basil, fresh egg noodles) for ultra cheap. The fresh ingredients for this meal cost me less than $15 and it serves about 4+ people. The reality is that every decent sized urban centre in North America probably has at least one store like this, so it's really just a matter of you finding it.
The meal itself is a simple Thai red curry with tofu and vegetables, served on some fresh egg noodles. Of course rice or other noodles would be just as good, so suit your fancy.
I ate this meal recently with pals and fellow musicians: the amazing Jordan Robson Cramer (pictured) from Ancient Kids and Sunset Rubdown and Martin Horn, from Cotton Mouth (and who produced all of Parlovr's records to date).
Ingredients: Curry paste: 1 can of coconut milk (400ml), 1 tsp. of miso, 1 tbs. of fish sauce, 1 tbs. of soy sauce, 1 hefty tbs. of chili paste (I use the Huy Fong stuff here), 1 tbs. of chopped ginger, 1 tbs. of chopped garlic, 1 tbs. of chopped thai basil, 1 tsp. of sesame oil
Curry/Other: 1 brick/500 grams of extra firm, pressed tofu (this stuff is hard to find in USA for some reason, but a cinch here in Montreal), 1 half head of broccoli, 1 large yellow onion, 1.5 carrots (diced), 1 tomato (cut into wedges), 3 garlic cloves, 1 tsp. of chopped garlic, 1 lime, 3 lime leaves (can usually buy them in a bag in an Asian supermarket), 3 leaves of Thai basil
General: Some soy sauce, sesame oil, some fish sauce, some honey, 1 bag of freshly fried Chow Mein noodles (you can buy them pre-fried)
Recipe: – Heat up some sesame oil, throw in some fish sauce and a bit of honey and soy sauce.
- Throw in the tofu bits as well as half of the onion and let it fry until the tofu becomes golden crispy on the outside (about 15 minutes).
- While the tofu is frying, prepare the paste—add all the ingredients from the paste and blend them with a blender.
- Now that tofu is fried and paste is made, throw in the other ingredients at different times (to ensure crispyness).
- Start by throwing in the lime leaves, carrots and the other half of the yellow onion.
- Next, after about 5 minutes, throw in the broccoli. After about 5 [more] minutes, throw in the tomato.
- Add all the curry paste, the garlic and ginger. Squeeze half a lime into it. Add any soy sauce if it seems that it needs more liquid.
- Let it come to a light boil and let it boil for about 10 minutes.
- Let it simmer for about 20-30 minutes.
- While the curry is cooking, prepare the egg Chow Mein noodles (usually this should just require putting them in boiling water really quickly).
- Serve the curry on top of the egg noodles, garnish with fresh Thai basil.
- It's all ready to go after that. Save the other half of the lime and cut into wedges for the meal itself.