32 Musicans Share Their Favorite Recipes
Page 2 of 8
We asked 32 musicians to share their beloved recipes with us. What we received in return included a wide variety of cuisines for just about any level of cook. Whether you're looking for something simple like a breakfast hangover cure from Firehorse's Leah Siegel or the "greatest southern seafood GUMBO in the world" courtesy of The Antlers' Darby Cicci—these artists have prepared something for everyone.
Joe Michelini
River City Extension

Dish: Wop-Corn
Description: It's a spicy stove-top popcorn recipe with classic Italian flavors, sure to please WOP's (or folks With Out Popcorn) everywhere.
Ingredients: 3 tbs. olive oil, 2 1/2 tbs. butter, 1/2 tsp. cayenne pepper, 1 large clove of garlic (minced), 1/2 cup popping corn, 1/4 cup grated parmesan cheese, 1 small sprig rosemary, salt, black pepper
Recipe: – Combine olive oil and butter in a large, deep pot at medium-high heat. You're going to have to scrub the hell out of it later so choose wisely. Keep in mind, too, if you choose a pot that's too small you risk the popcorn overflowing onto the range.
- When the butter has melted, add the garlic and cook until golden brown on all sides. Remove the roasted garlic and set it aside.
- Add the popping corn to the pot followed by the cayenne pepper and black pepper if you're into that sort of thing. I usually just throw in a few shakes. Make sure the corn is submerged in the butter/oil combination and stir in the cayenne pepper amongst the kernels.
- Place a fitting lid on the pot and wait for the first couple of 'pops' to start. When this starts you want to shake/shift the pot to keep the popcorn on the bottom from burning and shift the unpopped kernels to the bottom—-similar to Jiffy Pop, if you've ever done that. Using pot holders or small towels, hold the lid on, and shake until there's more than 3-4 seconds between popping sounds. You can check it out, but only briefly. The kernels like to escape.
- Pour out into a large bowl. Add salt and black pepper to taste, and toss in the Parmesan cheese. Shake the cheese around in the bowl. Once the whole thing is thoroughly mixed, scoop the roasted garlic on top in the center of the popcorn and garnish with a sprig of rosemary.
- You're ready to serve. Soak the pot it's probably black on the bottom and will be a pain to clean if you don't. That's it.
Leah Siegel
Firehorse

Dish: Sweet Hot Mess Breakfast Sandwich
Description: Eat and sober up, you sweet hot mess. Do the dishes tomorrow.
Ingredients: A couple pads of salted butter, field roast apple smoked vegan sausage (it's really good), 2 eggs, a handful of grated Monterrey jack cheese, 1 plain croissant, a few shakes of lemon & pepper, hot honey, cayenne pepper
Recipe: – Slice your sausage and beat your eggs while you melt your butter in a small skillet.
- Toss the sausage in the skillet and let it brown. Lower the heat slightly and pour your lemon & peppered yellow goo in the skillet over your sausage.
- Keep it all moving around as your scramble begins to emerge.
- Turn off the heat and litter your skillet with a handful of pepper jack cheese and let it melt.
- Drizzle your cayenne infused honey over your hot mess and shovel the goods onto your sliced croissant.
Sophia Knapp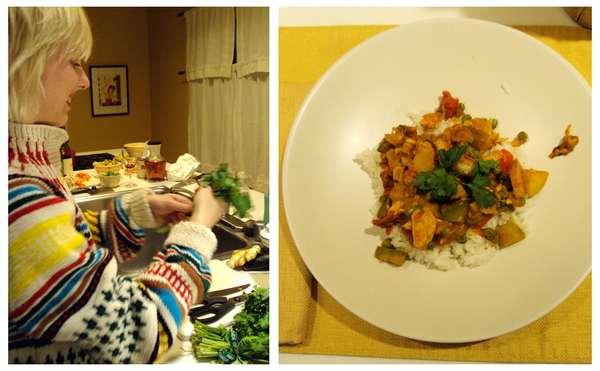 Dish: Vegetarian (or not) Korma
Description: This is a nice one to make with friends since it feeds 4 or more people. It's a colorful dish and tastes great in the winter. Takes an hour to make start to finish, serve over rice and with Naan bread if you'd like.
Ingredients: 1 1/2 tbs. vegetable oil (canola/olive oil mix), 1 small onion (diced), 1 tsp. or more minced fresh ginger root, 4 cloves garlic (minced), 2 potatoes (cubed), 4 carrots (cubed), 1 fresh jalapeno pepper (seeded and sliced), a handful or cashews and almonds, 1 can diced tomatoes (optional), salt to taste, 1 1/2 tbs. or more curry powder, chili powder to taste, 1 cup frozen green peas, 1/2 green bell pepper (chopped), 1/2 red bell pepper (chopped), coconut milk to taste (about 2 1/2 cups), fresh cilantro for garnish, add some chicken (optional), splash of white wine.
Recipe: – Heat the oil in a skillet over medium heat. Stir in the onion, and cook until fairly see through and tender. Add ginger and garlic, and continue cooking 1 minute. I like to put in extra ginger. Mix potatoes, carrots, jalapeno, cashews and almonds, and half of the coconut milk.
- Season with salt, curry and chili powder. Cook and stir 10 minutes, or until potatoes are tender.
- Stir peas, green bell pepper, red bell pepper, white wine, and the rest of the coconut milk into the skillet. If you want to add chicken, do it now.
- Reduce heat to low, cover, and simmer 10 minutes.
- Garnish with cilantro to serve.
Phil Moore
Bowerbirds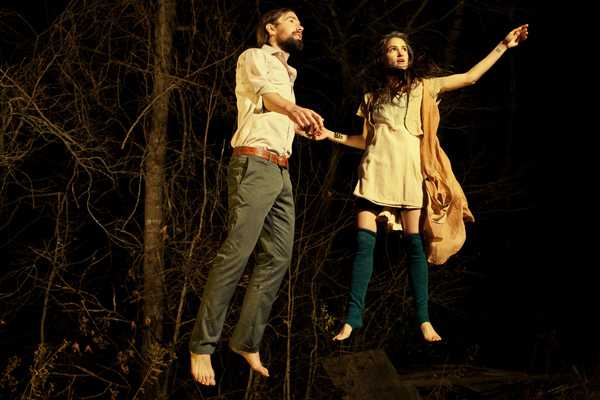 Dish: Winter Coconut Soup
Description: When we are busy, busy in the winter we like to cook soups. Here is my favorite.
Ingredients: 1/2 onion, as much ginger root as you can handle, 4 cloves garlic, 1-3 chili peppers, 1 large yam, 1 bunch of collard greens, 1 can of coconut milk, some chicken stock, some chicken, water, 1 lemon, 1 lime, salt to taste
Recipe: – Sauté onion, garlic, ginger, chili pepper together in large pot until tender.
- Add yams and sauté some more.
- Add a little water, add greens and steam greens until they become more manageable.
- Add everything else and cook on lower heat until chicken is cooked and yams are soft and tender.
- Eat soup, but make sure you have enough to have some the next day also, because it always tastes better.