32 Musicans Share Their Favorite Recipes
Page 3 of 8
We asked 32 musicians to share their beloved recipes with us. What we received in return included a wide variety of cuisines for just about any level of cook. Whether you're looking for something simple like a breakfast hangover cure from Firehorse's Leah Siegel or the "greatest southern seafood GUMBO in the world" courtesy of The Antlers' Darby Cicci—these artists have prepared something for everyone.
Lauren Shera

Dish: Bourbon Apple Pie
Description: Bourbon deepens the flavor of a classic apple pie, creating a slightly more "rock and roll" version that grownups can appreciate, but will still be enjoyed and gobbled up by all!
Ingredients: – For the crust (makes 2): 2 ½ cups all-purpose flour, 1/3 cup granulated white sugar, 2 sticks of very cold, unsalted butter (preferably frozen), approximately 1/4 cup ice water, pinch of salt.
- For the filling: 6-8 large baking apples such as Granny Smith, peeled, cored, and thinly sliced, 1/4 cup packed brown sugar, 1/4 cup granulated sugar, 2 tbs. all-purpose flour, 2-3 tbs. bourbon, 1 tsp. cinnamon, generous pinch of ground cloves.
- For the egg wash: 1 egg yolk, splash of cream
Recipe: – In a large bowl, mix the flour, salt, and sugar. Grate the butter with a cheese grater or cut into small pieces and mix into the flour, breaking up any big pieces. If using a food processor, mix until the dough looks like small pea-shaped pieces.
- Drizzle the ice water in small amounts over the dough and mix in, adding more if needed until the dough just holds together.
-Shape dough into two large discs and wrap them tightly in plastic wrap. Refrigerate for a minimum of 20 minutes.
- Preheat oven to 375 F.
- Combine all ingredients for the filling in a large mixing bowl and set aside.
- When the pie dough is done chilling, place one disc (leave the second in the fridge) on a floured work surface and dust the top of the dough with flour. Using a lightly floured rolling pin, roll the dough out until it is large enough to fit in your pie dish with some excess. As you roll out the dough you can continue lightly dusting the top with flour if it begins to stick to the rolling pin; be careful that the bottom does not begin to stick to your work surface either.
- Carefully transfer the dough to your pie dish, gently press into the sides and let the excess hang over the edge. You should have an extra inch or two, if there is more then simply tear it off and set aside. Excess dough scraps can be rolled out, using cookie cutters to decorate the top of the pie.
Set the bottom crust in the freezer while you roll out the second disc of dough.
- Take the pie dish out of the freezer and pour in the filling. Place the second piece of dough on top and fold the edges over the bottom, gently pressing together and folding under to create the edge of the crust.
- Beat together the egg yolk and cream and brush onto the crust with a pastry brush, dust with sugar (optional) and cut a few slits into the top.
- Place the pie on a cookie sheet and bake for 20 minutes.
- Reduce the oven heat to 350 F. and bake for another 45-55 minutes or until the crust is golden. If the edges start browning too fast, cover them with tin foil. When the pie is finished baking, let it sit for 15 minutes before serving. Enjoy!
Jonny Corndawg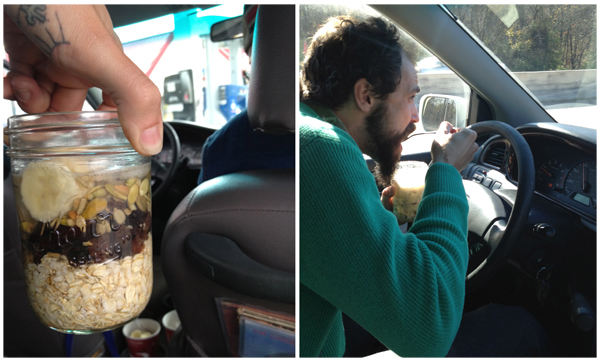 Dish: Oatmeal
Description: I eat this everyday (I also make my band eat it everyday). It can be prepared really easily in a van and I always get the hot water from Starbucks because they don't charge for hot water. Another thing I do is buy PG Tips in bulk. I like the 80-teabag box. This breakfast lasts the whole day and costs roughly $60 a tour.
Ingredients: 1 handful of rolled oats (old fashioned rolled oats—neither steel cut or instant); 1/4 handful of each of the following: raisins, sunflower seeds, pistachios, tart dried cherries, pepitas, almonds, dried blueberries, raw pumpkin seeds, dried banana (chopped—not chips, whole dried bananas) and flax seeds; 3 or 4 drops of orange extract; 1.5 tablespoons of expeller pressed coconut oil; a pinch of cardamom and cinnamon; 1 tbs. of honey; 1 tbs. of almond butter, 3 chopped apricots; 1 chopped date
Recipe: – Fill your mason jar about two fingers high with hot water.
- Add coconut oil, cardamom, cinnamon, orange extract, apricot pieces, date pieces, honey and almond butter.
- Mix it around until the coconut oil and almond butter melt.
- Add oats (you might need more hot water but don't put more than a half inch above "oat level").
- I usually let the oats soak in the hot water for about 4 minutes..
- Add your nuts and berries mixture and mix it up.
Meiko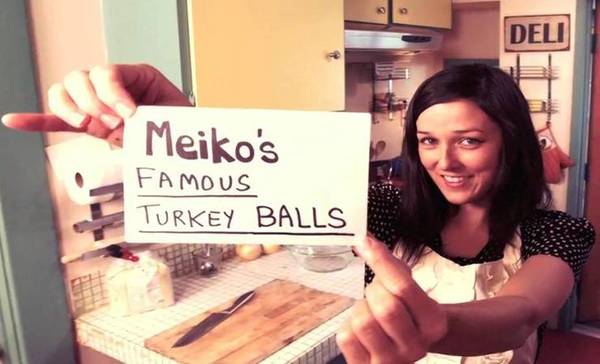 Dish: Meiko's Famous Turkey Balls
Description: Meiko's Famous turkey balls are easy to make, gluten free, low in calories and high in protein. They're good hot and cold and will impress at dinner parties (tested and true)… Women: 2 balls, Men: 4 balls. Nutrition facts per ball: Calories: 80, Fats: 2 grams, Carbs: 4 grams, Protein: 11 grams.
Ingredients: 2 lbs. ground turkey (Vegetarians use Ground Seitan), 3 egg whites, 1 cup quick cooking oats, 1/2 tsp. ground cumin, 1/2 tsp. dried thyme, 2 tsp. dry yellow mustard, 2 tsp. black pepper, 2 tsp. curry powder, 1 tsp. salt, 2 tbs. garlic powder (2 cloves minced), 1 small onion (finely chopped), 2 celery stalks (finely chopped), add 1 tsp. of cayenne pepper for an extra kick in your balls
Recipe: – Preheat oven to 375 degrees.
- Put baking cups in muffin pan.
- Mix all your ingredients together in one large bowl.
- Roll the mixture into balls and place in muffin pan.
- Balls should be about the size of a golf ball.
- Bake for 40 minutes. Makes 12 balls+ (dip your balls in ketchup, if you'd like).
Jeff Austin
Yonder Mountain String Band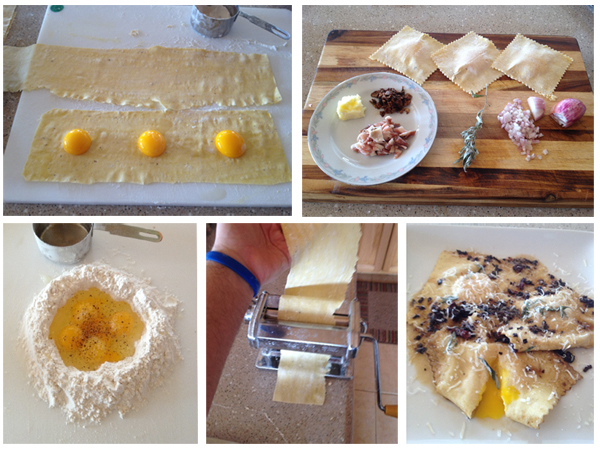 Dish: Egg Yolk Ravioli With Porcini, Sage and Pancetta Brown Butter Sauce
Description: Once you split that first ravioli and that perfectly poached runny egg yolk spills onto the plate and mixes with the cheese and pork fat and sage… Whomever you are making this for will be very, very happy with you.
Ingredients: – Pasta: 1 1/2 cups of flour, 3 whole eggs plus 2 yolks, pinch of salt, few grinds of black pepper
- Other: One half of a shallot (finely minced), 3-4 good-sized sage leaves, 1/3 cup fresh or dried porcini mushrooms, about four tbs. of good quality butter (I make mine at home…super simple and way better than store bought…but that's a whole different recipe!), 1/4 to 1/3 cup of minced pancetta, 3 extra large organic eggs
Recipe: – Make a well out of the flour and crack your eggs into it. Add salt and pepper and slowly incorporate the flour into the eggs in the center. Use your hands! They make the best pasta.
- Once your pasta has rested, cut it into four sections and start working it through a pasta maker. I use a hand cranked one, but, use whatever machine you have. Work the pasta to the second to last setting…this will make the pasta nice and thin, but, will allow it to still have a great bite when stacked to make the ravioli.
- Lay one sheet flat on a floured board. Crack and separate the eggs, don't throw out the egg whites! Keep those and make some meringue…hell, why not?! The raw egg yolks are your filling, so, treat them as such. Once the yolks are in place, gently add the second pasta sheet over them to form the ravioli.
- Get your big pot of water to a nice rolling boil, not too hard that it will damage your perfect little pockets of joy.
- In a saucepan, begin by sautéing your pancetta. Then, add the shallots and sage. This doesn't take long, so, just keep a close eye on it.
- Right around this time, drop your ravioli into the water. They only need around four minutes… don't over cook them! Overcooked pasta is a serious crime.
- With the pasta in the water, add your butter and mushrooms to the sauté. The butter will brown slightly, which is exactly what you want. Remove the ravioli from the water and add them into the sauté pan, allowing them to get coated with all your delicious other ingredients.
- Finish by plating and showering with a healthy dose of a good quality parmesan cheese and maybe a good crack of fresh black pepper.