32 Musicans Share Their Favorite Recipes
Page 4 of 8
We asked 32 musicians to share their beloved recipes with us. What we received in return included a wide variety of cuisines for just about any level of cook. Whether you're looking for something simple like a breakfast hangover cure from Firehorse's Leah Siegel or the "greatest southern seafood GUMBO in the world" courtesy of The Antlers' Darby Cicci—these artists have prepared something for everyone.
Dish: Veggie Stuffed Chile Rellenos with Tomato-Habanero Sauce
Description: This is my take on the Mexican classic. I don't care much for deep frying as it usually tastes more like fried then pepper and cheese. Plus stuffing it makes one pepper a meal and half!
Ingredients: – For the peppers: 4 large poblanos, 1 large zucchini, 1 large red bell pepper, 1 large white onion (half used for sauce), 1 can of black beans, drained of liquid, 3/4 to 1 lb. of shredded Chihuahua cheese (leftover cheese never hurt anyone), queso fresco (optional… it does look pretty!), cilantro (for garnish).
- For the sauce: 1 to 1 1/2 lbs. of plum tomatoes, 3 peeled garlic cloves, half white onion, cut into half inch thick slices, 1 habanero pepper, olive oil, salt and pepper
- Sides: brown rice, avocado, lime.
Recipe: – Halve the plum tomatoes, and place cut side down on a sheet pan covered in tin foil. Place the sliced onion and peeled garlic on the same sheet pan, drizzle with olive oil and salt and pepper the whole mess. Pop it into an oven, on the top shelf, and set it on high broil. Check on the tray often, you want the tomato skin to start blackening and the onion and garlic to brown nicely.
- On your stove top, with the flame on medium high, roast your poblanos. Let the the skin on the peppers blacken over the flame and turn to to make sure the whole peppers gets this way. After it is done, place the pepper into a plastic bag, this will help the peppers steam, and the skin to come off easily.
- If you're making brown rice, you might wanna put that on blast now. Usually 1 cup of dry rice is enough for 4 peppers.
- At this point the roasted tomatoes should be done. If so, pop all of them into a blender, make sure to get all the juices from the pan in there as well. Puree that shit up!
- Once nicely pureed, pour into a sauce pan. Puncture your habanero (or 2, depending on how spicy you like it) and put into the sauce pan. Simmer on medium low, remember to stir it yo, otherwise you gonna burn it.
- Dice the zucchini, red pepper, and other half of your white onion. Set a pan on medium high, add olive oil and cook the onion until translucent. Throw in the peppers and zucchini and cook til browned.
Once finished, take off the heat and stir in the beans.
- Preheat your oven to 375 degrees.
- Under cold running water, using your fingers gently peel the skin off the peppers. Cut a slit in the side, and rinse out all the seeds from inside the poblano. Set aside on a tray. Layer in the cheese and zucchini-pepper mixture into the peppers. Stuff it in good. Then sprinkle some more cheese on the top of the pepper for good measure.-
- Place the peppers in the oven. Let them cook until the cheese on top of the peppers starts to brown.
- Mash some avocados with a little chopped cilantro, lime juice and salt. Taste the tomato-habanero sauce, salt and pepper to taste.
- Place the peppers atop a bed of brown rice. Pour some sauce over the bottoms of the peppers (you probably want to discard the habaneros that were in there) and onto the plate. Garnish with a lime, a few sprigs of cilantro, a sprinkle of queso fresco and some mashed avocados. Enjoy the hell out of one beast ass stuffed chile rellenos! P.S. that sauce is good enough to put on most anything.
Gregory Rogove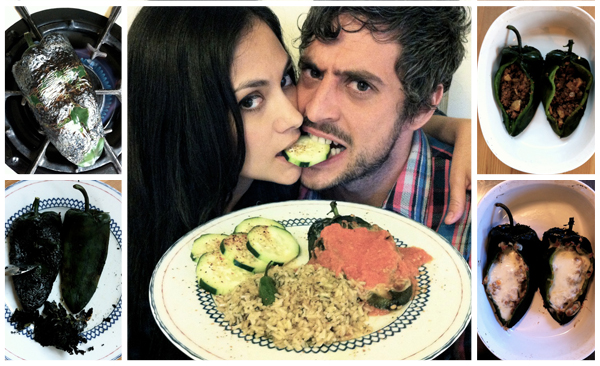 Photo by Ace Norton
Dish: Chile Rellenos (Vegetarian)
Description: Serves 2.
Ingredients: 2 Poblano chiles, 1/2 box of fake ground beef (Lightlife Smart Ground – Mexican Style), 1 small potato, 1/4 medium size onion, 3 tomatoes, 1/4 Serrano Chile, shredded Mozzarella cheese, salt
Recipe: – Blacken Poblano chile skin on an open flame, once cooled, peel off the blackened skin. Slice down the center of the chile to remove seeds.
- Sauté onions and potatoes until browned. Add fake ground beef. Sauté together for 5-7 minutes on medium-high heat.
- Blend tomatoes, Serrano chile, and salt to taste in food processor until pureed. Warm in a small saucepan until it begins to boil lightly.
- Stuff Poblano chiles with beef, onion and potato. Place in an oven safe casserole dish. Cover the beef, onion and potato portion with shredded mozzarella.
- Place in oven, pre-heated to 350°F degrees. Heat for 10 minutes or until cheese begins to brown.
- Remove from oven and cover with tomato sauce.
- Served with brown rice with cilantro and cucumber with lime juice and chili powder.
Benoît Pioulard
Orcas

Dish: Vegan Paella
Description: I really love this recipe, though it's pretty luxurious (note the amount of fancy mushrooms, which typically run about $20-25/lb.) so is only for special occasions when you're a skint fellow like myself. Serves 4-6.
Ingredients: 3 tbs. olive oil, 2 tsp. chili powder and/or paprika, 1 tsp. oregano, salt and pepper to your liking, 1/2 lb. Chanterelles (cut into chunks), 1/2 lb. lobster mushrooms (cut into chunks), 1 can artichoke hearts, 1 yellow bell pepper (chopped), 1/2 cup green peas, 2 heirloom tomatoes (seeded and chopped), 3 cloves minced garlic, 1 cup Arborio rice, 1 pinch saffron, 1/4 cup parsley (chopped), 2 cups vegetable stock, 1 lemon (cut into 8 wedges), 1 small onion (chopped)
Recipe: – Set oven to 350°F to preheat. Heat 3 tbs. olive oil in a large cast-iron skillet over medium heat.
- Stir in garlic and rice. Cook, coating rice with oil, about 3 minutes or until starting to brown.
- Stir in saffron, herbs, vegetable broth, Chanterelles + lobster mushrooms, tomato, onion and yellow pepper.
- Bring to a boil, cover, and reduce heat. Simmer 20 minutes.
- Add in peas, stir and simmer a further 5-8 minutes.
- Remove from heat, cover evenly with artichoke hearts and parsley.
- Cover with aluminum foil and bake for 15-20 minutes.
- Let sit for 5-10 minutes, garnish with lemon wedges and serve.
- Melt with gustatory joy.
Luke Adams
U.S. Royalty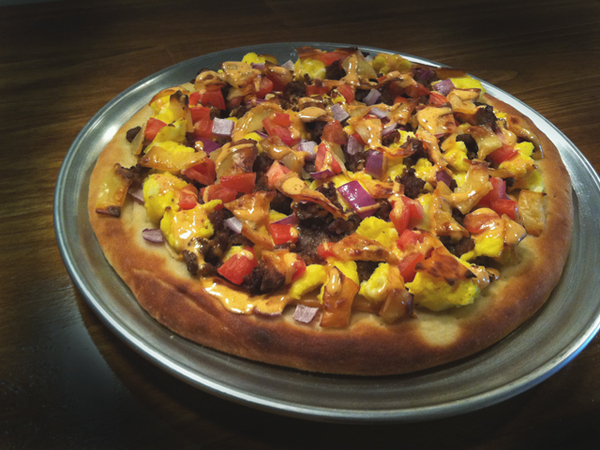 Dish: "I Come Down From The Mountain" for Brunch Pizza
Description: This is my favorite brunch recipe to make after a late night out or in the morning after a show (especially when served with a homemade Bloody Mary). Toppings vary depending on what's in my fridge. For example, I might use red peppers instead of tomatoes or Gouda instead of Gruyere. I've also been known to substitute the pizza crust for a tortilla shell. Just wrap up all the toppings (eggs, sausage, cheese, onions, and tomatoes) in the tortilla shell and top with the Mountain sauce for an amazing breakfast burrito. The contrast of the spicy Mountain sauce and smokey Gruyere makes this pizza (or burrito) really delicious.
Ingredients: – Crust: 1 1/2 cups flour, 1 tbs. sugar, 1 ts fast rising yeast (or fast rise, 1/2 envelope), 1/4 tsp. salt, 1/2 cup hot water (120 to 130 degrees), 1 tbs. oil
- Pizza: 1/2 lb. ground sausage, cooked, 8 oz. smoked Gruyere cheese (sliced thin), 1/4 cup chopped red onion, 1/2 red tomato (diced), 4 large brown eggs (scrambled with 1/2 cup milk), salt and pepper to taste
- Mountain Sauce: 2 tbs. mayonnaise, 1 tbs. Cholula, dash of red pepper flakes.
Recipe: – In a large bowl, combine 1/2 cup flour, sugar, undissolved yeast, and salt; blend well
- Gradually add water and oil to mixture. Blend at low speed until moistened, then beat for 2 minutes at medium speed. By hand, add 1 to 1 1/2 cups of flour until dough pulls away from sides of bowl.
- On floured surface, knead in 1/4 to 1/2 cup flour until dough is smooth and elastic. Cover loosely with plastic and let rest in a warm place for about 15 minutes.
- Press out dough onto 12-inch pizza pan. Prick randomly with a fork. Let rest again in a warm place for 10-15 minutes.
- Brush crust lightly with oil or butter, then pre-bake in a 450°F oven for 5 minutes.
- Add a layer of sliced Gruyere cheese, scrambled eggs and cooked sausage.
- Top with chopped onions, diced tomatoes, and more Gruyere cheese.
- Bake at 450°F for 5 minutes, broil 1-2 minutes until cheese is melted and crust is golden brown. Drizzle Mountain sauce over entire pizza.
- Slice and serve with Bloody Mary.