32 Musicans Share Their Favorite Recipes
Page 5 of 8
We asked 32 musicians to share their beloved recipes with us. What we received in return included a wide variety of cuisines for just about any level of cook. Whether you're looking for something simple like a breakfast hangover cure from Firehorse's Leah Siegel or the "greatest southern seafood GUMBO in the world" courtesy of The Antlers' Darby Cicci—these artists have prepared something for everyone.
Dish: We call it Vegetarian Sausage and Pasta.
Description: My wife Destiny always made this for us and I liked it so much that I now cook it every time I make a meal.
Ingredients: 4 Cups Water, 2 Cups Farfalle Pasta, 2 Italian sausage links (we use tofurky), 1 tbs. butter, 1 tsp. salt and pepper, 1 tsp. crushed red pepper, 2 tsp. oregano
Recipe: – Bring Water to a rolling boil, add pasta.
- While pasta is cooking, add sausage and olive oil to skillet and cook on medium heat.
- Once pasta is almost done, turn heat up on sausage from medium to high heat.
- Drain pasta and do not shake out excess water, set aside.
- Add butter to skillet and once it has melted, add pasta all at once to hot skillet
- Allow the pasta to set in the skillet for at least 1 minute before stirring.
- Stir frequently and add remaining ingredients.
Dish: Bangers & Mash
Description: None of us had tried this before—a traditional English "pub grub" dish—but had a craving to test it out as a pre-birthday party meal. Serves 6 starving people, 8 normally hungry.
Ingredients: 10 large potatoes, 1/2 cup milk, 2 lbs. sausage (fresh from a butcher), 1 large onion, 1/2 lb. bacon (fresh from a butcher), tequila , vinegar, A1 sauce, cinnamon, various spices, a bunch of carrots, some brussels sprouts, peas, Link Wray's eponymous album and any Taste record
Recipe: – Start by pouring shots of tequila for everyone. Why not? And put on a Taste record.
- Fill the large pot 3/4 full of water, pour in a dash of vinegar and bring to a boil.
- While the water heats, peel and cut up the spuds (light saber is preferable), onion, carrots and bacon how you like them, separate the sausage links, and clean the sprouts. Talk about how incredible that Rory Gallagher guitar solo is.
- When the water is like a rough sea, drown the potatoes. Toss in the carrots and half the onion too.
- Plop the sausages in the skillet—as many as you can fit on LOW heat.
- When the sausages start sizzling, rain down the bacon and rest of the onions on them and mix it up.
- When the sausages are cooked through (but not overcooked), pull them out and toss the sprouts into the bacon/onion mix for five minutes or until basically tender
- Boil the peas for about two minutes or until hot.
- When the potatoes are soft, strain 'em and mash 'em with milk and butter. Spice how you like. Don't worry about keeping it all a bit lumpy.
- Put it all on a plate, making presentation aesthetics a priority. Zigzag/douse the sausages with A1 sauce and sprinkle subtly with cinnamon. Blanket the bacon and onions over everything. Yeah.
- Enjoy while listening to Link Wray.
Kelly Pratt
Bright Moments

Dish: Chili
Description: March Madness is nigh! A big pot of this chili should get you through the first few days of the tournament. If you want to do it the old fashioned way, use dry beans (soaked overnight), but this way is easier.
Ingredients: 1 lb. ground beef, 1 green pepper, 1 yellow onion, 1 red onion, 2 cloves garlic, 2 jalapeno peppers, 1 can diced tomatoes, 2 8 oz. cans tomato sauce, 1 large can drained red kidney beans, 1 16 oz. can drained black beans, 2 tbs. chili powder or to taste, 1 tsp. cayenne pepper, 1 tbs. fennel seed, 1 tsp. pepper, 1 tsp. salt, 1/2 tsp. cinnamon, 1/2 tsp. basil, 1/2 tsp. cumin, touch of ground ginger, cheddar cheese, sour cream
Recipe: – Cook peppers, onion, garlic on medium heat until a little soft.
- Add beef, but don't break up too much. Drain grease. Add to large pot with everything else.
- Add spices and bring to a boil. Reduce heat to simmer. If it's too chunky add a little water or beer. If it's too runny let it boil down a little.
- Cover and let simmer for an hour or so.
- Let it sit for a minute then serve that with shredded cheddar and sour cream.
Patrick Wheeler
Wheeler Brothers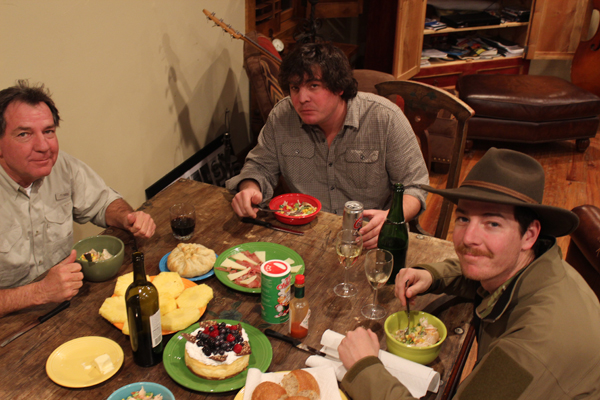 Dish: Molly's Chicken Succotash
Description: After a long 10 days at the studio, Tyler, Dad, Molly and I decided to kick back at the ranch for a couple days of R&R. The first order of business for our day off was cooking a band favorite, Molly's Chicken Succotash. Here is a little information to help our fellow musicians out there living the road warrior lifestyle. Now you don't have to be a road warrior to enjoy this savory succotash—we recommend this dish to all our buddies. Enjoy! Serves 5 hungry musicians.
Ingredients: 2 rotisserie chickens, 1 bunch of scallions, 5 ears of corn, 1 1/2 bags of baby Lima beans, 4-6 jalapenos, 2-3 green house tomatoes, 1 1/2 cups of heavy whipping cream, 4 tbs. or 1 stick of butter
Recipe: – Shuck and boil ears of corn in large pot. Once cooked, rinse with cold water and cut corn off cob.
- In a saucepan, heat butter and sauté scallions and diced jalapenos for around five minutes.
- Separate chicken meat from bone and add meat, corn and whipping cream.
- Allow mixture to simmer for additional 7-8 minutes.
- Finally add chopped tomato to garnish. Salt and pepper to taste.