32 Musicans Share Their Favorite Recipes
Page 6 of 8
We asked 32 musicians to share their beloved recipes with us. What we received in return included a wide variety of cuisines for just about any level of cook. Whether you're looking for something simple like a breakfast hangover cure from Firehorse's Leah Siegel or the "greatest southern seafood GUMBO in the world" courtesy of The Antlers' Darby Cicci—these artists have prepared something for everyone.
Timothy Nordwind
PYYRAMIDS

Dish: Vegetable Moroccan Tagine
Description: Tagines are the Moroccan's answer to the crock pot done in a clay cooker. The more you let this simmer the better the flavor. Tagines can be done with meat as well and the vegetables then become the sauce to the meat. But the vegetable sauce is a meal on its own, and I recommend baking some shredded up cauliflower to use as a substitute for couscous.
Ingredients: 1 clay tagine cooking pot with cover, 1/4 cup olive oil, 1 onion (sliced into rings), 2 sliced garlic cloves, 2 tomatoes (sliced), lots of capers, lots of olives, 1 eggplant (sliced into 1/4 pieces), 2 sliced carrots, 2 sliced yellow squash, 2 sliced green zucchini squash, 2 sweet potatoes (peeled and sliced 1/4" thick), 1 1/2 tsp. of sea salt, 1/2 tsp. cayenne pepper, 1/2 tsp. cumin, several pinches of saffron threads, 1 tbs. of cinnamon
Recipe: – You want to use the onions, garlic, olive oil and tomatoes as your base along with all the spices.
- Eventually, add everything else in and let it simmer together in the tagine for 30-40 minutes.
- Once everything feels soft and mixed together feel free to put on low and serve away on a bed of the baked cauliflower.
- Refrigerate, and enjoy the next day. It usually tastes even better as left overs when you let it sit in all of its flavors over night.
Kyle Wilson
Milagres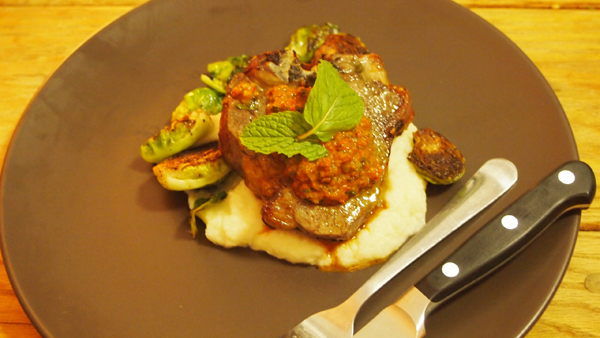 Dish: Broiled Lamb Chops with Brussels Sprouts, Harissa and Cauliflower Puree
Description: This recipe serves 2 and takes quite a while to make, so hopefully you have a bottle of wine and don't have to get up in the morning.
Ingredients: 2 lamb loin chops (use pork chops for a more frugal alternative), tons of olive oil, 1 head cauliflower (broken into florets), 10 brussels sprouts (cleaned), 1 head of garlic, 1/2 cup of cream (whole, light or half and half), 1/2 tbs. butter, 1 cup chicken stock (water is fine if you don't have it), 1/2 red bell pepper, 2 whole fresh jalapenos, 1 bunch mint, 1 bunch cilantro, 1 lemon, 2 squares dark chocolate (70% cocoa or higher), 1 pouch Chimayo red chile powder (or other ground red chile powder), cumin, cinnamon, cardamom, coriander
Recipe: – Set your lamb chops out on a cutting board. Salt them on both sides and let them sit while you start on everything else.
- It's easiest to start the marinade/rub for the lamb and the harissa at the same time because they have a bunch of ingredients in common. Set out two bowls, one for each. Press 2-3 medium cloves of garlic into each bowl and add a few tablespoons of olive oil. Add about a teaspoon of cumin, a teaspoon of ground coriander, a dash of cardamom and a small dash of cinnamon to each bowl.
- Chop a few leaves of mint and a few leaves of coriander and add them to one bowl. Spoon the contents of this bowl onto each side of each lamb chop. Add olive oil before you do so, if necessary. Once the lamb chops are coated, put them in a zip lock bag, or wrap them in plastic wrap and add the rest of the contents of the bowl. Let them sit until the rest of your recipe is ready to go.
- Take the second bowl and add a few whole leaves of mint and a few whole leaves of cilantro. Add about two tablespoons of Chimayo red chile (Nuevo Mexico por vida!). If your chile is really hot and you're a wuss, you can add less. Clean 1/2 a red bell pepper and two jalapenos and cut them into pieces that are small enough for a food processor to manage and add them. Add 2-3 squares of dark chocolate. Squeeze 1/2 a lemon (strain out the seeds) into the bowl. Dump the contents of the bowl into a food processor and begin to puree, stopping occasionally to taste. Add lemon, olive oil and salt (and whatever else it needs) to taste as you are pureeing. The final texture shouldn't be completely smooth, but close to it. Set contents aside at room temperature. This recipe for harissa is totally inauthentic, by the way. I just made it up using what I could find at the vegetable stand across the street.
- Start pre-heating your broiler. Drink something.
- Next make the cauliflower puree. Slice 2 cloves of garlic and sautée in olive oil over medium heat. Break cauliflower into florets and add to pan. Add chicken stock, a pinch of salt and then cover to let the cauliflower steam. When cauliflower is soft (probably around 10 minutes), empty the contents of the pan into a food processor. Add 1/2 cup of cream and 1/2 tbs. of butter. Puree until smooth and set aside in a small pot on the stove. Keep it warm at low heat, stirring occasionally, but don't let it get hot.
- It's time to broil the lamb chops. Broiling happens very fast, so set a timer. Put the lamb chops on a sheet of foil and broil them for 2-4 minutes on each side. Don't be afraid to cut them open and see how they're doing if necessary. When they're done, set them out on a cutting board for about 5 minutes and let them relax. Settle down, you're almost done.
- While the lamb chops are broiling, heat a few tablespoons of olive oil over medium heat in a large pan. Place the brussel sprouts face down in the pan and put a little bit more olive oil on them as well as a pinch of salt. Don't move them for 5 minutes or so. They should be slightly burnt when you start to move them around in the pan. Cook them for about 5 more minutes or until tender. Smoke something.
- Spread a few heaping spoons of the cauliflower on an ugly Ikea plate, sprinkle a few brussels sprouts over the cauliflower, then place the lamb on top. Finish with a spoonful of harissa and, of course, a sprig of mint for that bourgeois look!
Dave "Nova" Nowakowski
Scars On 45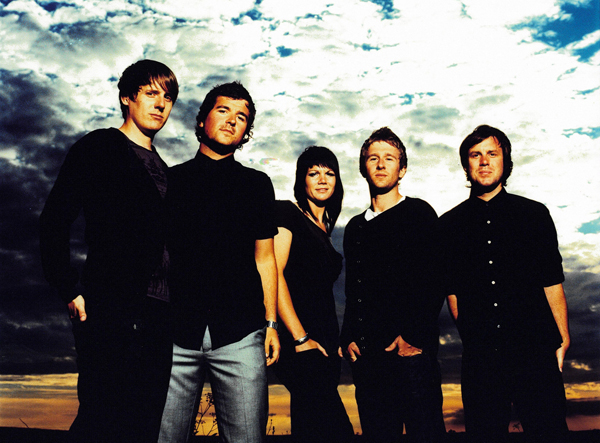 Dish: Chicken & Potato 'Desi' Curry
Description: My name is Nova, I play piano for the UK band Scars On 45. I have always been brought up from a young age on good food but best of all good local food. In Bradford, England where Scars On 45 are from, we have the best Pakistani cuisine in the UK! Bradford is renowned for its wide selection of curry houses where they serve the most delicious dishes I have ever tasted. Curry is the favorite meal of the band, and when I got asked to provide a recipe, I jumped at the chance to share my experience with you. My main advice is the three P's
• Planning – How many people, choice of meat, etc.
• Preparation – All ingredients are chopped, spices measured, etc.
• Patience – Take your time and enjoy the cooking process!
Ingredients: 1 kg. chicken pieces either on bone or off, 2 medium onions (finely chopped), 1 garlic bulb (peeled and crushed), An equal-sized piece of ginger (finely grated or crushed), 3 tomatoes (chopped), 1 tsp. salt, 1 tsp. red chili pepper, 1/2 tsp. tumeric, 1/2 tsp. mild paprika, 1 tbs. fresh coriander (finely chopped), 1 tsp. cumin, 1/2 crushed, new potatoes (washed and chopped in half or quarters depending on how large they are), 1-2 fresh green chili
Recipe: – Heat 5-6 tbs. of vegetable or olive oil in pan, put in onions and fry until soft and golden brown.
- Add garlic, ginger and tomatoes, fry on medium heat until they release oil and all liquid [is] gone.
- Add in spices (not cumin), stir.
- Add chicken, put heat on full and stir occasionally. When the chicken starts to stick to sides, lower heat and continue to stir until oil is released.
- Add green chili (if heat desired, split and leave in seeds). Taste and check for balance of salt and chili. Add more if required.
- Add potatoes and 1 pint of water. Bring to boil, once boiling reduce to lowest heat and simmer for at least 20-30 minutes. Once oil is released on top. Put in bowl to serve.
- Garnish with coriander and cumin. I always like to eat my curry with Chapatti or Roti flatbread. Pinch the chicken and wipe the sauce. It will truly melt in your mouth!
Dish: Sopa de Tortilla
Description: First thing I do when I get off a long tour is go to the market and get ingredients for chicken stock so I can make a big old pot of soup. This is one of my favorites, it's comforting, filling all on it's own and it's got a little kick. And really—make your own stock. Chicken stock is just made by boiling the crap out of a chicken, it's super easy and it makes your house smell great and every pot of soup a million times better.
Ingredients and Recipe for Sopa de Tortilla: – Sauté in a couple tbsp of bacon grease (or butter) till soft (about 5 minutes): 2-3 medium yellow onions (finely chopped), 3 or 4 ribs of celery with leaves (finely chopped), 1 poblano pepper (sweet pepper if you don't like a kick, add habaneros if you do!), 6 cloves garlic.
- Add 1 can Ro-Tel chopped tomatoes and chilies (other brands make the same thing in small 10-14 oz cans), homemade chicken stock (8-12 cups, see below).
- Simmer, partially covered for about 30-45 minutes. For the last minute or two add a 1/2 bunch fresh parsley and a 1/2 bunch fresh cilantro. Add salt to taste.
- Set out small serving dishes with good melting cheese (oaxacan string cheese, Monterrey jack or mozzarella, diced small), 1 avocado (diced or sliced small), tortilla chips, 1 small red onion (finely chopped) fine, 2nd half of fresh cilantro, sour cream.
Ingredients and Recipe for homemade chicken stock: – Need 1 whole chicken (including giblets), 8 chicken thighs on the bone, 2 carrots, 2 celery, 2 onions, 1 bay leaf.
- Feel free to peruse your vegetable drawer for any old stuff to add (except broccoli or cabbage, yuck) turnips, parsnips, potatoes, peppers, old garlic cloves. As long as they're not rotten it's ok if they're tired.
- Put in a big pot. I use one of those pasta pots with the pull out colander-makes it really easy to separate the stock from the rest of your meat!
- Cover chicken, vegetables and bay leaf with water. Bring to a boil, turn down to an active simmer, partially covered—and let it go for at least an hour and a half, maybe 2. Add more water if it goes down too low to cover stuff. Skim off anything dirty and foamy every once in awhile. Chicken should be completely falling apart. Just cook the crap out of it.
- Pull colander out, and put on large plate to let cool. If you don't have a pasta pot combo—carefully pour contents through a large colander that's on top of another large pot or bowl to catch the stock underneath your stuff. Set aside chicken and bones to cool before handling.
- When cooled down, pull good eating meat from the bone by hand, discard bones, skin and anything unpleasant to eat. Chop meat coarsely or rip into bite-sized bits and set aside for later. The breast/white meat is usually too dry for soup-it's best to slather it with mayo and make yourself a chicken sandwich with. Your call.
- Makes 8-10 cups of stock. Feel free to clarify. I like my soups murky, peasant style myself.
Side note: Soups are a notoriously inexact science. It's one of the things I love about them is that they're a little different every time. So I'm just guessing for some of these amounts, and If you know you like one ingredient a LOT, go ahead and add more.