32 Musicans Share Their Favorite Recipes
Page 7 of 8
We asked 32 musicians to share their beloved recipes with us. What we received in return included a wide variety of cuisines for just about any level of cook. Whether you're looking for something simple like a breakfast hangover cure from Firehorse's Leah Siegel or the "greatest southern seafood GUMBO in the world" courtesy of The Antlers' Darby Cicci—these artists have prepared something for everyone.
Asa Taccone
Electric Guest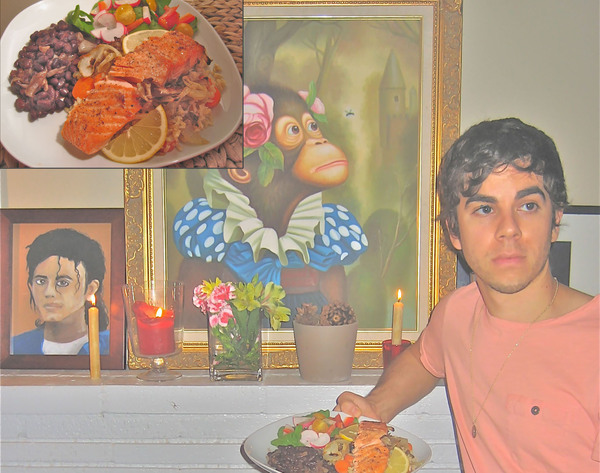 Dish: Broiled King Salmon with Oyster Mushrooms
Ingredients: 1/4 lb. of King Salmon, handful of iyster mushrooms, 2 cloves garlic, 2 white onions, 1 cup brown rice, 1 can black beans, sliced lemon, 1 cup arugula, 2 small radishes, handful of cherry tomatoes
Recipe: – Boil brown rice for 45 minutes or until done.
- Sauté minced onions, minced garlic and Oyster mushrooms in olive oil for 5 mins or until they are half way cooked.
- Put a 1/3 of the sauté into another pot with the can of black beans (do not drain beans, keep the sauce so that the beans absorb it).
- Add a copious amount of olive oil to the black beans and put them on medium heat. – Cook until the beans have absorbed all of the sauce. You can add a pinch of cumin to taste.
- Spice salmon with salt, pepper and olive oil
- Set the broiler on hi and place salmon on a rack over tinfoil, adding another 1/3 of the sauté around the edges of the fish.
- Broil on high for 10 minutes or until fish is flaky.
- Wash and dry arugula and add chopped radishes and halved tomatoes. Add whatever dressing you like.
- When fish is done garnish with sliced lemons and serve.
Steve "Lips" Kudlow
Anvil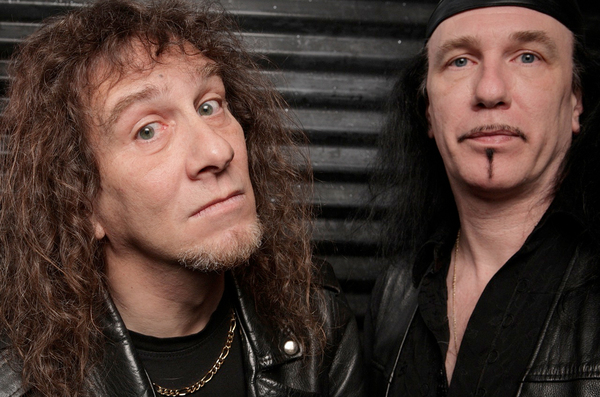 Dish: Lip's Pizza Fries
Ingredients: 1 bag of McCain frozen French fries,1 24 oz. can Unico pasta sauce, 1 lb. of lean ground beef, 1 bag shredded mozzarella cheese
Recipe: – Set oven on 425F.
-Spread french fries onto a cookie sheet and cook for 20 minutes until golden brown.
- During this time, brown meat in a skillet until completely cooked and drain the fat away.
- Mix cooked meat into 48oz of pasta sauce bring to a boil. It is advisable to begin this process before cooking the fries for best results.
- Slowly simmer the sauce and meat until it thickens up.
- Remove fries from the oven and pour the sauce over the fries.
- Sprinkle shredded mozzarella cheese on top, return to oven for about 5 minutes until cheese is melted.
- Remove and dish unto plates to serve.
Bret Constantino
Sleepy Sun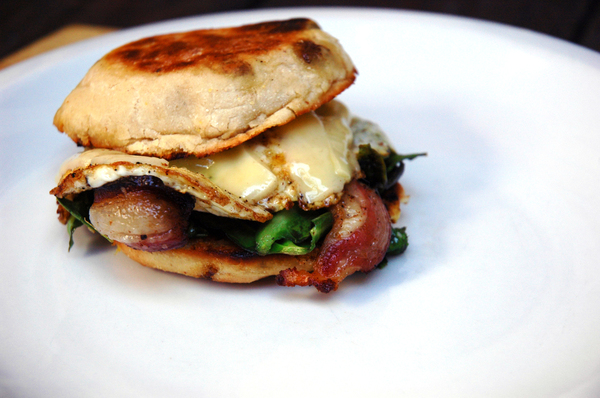 Dish: Lambacon Egg Sammy
Description: This spin on the classic egg sandwich has all the food groups. Look for lamb bacon at your local charcuterie. This particular Lambacon is spiced with star anise, Chinese five-spice and a little brown sugar.
Ingredients: 1 oz. lamb bacon (2 slices), 1 egg, 1 oz. Gruyere, sliced English muffin preferably with raisins, 1 cup mustard greens, 1 tsp. Honey Dijon mustard, 2 tbs. butter, salt, pepper
Recipe: – Heat a medium size cast iron pan on medium-low heat. place bacon in the pan to begin cooking either side. Cut english muffin in half, butter both sides and lay face down to begin browning.
- In another small sauté pan under medium-high heat, add a small dollop of butter. Once the butter is clarified, add the mustard greens and season with salt and pepper. Stir and cook just a few minutes then set aside.
- Back in the hot cast iron, crack the egg, season with salt and pepper, and fry. It's important to check the heat, as you do not want to overcook the egg. cook just 1 minute then flip over easy. Once flipped, add the slices of cheese. Cover 1 minute just until cheese is melted.
- Spread a little honey Dijon mustard on bottom half of the crisped english muffin, then assemble a bed of mustard greens, add the layer of lamb bacon followed by the egg with cheese.
Kevin Rhodes
Onward, Soldiers

Dish: "MONSTER" Scampi
Description: Whole wheat pasta with garlic cream sauce and sautéed shrimp!
Ingredients: Garlic, Olive Oil, Chopped Celery, Herbs, Red Bell Pepper, Shelled & Chopped NC Shrimp, Butter Cream, Flour to thicken, Whole Wheat Pasta, Red Pepper Flakes, Touch of Nutmeg, Sea Salt