32 Musicans Share Their Favorite Recipes
Page 8 of 8
We asked 32 musicians to share their beloved recipes with us. What we received in return included a wide variety of cuisines for just about any level of cook. Whether you're looking for something simple like a breakfast hangover cure from Firehorse's Leah Siegel or the "greatest southern seafood GUMBO in the world" courtesy of The Antlers' Darby Cicci—these artists have prepared something for everyone.
Andrew Belle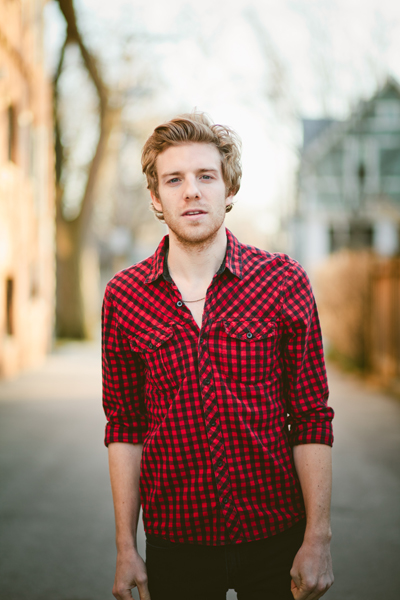 Dish: Salmon with Ginger preserves & Thyme
Description: We found this recipe last year when Gwyneth Paltrow released her cookbook, "My Father's Daughter," and have loved it ever since! It's super healthy and one of my favorite dishes that we would make this past summer—over and over again. All you need to do is coat a few salmon fillets in any kind of good quality jarred orange marmalade, sprinkle with thyme, and season lightly with salt and pepper. Fire up the grill and bake for about 10-11 minutes. It's THAT simple. We love to serve this dish on top of a warm serving of steamed brown kale rice and garnished with a big scoop of fresh mango salsa.
Ingredients: 4 6 oz. salmon fillets (with skin on), coarse salt, fresh ground black pepper, 1/2 cup ginger preserves (I like the Wilkin & Sons brand), 1 tbs. fresh thyme leaves
Recipe: – Heat the grill over medium-high heat.
- Sprinkle each piece of salmon with salt and pepper and then evenly distribute the ginger preserves, being sure to coat not only the tops of the fillets, but also the sides.
- Sprinkle the top of each fillet with the thyme leaves.
- Place the salmon skin side down on the grill, cover, and cook for 10 minutes.
- Slide a large, sturdy spatula in between the skin and the flesh of each fillet and carefully lift them off of the skin—this should happen pretty easily.
- Discard the salmon skin.
Side note: Gwyneth will tell you to discard the skin, but once the fish is finished cooking, I like to remove the fillet, flip the gooey side down on the hot grill for 15-20 seconds and then quickly remove it; allowing it to crisp up to perfection in just a few seconds. It's a little adventurous and makes a great addition to the dish. As long as the fish was cleaned and scaled properly, it'll taste great!
Risa Binder

Dish: Nana's Pumpkin Chocolate Chip Cake Recipe
Description: I love my grandmother Dorothy Binder. She is 92 years old, a gifted painter, takes Belly Dancing Classes and yes she even goes speed dating! I also love all things Pumpkin. She has made this cake for every special occasion since I can remember. The cake is great with chocolate chips added or just by itself. I make the traditional bundt cake but have also made mini bundts as well as mini-loafs of this yummy dessert. For those who love icing, fill the center of the mini bundt cakes with a Cream Cheese Frosting.
Ingredients: 2 cups flour, 2 cups sugar, 4 eggs, 1 cup oil (Canola), 1 large can of pumpkin, 1 1/2 tsp. baking soda, 2 tsp. baking powder, 2 tsp. cinnamon, 1/2 tsp. salt, bag of Nestle chocolate morsels
Recipe: – Combine eggs and oil.
- Add flour, sugar, salt, baking powder, baking soda, cinnamon and 1 large can of pumpkin.
- Mix until very well blended with an electric mixer.
- Add half a large bag or all of a small bag of morsels.
- Preheat oven to 350 degrees.
- Liberally spray a bundt pan with Pam.
- Add mixture and bake for 55-60 minutes.
- Let cool (I usually very gently separate the cake from the pan with a knife before inverting it on a large plate). And there you have it! Nana's pumpkin cake.
Nic Snyder
1,2,3

Dish: Nic's Whole Wheat and Pepper Salmon Cakes
Description: At the end of the day this healthy and hardy-ass meal shouldn't cost more than a ten dollar bill for the lonesome soul and fifteen for the loving couple. Serve with fried okra, baked beans and a Guinness.
Ingredients: 1 can of pink salmon, 1 tbs. of olive oil, 1 cup whole wheat bread crumbs, 1 banana pepper, 1 jalapeno, 1/4 cup of diced sweet onion, 1/2 celery stick (diced), 1 egg, salt, pepper, Old Bay, chili powder
Recipe: – When you've got your bread crumbs the next step is forming the patties. You're typically supposed to refrigerate them over night before frying. But I usually just refrigerate them for the length of a nap or a workout.
- Start by draining the water from the can of salmon (one can makes three to four patties), then remove all the skin and bones (save it for the local alley cats.) You want to compile your meat in the center of a cutting board or bowl and dump on your bread crumbs.
- Dice up half of the banana pepper and half of the jalapeno and add them to the bowl along with onions and celery. Kneed it into a mound and burrow out a little cylinder at the peak like a salmon volcano.
- Crack your egg into the volcano and work it into the mound.
- This keeps the cakes from falling apart in the frying process. After you've massaged the salmon concoction to an even consistency you want to add a healthy dusting of the spices listed above.
- Form them into little pucks about an inch thick. Add another dusting of Old Bay to each side and refrigerate. The rest of the process won't take more than 20 minutes.
- After your nap, heat up a tablespoon or two of olive oil in a frying pan on lower medium heat. Fry about eight minutes or until golden brown on each side.
Side note: The most difficult part of this recipe is the little bit of forethought that goes into it. Being a single man, it's easy to let a lot of food go to waste. So I tend to use things in more ways than one. For instance, the bread crumbs I typically use are from whole-wheat baguettes that sat out a few days too long. Grate that shit with a cheese grater into a clean-whipped topping container, sprinkle some salt in and a bit of parsley and you can just store it with your dollar store spices.
Jennifer Herrema
Black Bananas

Dish: Hoppin' John New Year's Eve southern dish
Description: with collards for luck, health, and prosperity… add a coin to the peas pot for extra juju.
Ingredients: – Collard Greens: 2 lb. Applewood smoked bacon, 4 oz. chopped shallots, 3 cups sherry vinegar, 5 bunches of collard greens (cleaned), 2 quarts of chicken stock, 1 quart water, 5 tbs. Tabasco sauce
- Black-Eyed Peas: 3 lb. fresh black-eyed peas (or cowpeas) 2 smoked pork knuckles, 3 quarts chicken stock, 3 sprigs of oregano, 6 garlic cloves, black pepper, salt
Recipe: – Dice and render the bacon until crispy
- Add Tthe shallots and cook until translucent.
- Add honey and Sherry vinegar; cook until syrupy.
- Add collard greens and cook until wilted.
- Add water and chicken stock; simmer for two hours.
- Season with salt, pepper, and Tabasco.
- Cover peas with stock and water; bring to a simmer.
- Add oregano, garlic, and pork knuckles; cook for 45 minutes or until done.
- Season with salt and pepper.
- Add rice and it becomes Hoppin' Johns.