Presidential Playlist: A Song for Every Commander-in-Chief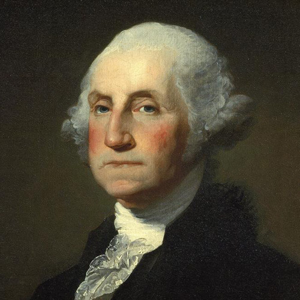 Page 1 of 2
Today, as the nation honors our fearless leaders (or, you know, hits the mall for some ridiculous deals), we at Paste pay tribute to the country's highest office with a track for every president (before you ask: Grover Cleveland only gets one).
We chose songs that were written specifically about certain presidents when possible, but while there's a bevy of material about JFK, Lincoln and Nixon, finding tracks about Millard Fillmore proved to be a little more difficult. For cases like those, we tried to get a little more creative, choosing songs that represent a theme or factoid from that president's life.
Without further ado, we give you our Presidential Playlist. Be sure to let us know in the comments section if there's an awesome Rutherford B. Hayes jam we missed.
George Washington
"No More Kings" by Pavement

Stephen Malkmus and company teach us all about taxation without representation by covering this Schoolhouse Rock classic. But if historical accuracy's not your thing and you prefer to hear about how our first president "ate opponent's brains and invented cocaine," we recommend Brad Neely's hilarious Washington rap.
John Adams
"Je T'aime Moi Non Plus" by Serge Gainsbourg and Jane Birkin

Adams' presidency was marked by foreign policy disputes with France, who was at war with Britain at the time. So what better track for Adams then this ode to Anglo-Franco lovin' by one of France's finest and his English girlfriend?
Thomas Jefferson
"Goin' To Louisiana" by John Lee Hooker

Jefferson nearly doubled the size of our country in 1803 with the Louisiana Purchase, purchasing 828,000 square miles for just $15 million. No word on whether he also bought a "mojo hand."
James Madison
"The Battle of New Orleans" by Johnny Horton

This 1959 country hit recounts the story of the Battle of New Orleans, a key victory for the U.S. in the War of 1812 during Madison's presidency.
James Monroe
"Keep Your Hands To Yourself" by Georgia Satellites

The Monroe Doctrine, laid out during the president's seventh State of the Union, warned that further European colonization of North and South America would be seen as an act of aggression requiring American intervention.
John Quincy Adams
"I Predict A Riot" by Kaiser Chiefs

John Quincy Adams was strongly opposed to slavery, and he correctly predicted that the only way it would be abolished would be if a civil war were to break out.
Andrew Jackson
"The Jackass Song" by Harry Belafonte

Democrats today have Jackson to thank for the party's mascot. Opponents referred to him as a "jackass," but rather than get offended, Jackson owned it, using the animal as a symbol on campaign materials.
Martin Van Buren
"Indian Reservation" by Paul Revere & The Raiders

"Indian Reservation" is inspired by the Trail of Tears—the forced relocation of many Native American tribes to small reservations in the West—which Van Buren oversaw.
William Henry Harrison
"The President's Dead" by Okkervil River

Harrison was only in office for a month before he succumbed to pneumonia, becoming the first president to die in office. While it's not about a specific president, Will Sheff and co.'s song about the shock a nation experiences whenever it loses a commander-in-chief seems pretty fitting.
John Tyler
"A State of Texas" by Old 97's

Tyler's widely regarded as one of the more obscure presidents, but his most significant achievement was the annexation of Texas. Yee-haw!
James K. Polk
"James K. Polk" by They Might Be Giants

"We were sitting around talking about obscure presidents in history, and whether they were actually as unimportant during their own time," John Linnell said about this song in 1992. "And the name James K. Polk came up, and we looked him up and found that he was actually a pretty important guy. He started a trumped-up war with Mexico. He supported Manifest Destiny. Basically, he was a real bastard."
Zachary Taylor
"Sour Cherry" by The Kills

Taylor died just 16 months into his term from an unknown digestive issue, which was believed to be the result of Taylor—no joke—eating a bunch of cherries and drinking excessive amounts of milk in an attempt to cool off on a hot day. Yum.
Millard Fillmore
"Hot for Teacher" by Van Halen

Fillmore married his former teacher, Abigail Preston, after the pair met at the New Hope Academy. Before you cry "scandal!" though, she was only two years older than him. But that's still enough for us to bust out some Van Halen.
Franklin Pierce
"Song for the Dumped" by Ben Folds Five

Pierce was such an unpopular president that his own party abandoned him, and he lost the Democratic nomination in 1856—the only elected incumbent president to lose his party's nomination. Ouch. We think he'd probably relate to this Ben Folds Five track.
James Buchanan
"Lonely Boy" by The Black Keys

Buchanan remains the only president to be a lifelong bachelor. His niece served as First Lady during his term, but we can't help but think the White House was a little lonely while he was in office.
Abraham Lincoln
"Abraham, Martin and John" by Marvin Gaye

Marvin Gaye's smooth vocals add an extra poignancy to this Dion cover, which pays tribute to Lincoln, Martin Luther King and JFK. "He freed a lot of people, but it seems the good die young," Gaye laments, "I just looked around and he was gone." Also recommended: "Abe Lincoln" by Bishop Allen.
Andrew Johnson
"Impeach the President" by The Honey Drippers

It's probably safe to assume that this funky 1972 track is about Nixon, but it's fitting here too; Johnson was the first president to be impeached. He was ultimately acquitted by one vote in the Senate.
Ulysses S. Grant
"The Night They Drove Old Dixie Down" by The Band

We'd be interested to know how the head of the Union Army would feel about this track about the final days of the Civil War told from the Southern perspective.
Rutherford B. Hayes
"Close Call" by Rilo Kiley

Hayes won his election by the slimmest of margins: just one measly electoral vote. Phew! Close call indeed.
James Garfield
"Mr. Garfield" by Johnny Cash

Cash brings the pathos as only he can, recounting James Garfield's assassination with this Ramblin' Jack Elliott cover.
Chester A. Arthur
"In The Navy" by the Village People

Naval reform became one of the major debates in Arthur's presidency, with Congress approving funds to modernize the navy and build new vessels.
Others Tagged With