10 Arizona Bands You Should Listen to Now
The desert encompassing Arizona makes for scorching hot days, a cool nights and all the scenery a band can need for inspiration. The vast amount of bands coming from the state are migrating towards Phoenix and the suburban sprawl it produced in the Valley of the Sun. Sunny-psychedelia, electronic pop, Motown-inspired rhythms and gypsy folk dances through the cacti and offers a wide variety of styles for all pallets searching for something to quench their thirsts. Check out these bands from Arizona.

10. Yellow Minute
Hometown: Tempe
Members: Sean Brennan, PJ Waxman, James Mulhern, David 'Mitch' Maroney, Greg Muller
Album: you+you+you+you=me
Every member of Yellow Minute is in a different band, but this collective brought together by Sean Brennan is by no means just a side project. The upbeat electro-pop foursome is dropping the computer and currently recording a "stoner beach rock" album about the 1920s.

9. Stephen Steinbrink & French Quarter
Hometown: PHoenix
Members: Steven Steinbrink, Preston Bryant, Chase Kamp, Andrew Dorsett
Album: Condensed Nothing
Steven Steinbrink likes to keep busy. Condensed Nothing was his third body of work released in less than a year and like most of his music it was recorded in his home. He's a singer/songwriter at heart and often plays solo, but claims that he'll play with 50 people if that what makes his music come alive. His textural pop songs are reminiscent of a modern day Nick Drake.

8. Future Loves Past
Hometown: Tempe
Members: Mike Anderson, Tristan DeDe, Sarah Hibner, Rickmo, Eric W Palmer, Sean Wintrow
Album: Future Loves Past
The majority of the Phoenix scene brings out the best in pop music from four or five decades ago, and Future Loves Past perfectly captures the sound and vibe of the 1970s. There's a little bit of psychadelia, straight pop and British Invasion that swirls together happily in your ears.

7. Dry River Yacht Club
Hometown: Tempe
Members: Garnet, Fred Reyes, Stephen Bohn, Ryan Probst, Kristilyn Woods, Henri Bernard, Megyn Neff, Ben Allred, Andrew Masiello
Album: Family Portraits/Calm Mutiny
Running through the heart of the Valley of the Sun is the Salt River, which for the most part is a dried-out river bed. This gypsy rock outfit boasts nine members on instruments ranging from the typical acoustic guitar and drums to a cello, viola, accordion, bassoon, bass clarinet and a tuba. Their live shows are authentic and emotionally take you to the back alleys of a European city. They're currently on tour and heading to SXSW before planning their third album release party back in the Valley.

6. Run Boy Run
Hometown: Tucson
Members: Matt Rolland, Grace Rolland, Bekah Sandoval, Jen Sandoval , Jesse Allen
Album: Run Boy Run
This fresh Americana bluegrass outfit recently won an award at the Telluride Bluegrass Festival and is becoming a prevalent force in the desert music scene. The mix of old-time sounds of the Appalachia offers riveting harmonies and melodies complete with mandolins and fiddles.

5. What Laura Says
Hometown: Phoenix
*Members:* James Mulhern, Danny Godbold, Greg Muller, Jacob Woolsey, David 'Mitch' Moroney
*Album:** Talk
The band has released two full length albums (Thinks and Feels and Bloom Cheek). Last year they released the EP Talk to tide over fans of their sunny '60s-pop vibe. The band is currently recording their third LP that they say is comprised of some serious psychedelic soul and folk sounds. Until then they're continuing the adventures playing in the Valley and often traveling to Los Angeles every few weeks for one-off shows.

4. Snake! Snake! Snakes!
Hometown: Phoenix
Members: Jonathan Messenger, Christopher Sanchez, George Rodriguez, David Cooper
Album: Snake! Snake! Snakes!
With their cohesive power-folk-rock, SSS have been on a steady rise since releasing their self-titled debut EP in 2010. Their songs have been picked up by college radio stations across the country and they've been working hard on releasing a proper LP to introduce the band to an even larger fandom.

3. Roar
Hometown: Phoenix
Members: Owen Evans
Album: I'm Not Here To Make Friends
The one-man band of Owen Evans has made quite the splash in Phoenix and even recently recorded a session at Daytrotter last month. Evans is heavily influenced by pop sensations like Rivers Cuomo and Brian Wilson and it shows. He's currently touring the West Coast in support of his album.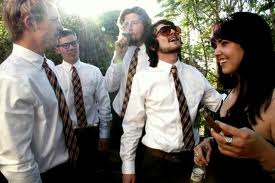 2. Black Carl
Hometown: Tempe
Members: Emma Pew, John Krause, Chad Leonard, Matt Noakes, Ian Woodward
Album: The Fool, The Hangedman/The Magician, The Chariot 7" singles
Led by frontwoman Emma Pew, Black Carl sounds an awful lot like Adele. But instead of performing heartbreaking romance songs, the funk band has edge and Pew's vocals will kick your ass. Their live show comes with so much excitement and sounds even better than their records. They recently released a series of 7" singles and are working on their second full-length.

1. Gospel Claws
Hometown: Mesa
Members: Joel Marquard, Sloan Walters, Wesley Hilsabeck, John Mulhern, Scott Hall
Album: C-L-A-W-S
We named them a Best of What's Next last year, but the band has kept quiet while working on their next release. They're even skipping next week's SXSW to stay home and take things slowly, not wanting to rush their second full-length. The majority of the Phoenix scene has a retro-vibe harking back to classic sounds, but Gospel Claws does it better than anyone around.
Others Tagged With