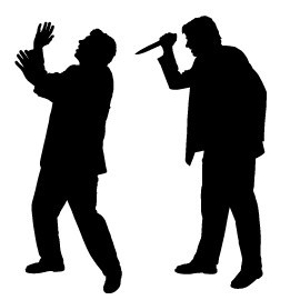 In honor of the Ides of March day in 44 B.C. when Julius Caesar was famously sold out by his friend Marcus Junius Brutus and fatally stabbed 23 times in the Roman Senate—we've compiled a list of songs of betrayal.
These aren't to be confused with our list of the best break-up songs, however. For the most part, these tunes deal with being stabbed in the back by platonic friends; cheating spouses, you're off the hook for today.
Check out some of our favorite songs about betrayal—in no particular order—below.
"Back Stabbers" by the O'Jays

Somebody's out to get your lady
A few of your buddies they sure look shady
Blades are long, clenched tight in their fist
Aimin' straight at your back
And I don't think they'll miss
This 1972 soul track warns men to keep an eye on their so-called friends when they're involved with a lady. "They smile in your face," they sing. "All the time they want to take your place."
"We Used to be Friends" by The Dandy Warhols

A long time ago, we used to be friends
But I haven't thought of you lately at all
The lyrics are vague, but some speculate that this song is about the oft-dysfunctional relationship between Dandy Warhols frontman Courtney Taylor-Taylor and The Brian Jonestown Massacre's Anton Newcombe, as documented in the movie Dig!.
Such a Night by Dr John

I came here with my best friend Jim
Here I am, just trying to steal you away from him
Betrayal songs told from the point-of-view of those done wrong are more common, but this one is told from the perspective of Dr. John as he attempts to seduce his best friend's date. "If I don't do it, somebody else will," he sings. A likely excuse, Mac.
"Positively 4th Street" by Bob Dylan

You got a lotta nerve
To say you are my friend
When I was down
You just stood there grinning
There's been speculation for decades about who this song—one of Dylan's most bitter and straightforward—is about. Some theories suggest it's singer Phil Ochs, while others claim it's directed at Sing Out! magazine editor Irwin Silber.
"Backstreets" by Bruce Springsteen

Blame it on the lies that killed us
Blame it on the truth that ran us down
You can blame it all on me Terry
It don't matter to me now
The gender ambiguity of the name "Terry" makes this one more difficult to decode, but one thing's clear: someone did the Boss wrong, and he's feeling nostalgic for the happy times they used to have.
Old Friends 4 Sale by Prince

I guess what my own brother told me was true
He had been with my sweet baby
And she never really loved me at all
In which the Purple One loses his main lady to his scheming brother. He puts them up for sale, but they come with a warning: "they'll kiss you until they get what you got, and they'll show you the friends that they're not."
Friend of Mine by Lily Allen

I don't want us to have a fight,
But in the background I can hear you chatting shit,
I hear it every night.
And you think you're being really cool,
You've been doing it since we were both at school,
Now who looks like a fool.
Lily Allen takes a gossipy old friend to task, making it clear that "you're no friend of mine, girl, and I've known it for a while, girl, you're just a waste of time."
Cornflake Girl by Tori Amos

Never was a cornflake girl
Thought that was a good solution
Hanging with the raisin girls
She's gone to the other side
Givin us a yo heave ho
Amos has said that this 1994 hit was inspired by female betrayal. The "cornflake girls" are prejudiced, while the "raisin girls" are open-minded and—like raisins in a box of cereal—harder to come by.
Long Black Veil by Johnny Cash

The protagonist of this country standard tells his tale from the grave, after being executed for a murder he didn't commit. Rather than reveal his alibi—he was sleeping with his best friend's wife at the time of the crime—he accepts his fate, and she sneaks away at night to visit his remains.
"Smiling Faces Sometimes" by Undisputed Truth

Smiling faces sometimes pretend to be your friend
Smiling faces show no traces of the evil that lurks within
Smiling faces, smiling faces sometimes
They don't tell the truth
The Temptations recorded an early version of this song for Motown Records in 1971, but it was The Undisputed Truth who sent the message home with their psychedelic-tinged soul later that year.
Others Tagged With