12 Must-See Films at Atlanta Film Festival 2012
The Oscar-qualifying Atlanta Film Festival kicks off tonight, and the lineup boasts quite a number of intriguing entries. Here are the ones that are most compelling to us:

1. ALL YOUR DEAD ONES
The Category: Passport Narrative Feature
The AFF Synopsis: "In this eerie and fantastically shot tragicomic satire, an ordinary farmer's morning routine is interrupted when he makes a grim discovery in the middle of his cornfield, a huge pile of dead bodies. Aghast, he reports the mysterious massacre on what happens to be Election Day. When the small-town mayor and police lieutenant take notice, fearful of unleashing a public scandal, they stall and intimidate the farmer and his family. Meanwhile, the sun beats down, and the eerie corpses remain, refusing to be ignored. All Your Dead Ones unspools a disquieting allegory, a silent indictment of Colombia's ongoing civil war. The imagery and sound, crafted with unsettling intensity, illustrate a frightening crisis of social conscience. Tinged with mordant surrealism, director Carlos Moreno's return to Sundance (Perro Come Perro screened at the 2008 Sundance Film Festival) demonstrates a rare ability to transcend genre and a remarkable storytelling vigor, anchored within a haunting and arresting visual motif."
The Key Players: Director Carlos Moreno
The Draw: We saw this fascinating film at Sundance last year (see our review here) and caught up with the director to talk more in-depth about it (see the interview here). It's mysterious, moving and beautifully shot.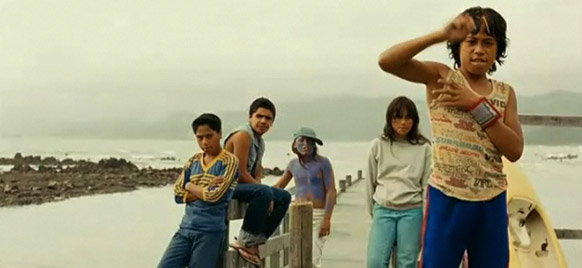 2. BOY
The Category: Passport Narrative Feature
The AFF Synopsis: "It's 1984, and Michael Jackson is king – even in Waihau Bay, New Zealand. Here we meet Boy, an 11-year-old who lives on a farm with his gran, a goat called Leaf, his younger brother, Rocky (who thinks he has super powers) and several cousins. Shortly after Gran leaves for a Tangihanga (funeral) in Wellington for a week, Boy's father, Alamein, appears out of the blue. Having imagined a heroic version of his father during his absence, Boy comes face to face with the real version – an incompetent hoodlum who has returned to find a bag of money he buried years before."
The Key Players: Writer/Director/Actor Taika Waititi
The Draw: We saw Waititi's irresistible film at Sundance in 2010 (see our review here) , and we have a feature coming on Waititi himself, who shines here in his writing, in his acting and in his direction.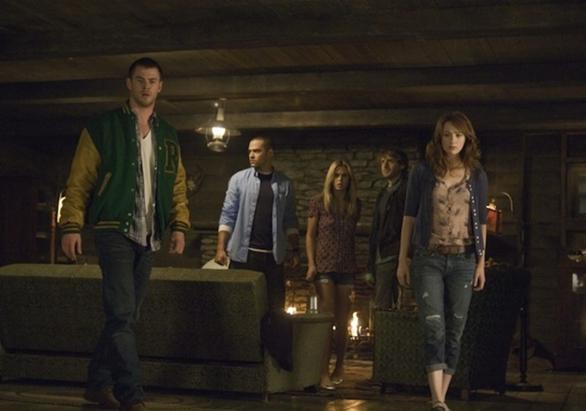 3. THE CABIN IN THE WOODS
The Category: Closing Night
The AFF Synopsis: "Five friends go to a remote cabin in the woods. Bad things happen. If you think you know this story, think again. From fan favorites Joss Whedon and Drew Goddard comes The Cabin the Woods, a mind blowing horror film that turns the genre inside out. "
The Key Players: Director Drew Goddard; Producer Joss Whedon; Actor Chris Hemsworth
The Draw: We saw Goddard's showstopper on Opening Night at SXSW this year. Under orders from Joss Whedon himself, we're going to keep quiet about its contents, but suffice to say you won't look at the horror genre in quite the same way again.

4. COMPLIANCE
The Category: Closing Night
The AFF Synopsis: "Becky and Sandra aren't the best of friends. Sandra is a middle-aged manager at a fast-food restaurant; Becky is a teenaged counter girl who really needs the job. One stressful day (too many customers and too little bacon), a police officer calls, accusing Becky of stealing money from a customer's purse, which she vehemently denies. Sandra, overwhelmed by her managerial responsibilities, complies with the officer's orders to detain Becky. This choice begins a nightmare that tragically blurs the lines between expedience and prudence, legality and reason."
The Key Players: Director Craig Zobel
The Draw: Despite being longtime fans of Zobel's work and even profiling him before Sundance, we actually missed his film at that fest and at SXSW. It would have been interesting to see the premiere, complete with an audience shouting match during the Q&A. Nice to have second (and third) chances.

5. EUROCRIME!
The Category: Georgia On Our Minds Documentary Feature
The AFF Synopsis: "A documentary concerning the violent Italian 'poliziotteschi' cinematic movement of the 1970s which, at first glance, seem to be rip-offs of American crime films like Dirty Harry or The Godfather, but which really address Italian issues like the Sicilian Mafia and red terrorism. Perhaps even more interesting than the films themselves were the rushed methods of production (stars performing their own stunts, stealing shots, no live sound) and the bleed-over between real-life crime and movie crime."
The Key Players: Director Mike Malloy
The Draw: Other than the U.S., Italy may just have the proudest cinematic tradition of any country (although France, England, and Japan would certainly be contenders for that crown as well). Malloy's film promises to be not only entertaining ('70s gangster films? Come on!), but thought-provoking as well.

6. I WANT MY NAME BACK
The Category:
The AFF Synopsis: "One of the most influential songs in the history of the music industry, "Rapper's Delight" was the first commercial Hip-Hop release, forever changing the face of the music industry. Disputed by some, the Sugarhill Gang is still believed by many to be the first professional rap group because they brought this "new" style of music to the general public. While this success should have cemented the legacy and careers of the original members, reality tells a much different story—one that most people, including those in the hip hop world, are not even aware of. I Want My Name Back follows the rise, fall and resurgence of Wonder Mike (Michael Wright) and Master Gee (Guy O'Brien) as they try to re-enter the music industry, reclaim their identities, legacy, and reclaim their rightful place in rap history."
The Key Players: Director Roger Paradiso
The Draw: We saw Paradiso's doc at Slamdance this year. It's a highly entertaining story of one of the great musical crimes of our lifetime. Highly recommended.

7. KEEP THE LIGHTS ON
The Category:
The AFF Synopsis: "It's 1997 and New York City is in a state of intense flux when documentary filmmaker Erik Rothman (Thure Lindhardt) first meets Paul Lucy (Zachary Booth), a handsome but closeted lawyer in the publishing field. What begins as a highly charged first encounter soon becomes something much more, and a relationship quickly develops. As the two men start building a home and life together, each continues to privately battle their own compulsions and addictions. A film about sex, friendship, intimacy and most of all, love, Keep the Lights On takes an honest look at the nature of relationships in our times."
The Key Players: Director Ira Sachs
The Draw: One of the most buzzy dramas of this year's Sundance.

8. MARLEY
The Category:
The AFF Synopsis: "Bob Marley's universal appeal, impact on music history and role as a social and political prophet is both unique and unparalleled. Marley is the definitive life story of the musician, revolutionary, and legend, from his early days to his rise to international superstardom. Made with the support of the Marley family, the film features rare footage, incredible performances and revelatory interviews with the people that knew him best. From Academy Award-winning director Kevin Macdonald (One Day in September, The Last King of Scotland) comes the story of a towering figure of musical history, whose music and message has transcended different cultures, languages and creeds to resonate around the world today as powerfully as when he was alive."
The Key Players: Director Kevin Macdonald
The Draw: Our Jonah Flicker wrote: "It's the details that make another exploration of a well-documented life worth the effort, especially when that life belongs to someone as profoundly interesting and influential as Bob Marley."

9. L!FE HAPPENS
The Category: Opening Night
The AFF Synopsis: "In Kat Coiro's quick-witted and emotionally grounded comedy, L!fe Happens, the social and career paths of impeccably-styled Silverlake scenesters are brought into sharp relief with the unplanned arrival of a baby. A breezy Kate Bosworth plays Deena, a sharply-mannered smart mouth writer in the style of Rosalind Russell, if Russell had a dirty mind and a recall of hip hop lyrics. Her best friend and roommate Kim, a retro beauty with a weakness for bad boys and a nowhere gig walking dogs, is portrayed by luminescent actress and co-writer Krysten Ritter. When Kim gets pregnant following a one-night stand, she and Deena resolve to maintain their carefree lifestyle, incorporating Kim's adored baby as an adaptable accessory."
The Key Players: Director Kat Coiro; Co-writer/Actor Krysten Ritter; Actor Kate Bosworth
The Draw: We're in on anything that stars the crazily talented Krysten Ritter. Plus, who has the presence of mind to include the descriptor "emotionally grounded" in their writeup?

10. THAT'S WHAT SHE SAID
The Category: Georgia On Our Minds Narrative Competition
The AFF Synopsis: "After two and a half years of celibacy, Bebe (Marcia DeBonis) has rather quickly fallen in love with the suspiciously absent Tom. And tonight she has a big date with him. She pulls her push up bra out of storage and makes a slew of beauty appointments with her best friend Dee Dee (Anne Heche). When Dee Dee ventures out into the city to meet Bebe, she's in a foul mood. She's just woken up from a binder caused by a run-in with her ex, and she's in no mood to dispense any romantic advice. When Dee Dee discovers Bebe at their local hangout,she is chagrined to discover her friend consoling a distraught, young stranger named Clementine (Alia Shawkat). Always the bleeding heart, Bebe makes it her mission to help Clementine, who has just experienced a devastating breakup of her own. Thus their special girls-day-out begins – and becomes fraught with misadventure and calamity. Armed with nothing but their idiosyncrasies and lots of personal baggage, our women survive sudden downpours, vomit-inducing cab rides, the NYPD, bad haircuts, Chinatown, and a hair-pulling, tit-bruising, knock-down drag-out brawl. Through it all, they talk as women do. Honestly, crudely, frankly. In the end, they strip down their armors to reveal uncomfortable truths – and also their greatest strengths. That's What She Said takes the chick flick genre, mashes it with the balls-to-the-wall outrageousness of a good bro-mance and let's the girls come out on top!"
The Key Players: Director Carrie Preston; Actors Anne Heche and Alia Shawkat
The Draw: Anne Heche turned in the best performance in all of Sundance, and everyone else is hilarious too. We love this film so much, we're throwing the afterparty. Stay tuned for details.

11. TRASH DANCE
The Category: Documentary Competition
The AFF Synopsis: "Sometimes inspiration is found in unexpected places. Choreographer Allison Orr sees beauty and grace in garbage trucks — and in the men and women who pick up our trash. She joins city sanitation workers on their daily routes to listen, learn, and ultimately to try to convince them to collaborate in a unique dance performance. Hard working, often carrying a second job, their lives are already full with work, family and dreams of their own. But some step forward, and after months of rehearsal, two dozen trash collectors and their trucks perform an extraordinary spectacle. On an abandoned airport runway, thousands of people show up to see how in the world a garbage truck can 'dance.'"
The Key Players: Director Andrew Garrison; Choreographer Allison Orr
The Draw: Garrison's beautiful little film was one of the highlights of our SXSW this year. Not to be missed.

12. V/H/S
The Category:
The AFF Synopsis: "A POV, found footage horror film from the perspective of America's top genre filmmakers. A group of misfits are hired by an unknown third party to burglarize a desolate house in the countryside and acquire a rare tape. Upon searching the house, the guys are confronted with a dead body, a hub of old televisions and an endless supply of cryptic footage, each video stranger than the last. So who is part of the madness, you ask? Adam Wingard (You're Next, A Horrible Way to Die, Pop Skull_), Simon Barrett (_You're Next, Dead Birds, Read Sands_), Ti West (_The House of the Devil, The Roost, The Innkeepers_), David Bruckner (The Signal_), Joe Swanberg (Silver Bullets), Glenn McQuaid (I Sell the Dead), along with Radio Silence, the YouTube sensations formerly known as Chad, Matt and Rob (Matt Bettinelli-Olpin and Chad Villella)!"
The Key Players: All the directors above
The Draw: We saw this horror anthology at True/False this year, just after its Sundance run. It's uneven, as anthologies tend to be, but the good selections (especially Bruckner's and Swanberg's contributions) are very, very good. A thrill.
Others Tagged With