The 15 Best Jimi Hendrix Tracks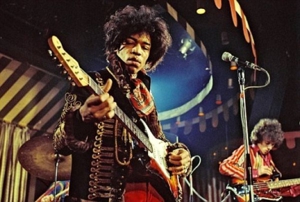 Today marks the 45th anniversary of Jimi's London Astoria show where he first attempted to set his guitar on fire.
The Jimi Hendrix Experience left the world with three studio records: Are You Experienced (1967), Axis: Bold As Love (1967) and Electric Ladyland (1968). Band Of Gypsys was recorded live, and 10 posthumous albums have been released from 1971 to 2010.
Today, we look to Hendrix's original canon, the one where his hand was delicately weaved into the classics "Manic Depression," "Are You Experienced," "Fire" and "Hey Joe."
From "Voodoo Child (Slight Return)" to "Foxy Lady," these songs have been covered by everyone under the sun. Even Dylan himself, after once hearing Jimi's rendition of "All Along the Watchtower," reverted to playing it in electric fashion.
Today, we bring you the best Jimi Hendrix songs. While we can never, and would never, say "Wait Until Tomorrow," "The Wind Cries Mary" "Little Wing" and "Purple Haze" are not some of Jimi's best tracks, we will say that they complement some of the best Jimi Hendrix songs ever recorded.
Check out the 15 best Hendrix songs from his studio albums below.
15. "Have You Ever Been (To Electric Ladyland)" – Electric Ladyland

Often shortened to "Electric Ladyland," the 1968 release breaks into an R&B, slow-rolling psychedelic ode to the "electric ladies" of Jimi's life.
14."Can You See Me" – Are You Experienced

This track off his debut album is a prime example of the feedback-laden, distorted electric guitar playing Hendrix became iconic for as he rode the wave of the turbulent '60s.
13. "Bold As Love" – Axis: Bold As Love

No, it's not John Mayer's song. It opens abruptly, the solo is extended, the chorus is psychedelic, the vocals are limited and the track fades with a rolling guitar. It's Hendrix's.
12. "Voodoo Chile" – Electric Ladyland

The 15-minute jam track composed of an assortment of verses based on Muddy Waters' songs including the iconic "Rollin' Stone," opens in homage to "Hoochie Coochie Man." Hendrix brings a sophistication as he references "the outskirts of infinity" and unifies Delta and electric blues.
11. "Aint' No Telling" – Axis: Bold As Love

Despite its short length, "Ain't No Telling" is composed of interwoven structures. The guitar is flawless and with lyrics like "Cleopatra, she's driving me insane, she's trying to put my body in her brain" how could the track not be on our Top 15 list?
10. "Gypsy Eyes" – Electric Ladyland

As the guitar themes float between right and left channels, the licks and technique that "Gypsy Eyes" put together made for an iconic Jimi performance.
9. "Remember"- Are You Experienced

Originally released as a double A-side single with "Gypsy Eyes," "Remember" is reminiscent of Hendrix's days with Don Covay on the Chitlin' Circuit—it's the perfect mix of a classic pop song bred with the R&B backdrop.
8. "Highway Chile" – Are You Experienced

This B-side to "The Wind Cries Mary" is a deliberate misspelling of the word child, which mimics Hendrix's style of not pronouncing the end of the word. Many critics claim the song was Hendrix's take on writing about himself and the formation of his own unique and iconic style.
7. "1983…A Merman I Should Turn to Be" – Electric Ladyland

MGMT's 2010 release of "Siberian Breaks" took note of Hendrix's "1983… A Merman I Should Turn To Be." The track bleeds into episodic pieces linking it like a fluid series while packing itself into the space of six minutes. The track, made to be experimental, uses each effect to create a new sound, making it one of the most artistic pieces of Jimi's career.
6. "Stone Free" – Are You Experienced

Released as a single, the track is one of the select few Hendrix played in standard tuning. The bassline for the song is reminiscent of Mar-Keys "Philly Dog." As a notable '60s anthem, the lyrics, which reflect the lifestyle of Hendrix, soon became a staple in his set list and slowly changed form into a longer and looser countercultural ideal.
5. "One Rainy Wish" – Axis: Bold As Love

Lyrics "gold and rose the color of a dream I had" open a surreal yet colorfully balanced track. Fellow guitarist Mike Stern said of the song, "His playing is so lyrical. It has that same singing quality that I dig in Jim Hall's playing or Wes Montgomery's playing. But the thing about Hendrix was that he had that sound, he could achieve that lyrical feeling with a fatter sound on his Strat than you could get with a regular hollow-bodied jazz guitar" in C. Glebbeek's Jimi Hendrix: Electric Gypsy.
4. "Castles Made Of Sand" – Axis: Bold As Love

Leon Hendrix, the younger brother of Jimi, has been quoted as saying his brother once described the track's first verse as being about their parents and the second about their Native American heritage. The common interpretation can be taken or left, but one thing is for certain—the track illustrates ambition, love and fear.
3. "Burning Of The Midnight Lamp" – Electric Ladyland

First released as a mono single in the United Kingdom, the richly detailed instrumentation and wah-wah guitar effect of "Burning Of The Midnight Lamp" is insistent. The opening electric harpsichord, soon joined by drums and bass, provides a crescendo to each subsequent verse. The backing vocals bring the track higher and higher until the double speed of the mandolin effect tunes the audience into the full, Jimi Hendrix experience.
2. "Little Miss Lover" – Axis: Bold As Love

Played with the wah-wah pedal, the dirty beat of "Little Miss Lover" is as equally masculine as it is flirty. Passion rings from the fingers, lungs and space Jimi creates. When the track fades, you're just left wanting more.
1. "May This Be Love" – Are You Experienced

Lucidly romantic, inspirationally vivid, "May This Be Love" is a classic tale of undeniable love. If you're ever to believe in something, the belief in these words seem appropriate. That's why we find "May This Be Love" not only the best track Hendrix ever recorded but a completed ode to the beauty of life.
Others Tagged With