The 15 Best Moments From SXSW 2012
This year—my 10th trip to SXSW—was about more than discovering new bands, as established acts like Bruce Springsteen, Jack White, and The Jesus and Mary Chain joined the throngs of upstarts in Austin. But between the movies, the technology and the endless music, there were always too many options vying for our attention—in addition to the 38 bands we presented at our own Paste events. Here are our favorite moments from SXSW 2012.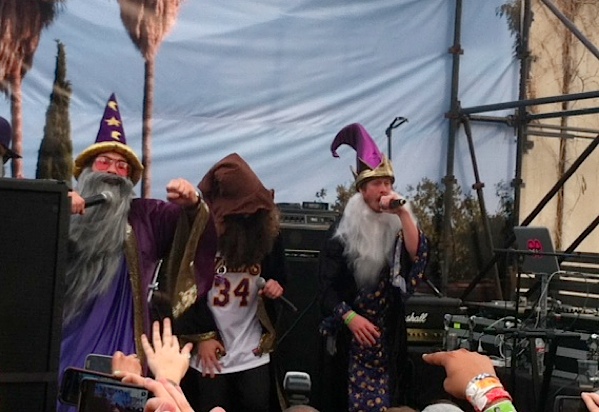 Photo courtesy of Comedy Central
15. The Cast of Workaholics Doing Gangsta-Rap
Thousands of fans lined up in a neighborhood to get into the cast of Workaholics' house party where Blake Anderson, Adam DeVine and Anders Holm hosted a party where bands like Reptar and Wavves rocked out on an outdoor stage. The trio, joined by director Kyle Newacheck, transformed into their gangster rap group called The Wizards. In true college party form they offered free PBR and gave away prizes to their fellow party animals.—Adam Vitcavage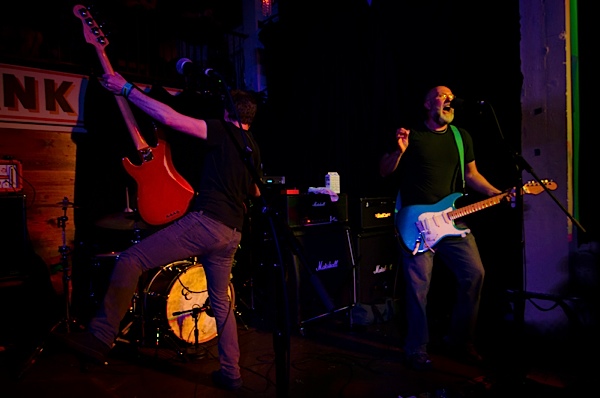 Photo by Mike White
14. Bob Mould at Frank
The week before SXSW, former Hüsker Dü and Sugar frontman Bob Mould signed to Merge, announcing his plans to release a forthcoming solo record later this year. Mould debuted some of those tracks late Friday night at the Merge showcase, playing with his new bandmates Jon Wurster (Superchunk) and Jason Narducy (Telekinesis). It's been rumored that this upcoming record will be a 'heavy rock' record, and if this short set was any indication, Mould may have one great album up his sleeve come this fall.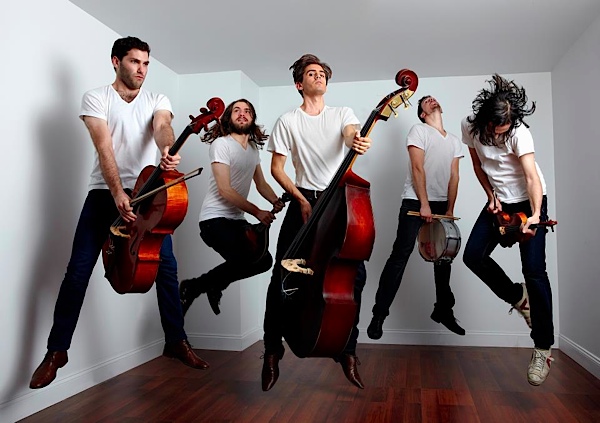 13. Miracles of Modern Science at The Junior
This New Jersey quintet went viral earlier this year with their hilarious "Bon Joviver" video, where they covered Bon Jovi's "You Give Love a Bad Name" in the style of Bon Iver's Justin Vernon. They brought some of that trademarked quirk to The Jr. on Wednesday night while rocking harder than you'd ever imagine a stand-up bass, mandolin, violin, cello and drums possibly could. Bon Joviver didn't make an appearance, but frontman Evan Younger did offer up an unexpected—and extremely solid—"Life On Mars" cover.—Bonnie Stiernberg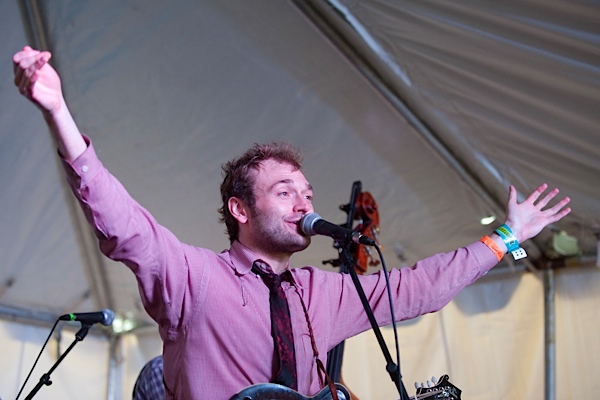 Photo by Chona Kasinger
12. The Punch Brothers at Stages on Sixth
Pound for pound and string for string, The Punch Brothers may be the most talented band in Austin…when they're in Austin. When they're in New Orleans or San Francisco or Atlanta or in other spots, they may be the most talented band those places too. A showcase on Friday afternoon left the band wringing wet from its energetic, amazing performance…and the audience equally frothed from clapping, foot-stomping, dancing and cheering. Punch-drunk, in a word. Cheers to this sensational new incarnation for the severely talented Chris Thile and his cohort. I'm drinking the Punch.—Charles McNair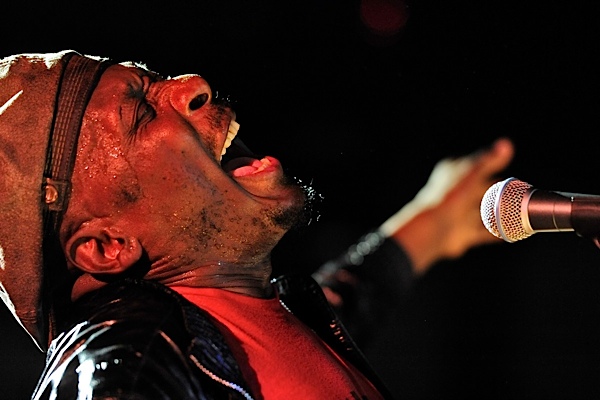 Photo by Perry Julien
11. Jimmy Cliff at Daytrotter
Seeing Jimmy Cliff do his Daytrotter session was unforgettable. He is, of course, one of the greats, and, sadly, one of our last connections to the original Roots Reggae. But unlike other survivors, his voice just gets more nuanced and resonant with age. Best existential SXSW question: Driving Mr. Cliff back from his session through the dystopia that is the 6th St area during SXSW, he quietly asks, "What is this all about?"—George Howard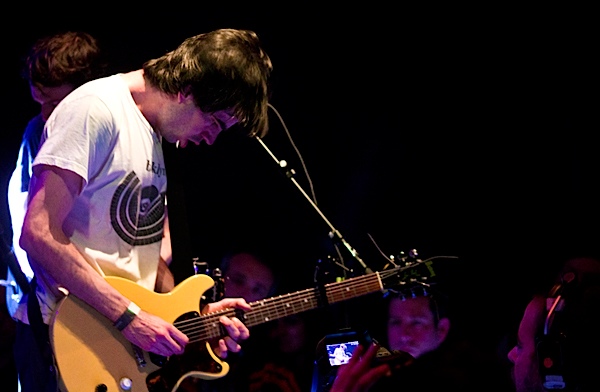 Photo by Max Blau
10. Titus Andronicus at The Belmont
Titus Andronicus played our Thursday night showcase at the Belmont, which was headlined by The Jesus and Mary Chain. The group played classic crowd-pleasers like "A More Perfect Union," but one of the best things about seeing the band live right now is the previews they are giving for their new, yet-to-be-titled album, which they're recording in Upstate New York in a few weeks. When introducing a new song, "Food Fight," Titus Andronicus' frontman Patrick Stickles gave a big shout out to Paste for Multimedia Editor "Max Blau's coverage" of Stickles' selective eating disorder, stating that the article helped "validate my illness." The song, a rowdy long-form burst that could have only come from Stickles and co., should be a highlight of the forthcoming album.—Tyler Kane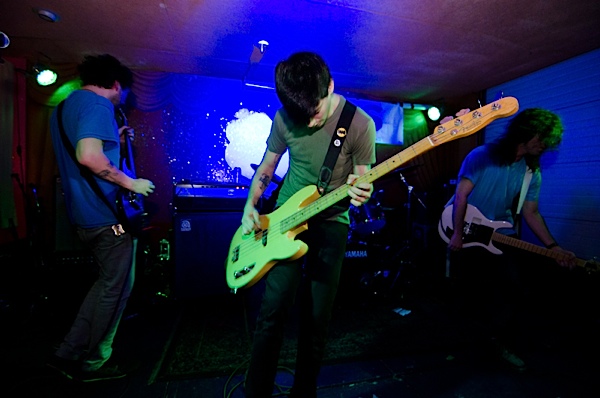 Photo by Max Blau
9. The Men at Elysium
The Men might be at the top of a lot of peoples' buzz-band list right now, but it looked like they wanted to prove it with a hard-hitting set at their 1 a.m. Elysium show on Thursday. Cutting the stage lights and chuckling at the on-stage fog machine, the band focused on just the music and tore through songs from their excellent new album, Open Your Heart, with the heart and intensity of the Fun House-era Stooges.—Tyler Kane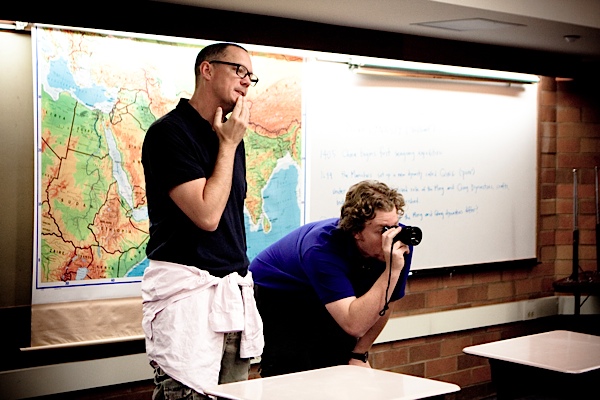 8. Matthew Lillard at the Premiere of Fat Kid Rules the World
Fat Kid Rules the World, Matthew Lillard's first feature film as a director, premiered on opening night of South by Southwest. The comedy about an overweight misfit who finds hope in playing the drums was met with considerable praise. It was a surprising directorial debut full of laughs and warmth. Even more surprising, though, was the Q&A that followed. When he took the microphone, Lillard couldn't hold himself together. Talking about the journey to make the film and the heart behind it, he broke down and cried—so much that he passed the mic along and hid behind his cast. It was a powerful moment that confirmed the sincerity and heart that came through in his film.—David Roark

Photo by Brandon Fuller
7. Jay-Z at ACL Live
Jay-Z's concert at Moody Theater, better known as Austin City Limits Live, was technically part of the Interactive portion of SXSW, but it was the perfect way to ring in the music part of the week. The rapper performed in front of a sold-out crowd of nearly 3,000 fans who sang along with Hova's hits "Jigga Man," "99 Problems," "Empire State of Mind" and "Run This Town." The crowning moment of the night was "Glory," the ode to his recently born daughter with Beyonce.—Adam Vitcavage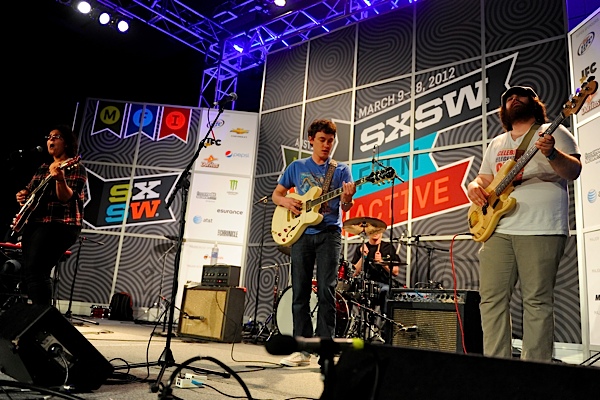 Photo by Perry Julien
6. The Alabama Shakes at ACL
Going into this year's SXSW, the Alabama Shakes were pegged as a must-see act. While we had them perform in our offices a couple months beforehand, my proper my live introduction to the Shakes happened at their ACL Live taping at the Moody Theatre. That show was the band's first SXSW performance, and likely their largest to date. To put it simply—they owned that stage, giving every indication that they're not simply the best of what's next, but the best of what's now. I'd be surprised if Brittany Howard and the rest of her Athens, Ala. bandmates aren't playing the Grammys this time next year.—Max Blau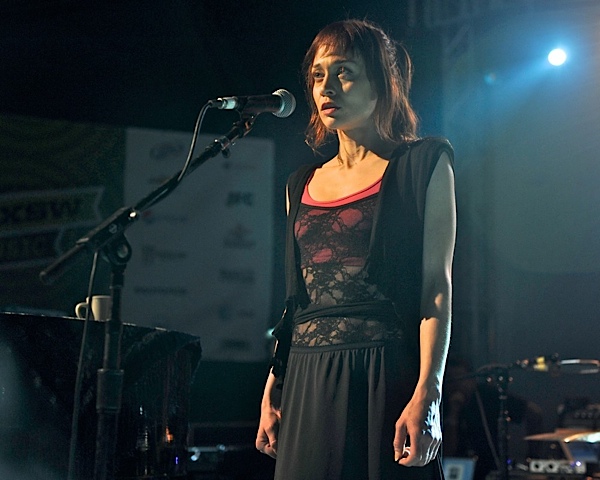 Photo by Perry Julien
5. Fiona Apple at Stubb's
Fiona Apple performed her first new material since 2005 at the Wednesday NPR showcase at Stubbs' Barbecue. But maybe the most interesting moment of Apple's performance was during "Extraordinary Machine," the title track off of her last album. The song on its own is inspiring enough with its roll-with-the-punches attitude in lines like "I can't help it, the road just rolls out behind me/Be kind to me, or treat me mean/I'll make the most of it/I'm an extraordinary machine." During the performance of the song, an overwhelming swell of feedback overtook the mix. Apple grabbed at her ear monitors, snapped her head to stage left and almost instantaneously—as if she took a second to reflect on the very words she was singing—turned back to the audience, where she burst out into a smile, carried on with the song and the crowd applauded her for the action.—Tyler Kane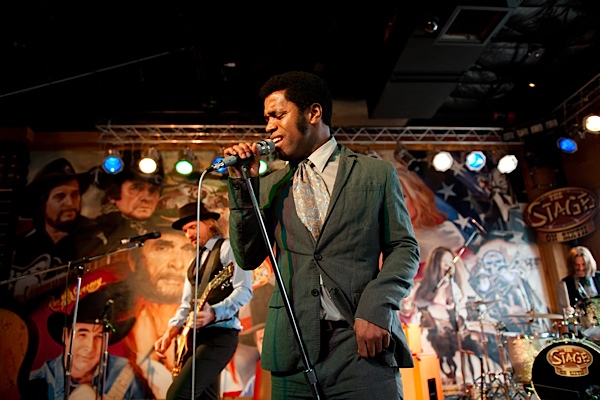 Photo by Chona Kasinger
4. Vintage Trouble at Stages on Sixth
The only thing coming between Ty Taylor and the title of The Most Charismatic Frontman in Austin was that pesky visit to Texas by Bruce Springsteen. I'd wager that 90% of the audience had never heard of Vintage Trouble, but the Los Angeles band's singer had them obeying his every command, as he channeled James Brown one minute and Otis Redding the next. None of us doubted we'd be seeing a lot more from Taylor and his band.—Josh Jackson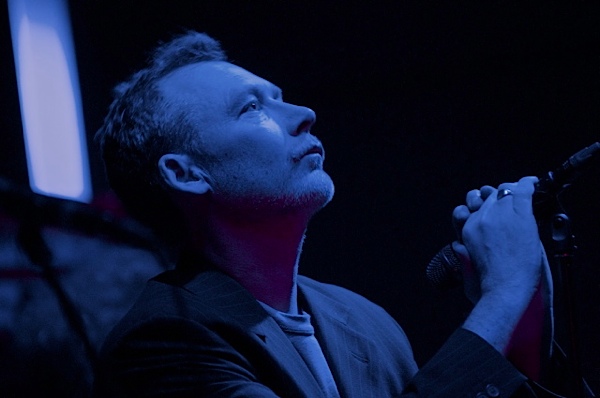 Photo by Stephanie Black
3. The Jesus and Mary Chain at The Belmont
As likely the only 16-year-old in suburban Pennsylvania in 1986 who listened to Psychocandy on repeat for pretty much the entire year, seeing them reproduce their tuff gnarl so many years later at the Paste Magazine showcase was transcendent. It was everything you could want: constant ear-piercing feedback with girl-group melodies poking through. Best Jim/William perpetual-feud moment: William screwed something up, and had to start over/retune; During the pause, Jim says, "I guess I'll tell a joke [pause]: 'William.'"—George Howard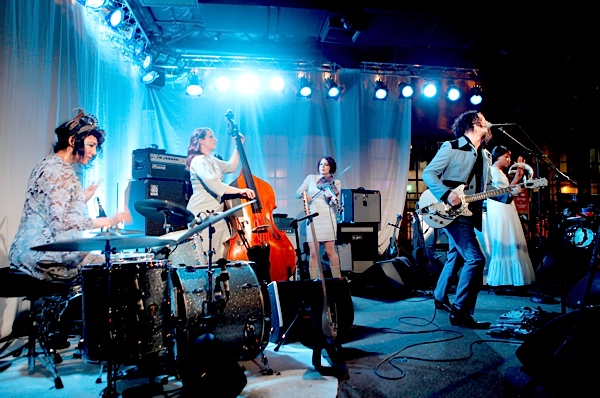 Photo by Jo McCaughey
2. Jack White at The Stages on Sixth
Jack White's gear could have filled up a third of the floor space inside the 500-person-capacity Stages on Sixth. But the size of the venue didn't matter as White played two sets, one backed by ladies, one backed by men. After jostling with fans up near the stage for the first set, we headed back by the bar during intermission and spent the next batch of songs alongside John C. Reilly, Norah Jones, James Mercer, Olivia Wilde and Jason Sudeikis, who played drums on our hands during "Seven Nation Army." When White closed with "Goodnight Irene," we drank shots with Bill Murray and coaxed him up onto the bar, where he sang alongside the wonderfully gracious Stages on Sixth staff.—Josh Jackson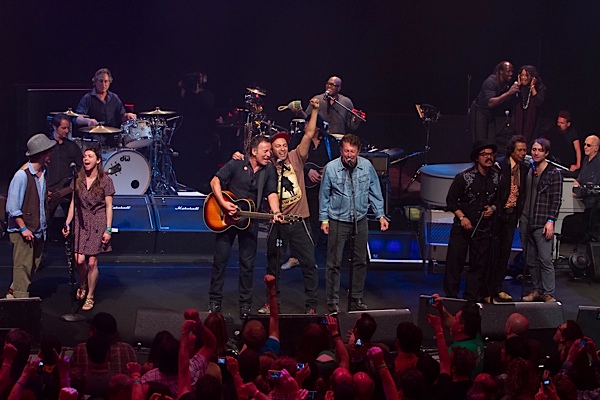 Photo by Brian Birzer
1. Bruce Springsteen at ACL Live
The 2,800 people packed into The Moody Theater for one of The Boss' first (and smallest) shows of the tour didn't know what to expect, given the SXSW format of 45-minute sets. But Springsteen played for roughly three hours, inviting several musicians in town onto the stage. Jimmy Cliff, Eric Burdon of The Animals, Alejandro Escovedo and members of The Low Anthem and Arcade Fire all sang and played along. But the moment of the night actually belonged to Rage Against the Machine's Tom Morello, who handily won a guitar-solo duel with Bruce on "The Ghost of Tom Joad."— Read a full review of the show in this issue of Paste.—Josh Jackson
Others Tagged With