10 Great Mad Men Musical Moments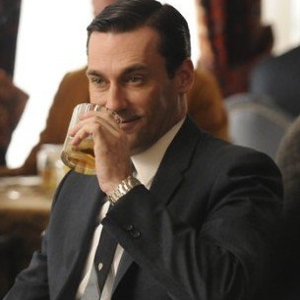 Tonight, after nearly a year and a half off the air, Don Draper and all his cohorts at Sterling Cooper Draper Pryce will make their return to TV screens. While most fans are busy stocking up on bitters for Old Fashioneds this week, some diehards have resorted to a little good-natured nitpicking: After complaints that it was released six months after the episode's action supposedly takes place, Dusty Springfield's 1967 hit "The Look of Love" was pulled from the premiere.
The musical choices made by Matthew Weiner and company have always been the unsung heroes of the series. No song that appears on the show is an accident; the lyrics match perfectly with the message of each episode, often hammering home facts or feelings left unsaid by the characters. Here are 10 of our favorite musical moments on Mad Men so far. Be sure to stay tuned for our review of the season 5 premiere tonight.
10. "The Street Where You Live" by Vic Damone & Percy Faith
Season 1, Episode 1

Mad Men's pilot introduced us to Don Draper and his philandering ways, but it wrapped up with this serene track from My Fair Lady. As a guilty Don says goodnight to his sleeping kids while Betty looks on, we get a hint of the conflict between the glamorous professional life he's built for himself and his suburban home life and how it'll eventually drive him for seasons to come. Watch the scene of '60s domesticity here.
9. "I Got You Babe" by Sonny and Cher
Season 4, Episode 13

When Don (spoiler alert if you're not all caught up) proposed to his secretary Megan at the end of last season, viewers everywhere issued a collective "WTF??" and even within the walls of Sterling Cooper Draper Pryce, his coworkers whispered their disapproval behind his back. The season wraps up with an oddly tender moment between Don and Betty before cutting to a contemplative-looking Don lying in Megan's arms as "I Got You Babe" plays and we fade to the credits. The song (about a couple who love each other despite everyone else's doubts) seems like a fitting pick, but will its words prove true for Don and Megan? Stay tuned.
8. "The Twist" by Chubby Checker
Season 1, Episode 8

The capper to what was surely one confusing day for Peggy: first she has an early morning romp with Pete in the office while the janitor looks on, then her Belle Jolie copy is a hit and the office goes out to celebrate, where she twists on over to Pete and he tells her, "I don't like you like this." It's a heartbreaking moment; just as Peggy seems to be growing up and carrying herself with newfound confidence, she's shot down, left to wipe away tears and twist by herself.
7. "Cup of Loneliness" by George Jones
Season 2, Episode 12

"The Mountain King" features Don going MIA in California, where he pays a visit to Anna and attempts to get his head straight while Betty deals with the aftermath of his affair back home. Anna gives him a tarot reading and mentions the resurrection, and the two of them debate whether or not people can change. Then, as George Jones sings a country gospel number about being "redeemed of sin, hauled out of darkness, a new life to begin," the episode closes with Don going for a dip in the ocean—a baptism of sorts to symbolize the new man he'll try to become.
6. "Satisfaction" by The Rolling Stones
Season 4, Episode 8

We said it when we declared this one of our favorite moments from season four, and we'll say it again: After hitting rock bottom in the previous episode, Don spends much of "The Summer Man" trying to get himself together. As Mick Jagger sings, "And that man comes on to tell me how white my shirts can be," we see Don in his blindingly white shirt, coolly slipping on his sunglasses and reaching into his pocket for a cigarette at the exact moment that we hear "but he can't be a man cause he doesn't smoke the same cigarettes as me." As he struts back into the office, the message is clear: our favorite smooth-talking ad man is back on the top of his game.
5. "Early in the Morning" by Peter, Paul & Mary
Season 2, Episode 8

Colin Hanks guest stars in season two as Father Gill, the priest who tries to make Peggy repent for her sins—and kinda sorta maybe has a little crush on her. In this scene, we watch him alone in his room as he peels off his restrictive collar, picks up an acoustic guitar and sings this pious track. It's the closest we see to him letting loose, and the episode ends with a poignant juxtaposition between him and an exiled Don—kicked out of his house for sleeping around—sipping a beer alone in the office.
4. "Break It To Me Gently" by Brenda Lee
Season 2, Episode 7

The final scenes of "The Gold Violin" expertly toe the line between the comic and tragic as Betty, who has just realized that Don's been cheating on her with Bobbie Barrett, sits wordlessly in the new Cadillac Don purchased earlier in the episode. Maybe it's because she had too much to drink, or maybe it's because the idea of Don with another woman has made her physically ill, but either way, she yaks in the car—the same one she refused to let her kids enter before meticulously inspecting their hands. Then the credits roll, we hear Brenda Lee croon, "break it to me gently, let me down the easy way" and despite Betty's misfortunes, we can't help but grin.
3. "Tobacco Road" by the Nashville Teens
Season 4, Episode 1

Last season opened with Don struggling to answer a reporter's query: "Who is Don Draper?" After his modesty costs the company an account, he schedules a new interview and arrogantly talks himself up. As the eerily fitting "Tobacco Road" ("I was born in a dump, mama died and my daddy got drunk"…can you say "Dick Whitman's life story"?) plays in the background, we get a preview of the dark side of Don Draper that would come to dominate season four.
2. "My Special Angel" by Bobby Helms
Season 1, Episode 9

One of the series' most striking images is that of Betty Draper, with a cigarette dangling from her lips and a dead look in her eyes, shooting her neighbor's pigeons out of the sky as this 1957 track plays. After her attempts to revive her modeling career (and get out of the house) are unsuccessful, she grins and bears it, plastering on a fake smile, warning the kids not to run in the house and emptying the washing machine before stepping outside to jealously take down some creatures who—unlike her—are not caged. The song, like Betty herself, is left over from the '50s, and here it helps to illustrate the plight of the suburban housewife. Watch the scene in full here.
1. "Don't Think Twice It's Alright" by Bob Dylan
Season 1, Episode 13

After delivering his most memorable pitch to date (in which he waxes poetic on the nature of nostalgia to sell Kodak's Carousel), Don hops on a train home just in time to join his adoring family for Thanksgiving—or so we think. After that alternate reality in which Don isn't completely married to his work plays out, we see what really happened: our hero returns home to an empty house, plops himself down on the staircase and, consumed by guilt, stares longingly into the distance as this Dylan classic helps close out season one. The scene is Don in a nutshell: he wants to be better, but he just can't, and it ain't no use to sit and wonder why.