16 Musicians Discuss Their First Concert T-Shirts
Page 1 of 2
Even after Black Crowes rolling papers, Prince tambourines, Bloc Party condoms, Rush socks, Tegan and Sara scarves, Ween coloring books and Mötley Crüe panties, the concert T-shirt remains king. And this quintessential live music souvenir has evolved. Those dodgy black Iron Maiden Ts and Grateful Dead tie-dyes of yore have given way to semi-couture numbers hawked at Radiohead and Animal Collective gigs.
Some music fans' closets contain museum-worthy tour shirt collections. But, no one forgets his or her first. So we asked 16 musicians, who now have their own merch to oversee, about their first concert Ts and the stories behind them.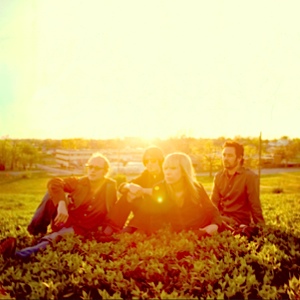 1. Erika Wennerstrom (Heartless Bastards)
The Bob Dylan shirt was a surprise gift. Erika Wennerstrom's aunt bought it for her at a Dayton, Ohio, show they attended together, circa-Time Out of Mind. "The whole arena smelled like incense," says Wennestrom, who was a teen at the time. "And I was like 'God, that's a lot of incense to fill an entire arena.'"
Today, the Heartless Bastards singer/guitarist is speaking from Austin, Texas' Topaz Salon, where she's "getting my hair did." Wennestrom remembers that first T as being black and adorned with Dylan's visage. Heartless Bastards are touring in support of their fourth LP "Arrow," and the Austin classic rockers have recorded the score to Winter In The Blood, a film based on the 1975 James Welch novel.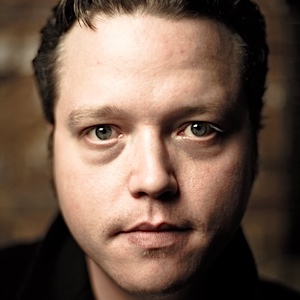 2. Jason Isbell
"It was the one with two crows on the front, and I think it was the only one they had for sale at that point in time. I kept it forever. But, I don't know where it is now." Singer/songwriter Jason Isbell is recalling his first concert T-shirt, purchased when he was just 11, at The Black Crowes' performance in the University of North Alabama gymnasium during the Shake Your Money Maker tour. About 15 years later, Isbell, then with Drive-By Truckers, would spend three months opening for the Crowes. "When I met Chris (Robinson, Crowes frontman), I told him about going to that show," says Isbell, calling from his Sheffield, Ala. apartment. "I think it made him feel old. So when I got onstage that night I brought it up just to fuck with him."
This spring, Isbell is touring Europe with Ryan Adams and plans to begin recording his next album this summer.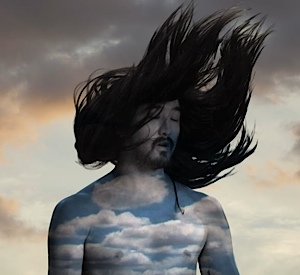 3. Steve Aoki
It was a long-sleeve Outspoken T-shirt boasting a lyric from the alt-punk band's song "Burning": "What makes it so seductive to lead a life that's self-destructive?" DJ/producer Steve Aoki believes the 2003 show may have taken place at the Anaheim venue Chain Reaction. "I'm sure I was crowd-surfing and stage-diving," says Aoki, from room 103 of a London hotel. "I went to all [of Outspoken's] shows when I got into straight edge hardcore." Based in Los Angeles, Aoki's taste in concert Ts is more about passion than fashion. "For me, I have to like the band and that is the biggest deciding factor," he says.
Aoki released his Wonderland studio album in January, and is working on collaborations with artists including Diplo, Knife Party and Tiesto. He is touring the U.S. and Europe this spring.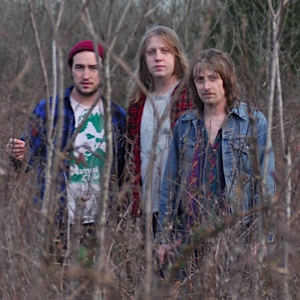 4. Zack Martin (Natural Child)
The three dudes in Nashville garage-rock combo Natural Child are sitting in a Toyota van mired in New Jersey Turnpike gridlock. Singer Seth Murray can't recall his first concert T-shirt, so he and bassist Wes Traylor pass the cell phone to drummer Zack Martin. "It was a Hank Jr. shirt and it had lightning on it," Martin says. He was only about two or three when a family member took him to that early-'90s Bocephus show in St. Louis. "I fell asleep at the end," Martin says. When asked what makes for a cool concert T, the drummer remarks, "If it doesn't have lightning it isn't cool at all."
Natural Child's sophomore disc For The Love Of The Game drops April 20.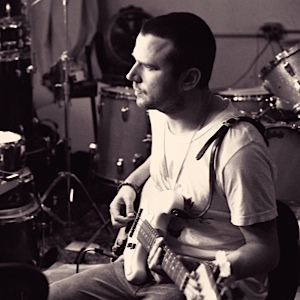 5. Max Bemis (Say Anything)
When it comes to concert T-shirts, Max Bemis, singer for Los Angeles indie-rockers Say Anything, isn't a fan of the bootlegged variety. "There's always a touch of ghetto-ness to them for some reason," Bemis says. He's standing in the parking lot outside a Salt Lake City venue. "You can always sort of tell if they're off-the-books, so to speak." Bemis' initial foray into tour Ts was totally legit: A Metallica shirt he bought at the metal kingpins' 1997-ish concert at California amphitheatre Irvine Meadows. "It was just a regular Metallica logo," Bemis says. "That was also my first show that I'd ever been too. I was pretty obsessed with Metallica and pretty into it being my first show. It was pretty insane."
Say Anything is touring behind their fifth LP, Anarchy, My Dear.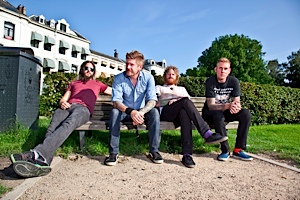 6. Troy Sanders (Mastodon)
If you had 100 guesses as to what Mastodon bassist/singer Troy Sanders' first concert shirt was, you still probably wouldn't get it. Maybe even 200. "It was Men at Work," Sanders says. He's standing in a Houston alley, not far from his torch-bearing metal band's bus. "Men at Work was my first concert, my first album. I was a young little boy at the time, but I was a big fan and still am to this day. Business As Usual is one of my favorite records of all-time." This cross-genre information is less shocking when one considers Sanders is also a George Jones enthusiast, and Mastodon's last album, The Hunter, was produced by Eminem knob-twiddler Mike Elizondo.
Mastodon is touring the U.S. this spring with fellow head-bangers Opeth and Ghost. Photo by Cindy Frey.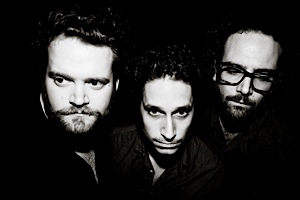 7. Dave Hamelin (The Stills, Eight and a Half)
Luckily, future Eight and a Half frontman Dave Hamelin obtained his Metallica "Don't Tread On Me" T-shirt before the crowd erupted into one of the most infamous riots in rock history. Yes, Hamelin was at that 1992 Metallica and Guns N' Roses show detailed in at least one episode of VH1's Behind the Music. After Metallica's James Hetfield was severely burnt by onstage pyro, and Guns singer Axl Rose stormed offstage early in their set, a disappointed crowd began to trash Montreal's Olympic Stadium and turn over police cars outside. "I was like 11, 12 or 13 and there with my mom," Hamelin, formerly of The Stills, says. The indie-rock singer is lying in the bed of his Toronto home, sick with food poisoning. "I remember thinking, 'I guess all shows are like this. Like this crazy thing.' But it was fun while it lasted."
Eight and a Half releases its debut disc April 10.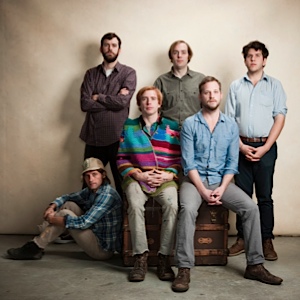 8. Scott McMicken (Dr. Dog)
He'd previously owned a Michael Jackson T, but the first shirt Dr. Dog singer/ guitarist Scott McMicken obtained from a concert he actually attended was for Ben Folds Five. "In 1993 or 1994, I went to go see Ben Folds Five in Philly right when their [self-titled] first album came out," McMicken says, speaking from his kitchen. It was a "ringer T," a white shirt outfitted with red lines around the sleeves and collar. "And the image on the shirt was just a big Polaroid photo from above a piano and someone sticking middle finger over the middle-C on the piano," McMicken says. "So it was a cool shirt to have when you're 16."
Dr. Dog released its sixth studio album, Be The Void, in February and the Philadelphia psych-pop group is playing select days with Wilco and festivals, such as Hangout and Beale Street, this spring. (Photo by Jens Nordström)