The 25 Best Beach Boys Covers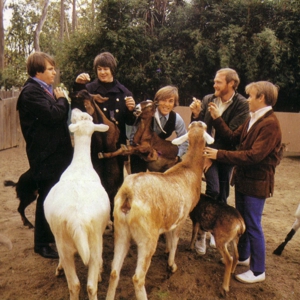 Page 1 of 2
It's been a big week for Beach Boys fans. Yesterday the newly reunited group unveiled "That's Why God Made The Radio," the first single from their forthcoming album, and back on Monday the Flaming Lips released their own tripped-out version of the Pet Sounds classic "God Only Knows."
Wayne Coyne and company are hardly the first to try their hands at a Beach Boys cover, however. Here are 25 of our favorites—plus one little gem that's too delightfully cheesy to overlook.
25. Red Hot Chili Peppers, "I Get Around"

The Chilis deliver a surprisingly solid interpretation here, even staying true to those high-pitched harmonies.
24. Oberhofer, "Be True To Your School"

This quartet's Big Ugly Yellow Couch session is fun enough to stir up a little school spirit in even the most cynical.
23. Elvis Costello and the Brodsky Quartet, "God Only Knows"

The string section adds some understated beauty to Costello's rendition of one of the Beach Boys' most frequently covered tracks.
22. Aaron Sprinkle, "I Know There's An Answer/Hang On To Your Ego"

Sprinkle recorded this cover as part of the compilation Making God Smile: An Artists' Tribute to the Songs of Beach Boy Brian Wilson.
21. Grant Lee Buffalo, "In My Room"

Friends fans will remember this melancholy cover from the season two episode "The One With The List."
20. She & Him, "Wouldn't It Be Nice"

Zooey Deschanel's sort of carved a niche for herself as the Queen of Cute, and—even though she gets dangerously close to the top of her range—her sweet vocals make perfect sense for this song.
19. Best Coast, "In My Room"

Bethany Cosentino and company deliver a fuzzy, unique take on this Beach Boys classic. Check out their Daytrotter recording of the song here.
18. M. Ward, "You Still Believe in Me"

Ward released this lovely instrumental cover on his Transistor Radio album back in 2005.
17. Relient K, "Sloop John B"

Hear us out on this one: part of what makes this cover so good is how much we were expecting these pop-punks to trip and fall with it. They don't, staying pretty true to the original and surprising us all.
16. Reigning Sound, "I'm Waiting For The Day"

These garage rockers released their version of this song on their debut full-length Break Up, Break Down.
15. Retribution Gospel Choir, "Kokomo"

For their contribution to the AV Club's "Undercover" series, Retribution Gospel Choir give The Muppets a run for their money with this breezy "Kokomo" cover.
14. They Might Be Giants, "Caroline No"

This cover of the lovesick Pet Sounds track comes from the group's Indestructible Object EP.
13. David Bowie, "God Only Knows"

Bowie's take on this Beach Boys hit appears on his 1984 album Tonight.
12. The Queers, "Don't Back Down"

Taking on this song makes sense for these punks—they're heavily influenced by the Ramones, who have delivered their own fair share of Beach Boys covers.
11. The Shins, "Girl Don't Tell Me"

James Mercer and friends frequently trotted out this 1965 Carl Wilson number as part of their 2009 tour.
Others Tagged With