The 10 Best Moments From Coachella 2012
Coachella wasn't all holograms and reunions, but those were among the highlights at the festival this year. Paste correspondent Michael Tedder counts down his 10 favorite Coachella memories this year. And since they'll be doing it all over in a few days, here's your guide for what not to miss this weekend.
10. Refused, generally burning that mother down, and making the audience both grateful to see that which they never thought they would see and mildly sad that the forward thinking Swedish art-punk group broke-up before their breakout moment, squandering so many years of potential greatness. (By comparison, At The Drive-In were suitably hectic but didn't even seem half as committed.) In between impressive backflips, Dennis Lyxzén gave his thoughts on Capitalism (not a fan) and reunions, admitted that the band were as skeptical of getting back together as anybody else, and didn't even know if people would care. "But if people want to see you play, it would be arrogant not too," they finally decided, and thanked Coachella for nudging them to get back together. We'll second that.
9. EMA, grabbing her crotch, flicking off the audience, doing weird vogue dancing during instrumental parts of her song, channeling a lifetime of dead-ends and burnout friends into feedback-sickened hymns and then capping off her set with her California-dissing anthem at California's most important music event.
8. MC Ride of the California punk-rap group Death Grips might be a perfectly nice fellow when he's off stage, but even his sound-checks are intense, and when backed by the tortured-android squealing of producer Andy Morin and the neck-breaking fills of spazz-god Zach Hill, he at least seems like he's one rude comment away from murdering an entire concert crowd with his bare hands. But the dude has a sense of humor as well. After beating us in to submission with cuts like "Guillotine," Ride noticed that one of the giant inflatable balloons the crowd was passing around had landed on stage. He kicked it back in to the crowd, and spent much of the set bouncing it back and forth with us while still being coming off as intimidating as fuck.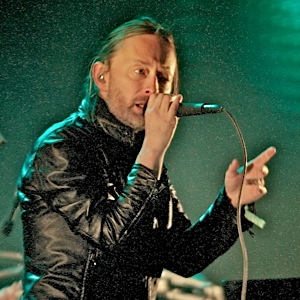 7. Returning to Coachella Radiohead played a set that foregrounded brand new songs like "Identikit" and the fan-favorite b-side "The Daily Mail," and threw a few bones to casual fans with "Karma Police" and "Paranoid Android," which is a weird song to hear a field full of people sing-a-long too. But the highlight of their set was a deconstructed take on King Of Limbs ballad "Give Up The Ghost," which saw Thom Yorke and Johnny Greenwood stitch together a fragile ballad one looped vocal and carefully plucked riff at a time, until they wove together an achingly sad patchwork ballad that proved that there's still no one who blends forward thinking sounds with relentless emotional scavenging quite like these guys.
6. Antony Gonzalez' genuine look of surprise and gratitude when he saw how many thousands of people squeezed into the suddenly too-tight tent to see M83. And "Midnight City" was suitably epic as well.
5. Carrie Brownstein is beloved for her singing, guitar-playing and Portlandia-creating. But the best part of Wild Flag's set came right at the end of "Race Horse," when the band caught their breath for a second and Brownstein, her back to the audience, calmly hoisted her guitar in the air with one hand and shook as much feedback from it as possible like it was no big thing that her band just ripped everyone's head off. A pure "yeah, I'm pretty badass" move from one of the best rock stars we've got.
4. Music journalists are only human. Sometimes our feet get sore after running from set to set, and we need to sit down and eat. During out burger and shake break, we happened to be sitting at the midway point between French house burners Justice and iTunes slice and dicer Girl Talk. At one point we were heard a live, real time (and obvously unintentional) mash-up between and extended remix of Justice's "D.A.N.C.E" and that Girl Talk song where Notorious B.I.G. raps over "Tiny Dancer." The joyous children's chant of "D.A.N.C.E." slid in just fine with Elton and Biggie, and the merging bass clouds slammed in to each other in a messy but entertaining way that you can only experience at festivals like this.
3. After flirting with the audience all night (throwing us grapes, asking us how we're doing, telling us how nice we look), Pulp frontman Jarvis Cocker upped the foreplay. And then some. By the climax of the making-dirties-movies saga "This Is Hardcore," Cocker had removed his jacket and tie (such a dapper frontman!) and began humping his amplifier, apparently forgetting that bookish Brit-Pop bands aren't supposed to be copping moves from R. Kelly. Judging by the…uhm…pleased feedback from the crowd, there were more than a few ladies in the house who suddenly found themselves jealous of an amplifier for the first time in their lives.
2. Canadian R&B mystery man Abel Tesfaye had only taken his blog-beloved project The Weeknd on a few outings before his set at Coachella, and it showed. His backing band sounded a bit thin and unsteady at times, and Tesfaye had a tendency to stretch out every melody with needless warbling when a more direct reading of his blunt-edge hooks would have made more of an impact. But anyone who can so effortlessly flash the seductive menace he gave on opening salvo "High For This" is worth waiting through a few growing pains for.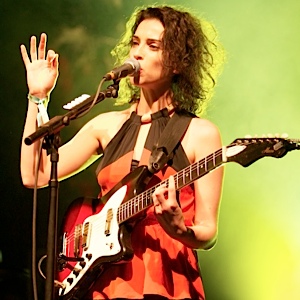 1. St. Vincent makes smart, immaculately cutting albums, but it's the live show that proves she's one of the most full-bodied, slash-and-burn guitar players going today. So it was a bit counterintuitive that the best moment of Annie Clark's set came after she handed off her guitar to a touring keyboardist for the premiere of the charging punk song "Krokodil," which we were promised "is not on the Internet, or the world yet." Clark jumped down to sing directly to fans in the front row, and then at some point a "screw it" look flashed across her face, and she started crowd surfing while singing the "Kroko-Kroko-Krokodil" refrain. The crowd went from amped to apeshit, but her steely-eyed death-angel expression made it clear that any ungentlemanly mosh-pit conduct would not be tolerated.