8 Mothers Talk Raising Musicians
Page 3 of 5
In honor of Mother's Day, we talked to nine mothers of musicians about raising kids, musical memories and that moment it was revealed that music was a career choice, not a hobby.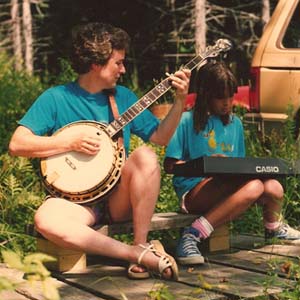 5. Sally Wingate (Mother of Sarah Siskind)
Paste: How old was Sarah when she started playing music?
Wingate: Sarah was between 3 and 4 years old when she started picking out her own tunes on the piano.
A major influence in the nurturing of Sarah's musical talent was Parkway United Church of Christ, in Winston-Salem, N.C. Sarah was on the list for providing special music from about the age of nine or ten. She would go to the piano and make up a composition, right there on the spot. With encouragement from church members, Sarah made her first album, Horizon Cries, at age fourteen. By this time, she had started combining her poetry with her tunes, thus the beginning of a songwriting career
Paste:Did you think she had a natural talent for it?
Wingate: She definitely had/has a natural talent. Pitch and rhythm have been right on, from the start. The ability to repeat a tune vocally or figure it out on the piano seemed to come easy. Learning to play the guitar didn't come until much later, and involved Sarah making up tunings in order to be able to replicate the sounds she heard in her head. I've always been amazed!
Paste: Did it ever drive you crazy having a daughter whose hobby was making noise?
Wingate: I have always loved Sarah's noise! She has never been afraid to try different things, unlike me. When she was in fifth grade, she started experimenting with unconventional harmonies, on a four track tape player that was her Dad's. I don't think he ever got the chance to use it!
Paste: How did you first feel when Sarah pursued music professionally?
Wingate: I knew it wouldn't be an easy life for Sarah to pursue music professionally, but I also knew that she didn't have much of a choice. Music chose her, not the other way around.
Paste: Do you and Sarah share any musical memories?
Wingate: The family attended bluegrass festivals and fiddlers conventions when Sarah and her brother, Brian, were growing up. One year, Sarah took her keyboard to the Galax Fiddler's Convention and played along behind a jam session that Mark (her Dad) and I were participating in. Playing music together didn't happen much until Sarah was an adult. There was a local restaurant/music venue in her hometown of Winston-Salem, N.C., that had regular Celtic and folk concerts, and we would attend often when Sarah was young (under the age of 10) where she would regularly spend the entire concert standing with her arms folded on the stage, watching the musicians play, instead of sitting.
Others Tagged With