The 50 Best Movies on Netflix Instant
Page 1 of 3
We love the convenience of streaming movies on Netflix Instant, but we don't always love the navigating through the countless films in the service's ever-expanding catalog to find something to watch. So we've compiled our list of recommended titles for you—whether you love classics, comedies, documentaries or just good ol' fashioned kung-fu.
The genres vary greatly here—and range in age from brand new to 87-years-old—but all 50 of these films come with the Paste stamp of approval. The list is up to date as of February 2013, but we'll continue to update the list from time to time as Netflix Instant changes its offerings.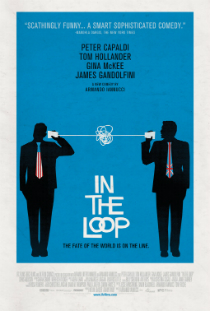 50. In the Loop
Year: 2009
Director: Armando Iannucci
If clever verbal humor were easy, we'd have more comedies like In the Loop. But it's not, and this one stands in a class of its own. It's the most quotable film of the decade—by miles—and the cynical potty mouths on screen are so articulate and creative that, after the avalanche of witticisms, you're left with the lingering sense that you've seen not just a funny movie but also a wicked political satire of the highest order, the kind where the absurdity speaks for itself.—Robert Davis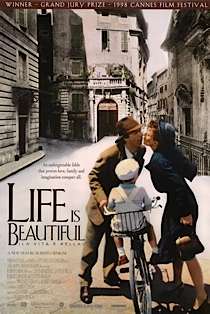 49. Life Is Beautiful
Year: 1997
Director: Roberto Benigni
Italian writer, director, actor and concentrated ball of exuberance Roberto Benigni brought comedy to a story of a Nazi concentration camp without downplaying the tragedy. We all want to give our children their childhood, and his character's efforts to do just that make a the horror all the more relatable. The film tugs at heartstrings, but Benigni plays them so well, you'll forgive any hint of emotional manipulation.


48. A Fish Called Wanda
Year: 1988
Director: Charles Crichton
This ensemble piece shows what can happen when four skilled comic actors (John Cleese, fellow Monty Python alum Michael Palin, Kevin Kline and Jamie Lee Curtis) are given a script (written by Cleese) that puts them all on equal footing. The result is a tour-de-force of crisply delivered, character-driven comedy that, while tough on old ladies, fish and terriers, continues to reward new and returning viewers. (The film also broke through the Academy's normal bias against comedies, winning Kevin Kline a richly deserved Best Supporting Actor for his role as Otto.)—Michael Burgin


47. Mullholland Dr.
Year: 2001
Director: David Lynch
Naomi Watts' soulful and fearless dual performance as a wide-eyed ingénue and a jaded junkie anchors David Lynch's puzzlebox film, an update on mid-century Hollywood vice flicks that twists itself into a powerful tragedy. Only superficially exploitive, Mulholland Drive gives its girl-on-girl action a tenderness rarely seen in mainstream sex scenes and never seen in Lynch films. Even as the director further blurs the distinctions between fantasy and reality, he finds the dark heart of this tangled romance.—Stephen M. Deusner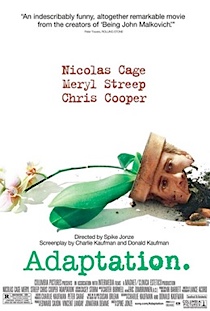 46. Adaptation
Year: 2002
Director: Spike Jonze
As utterly gonzo as Kaufman's characters and stories are, they're only as outrageous as the errant, obsessive rhythms of thought going clickety-clickety-click inside our own heads. It's just that Kaufman has more immediate access to all those idiosyncratic brainwaves. He can't stop himself. Kaufman—not unlike his anxious, lovestruck and artistically fraught heroes—compulsively thinks outside the box. And then he builds a bigger box. Adaptation is an adaptation of New Yorker writer Susan Orleans' The Orchid Thief that centers on a Hollywood frustrated screenwriter's efforts to adapt the book into a movie.—Steve Dollar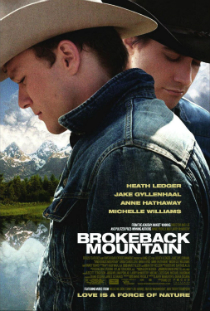 45. Brokeback Mountain
Year: 2005
Director: Ang Lee
While his performance as the Joker in The Dark Knight certainly deserves the acclaim it's been given, Heath Ledger's true tour de force was his understated work in Brokeback Mountain. Ledger brought a driving force to the movie which complimented its contemplative tone and showed a true, classical brilliance in acting that left you convinced that his character was real.—Sean Gandert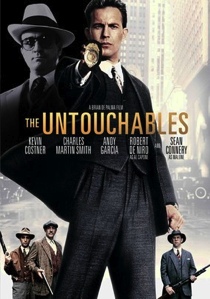 44. The Untouchables
Year: 1987
Director: Brian De Palma
Al Capone and Eliot Ness—the quintessential gangster and the original G-Man—lock horns during Prohibition in one of the greatest American cop movies ever made. The all-star cast is great, but it's Sean Connery as Ness's sidekick, Jim Malone, who elevates this film from standard shoot-em-up to high drama. Director Brian DePalma juxtaposes the stylized and slick with the violent and vulgar, and the contrast serves to heighten our awareness of each. The costumes are rich, the dialog is a pulp-writer's dream, and the fact that Capone is brought down by the office nerd makes everyone feel great.—Joan Radell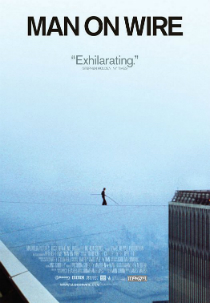 43. Man on Wire
Year: 2008
Director: James Marsh
In 1974, high-wire walker Philippe Petit fulfilled a longstanding dream by sneaking into New York's World Trade Center, stringing a cable between the tops of the two towers, and—with almost unfathomable guts—walking across it without a net. The man is clearly a nut, but he's also a great storyteller with a heck of a story, and Man on Wire gives him a chance to tell it. Petit's stunt was both an engineering challenge and a test of, well, a test of something that most of us don't possess in this much quantity. Filmmaker James Marsh uses standard documentary techniques, combining new interviews with a satisfying pile of footage and photographs, but his film has the suspense of a caper movie. The title comes from the report written by a police officer who was more than a little uncertain about how to respond to the audacity on display.—Robert Davis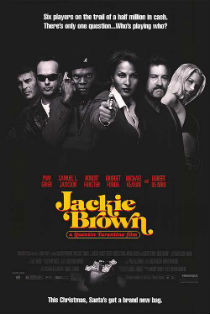 42. Jackie Brown
Year: 1997
Director: Quentin Tarantino
Quentin Tarantino's underappreciated gem Jackie Brown sees Pam Grier as the title character who shakes up the world of bail bondsman Max Cherry (Robert Forster). One of the most brilliant notes in both the main actors' performances is the stillness that each brings to his character. But if the actors are part of the orchestra, so is the music.—Michael Dunaway


41. Drive
Year: 2011
Director:
Drive offers a number of remarkable performances. Despite minimal dialogue and a scene count you can tally on one hand, Christina Hendricks is engaging, justly earning her own movie poster. Bryan Cranston (Shannon), who never ceases to impress, took his less than supporting role and molded it into something notable. Drive stands out as one of the best films to have been released thus far this year. Will you leave the theater happy? Sad? Appalled? Inspired? Yes. All of the above.—Caitlin Colford


40. Hotel Rwanda
Year: 2004
Director: Terry George
While Hotel Rwanda attempts to document the country's genocide in 1994, it does so by focusing on the character of Rusesabagina (played by Don Cheadle), who gave refuge to hundreds of fleeing Tutsis. Calling in dozens of favors with his extensive network of contacts, he was able to hold the Hutu extremists (the Interahamwe militia) at bay, until the Tutsi rebels drove the Hutu from power. Cheadle portrays Rusesabagina as an efficient manager who cares deeply about his family and the people in he looks after It's a gripping film that bears witness to both a historic tragedy and one man's bravery. "I never thought I was doing something different," Rusesabagina modestly told Paste just after the film's release. "I thought I was just acting as a normal hotel manager."—J. Robert Parks


39. Capote
Year: 2004
Director: Bennett Miller
In the same manner that In Cold Blood depicted the pristine scenes of Holcomb, Kansas, and the two men who disturbed them with a quadruple murder, Seymour Hoffman offered a precise-yet-chilling depiction of the man who helped found New Journalism. In turn, his performance burst apart Capote's carefully crafted narrative to show just how haunted the writer himself had become.—Christina Lee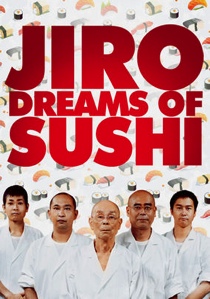 38. Jiro Dreams of Sushi
Year: 2012
Director: David Gelb
Jiro Dreams of Sushi is a documentary about one of the greatest masters of the culinary world, one whom casual foodies have never even heard of. Although Jiro's work is ostensibly the focus of the documentary, the film is really propelled by the story of his relationship with his two sons; the youngest of whom has started his own restaurant, and the oldest of whom, at the age of 50, continues to work with his father, training to one day take over his restaurant. Devoid of the typical familial jealousy you may expect, Jiro Dreams of Sushi is instead a beautifully filmed documentary about a father and his sons who have devoted their lives to the pursuit of the perfect piece of sushi. —Emily Kirkpatrick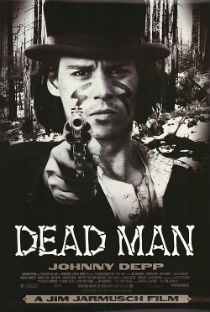 37. Dead Man
Year: 1995
Director: Jim Jarmusch
Jim Jarmusch directed this post-modern examination of the western film genre as American pop culture finally began to veer away from the expected western films. Jarmusch introduced a complete retrospection of a genre plagued with so many social follies. Depp's somber, quiet character, William Blake, is reflective of the heroes of the Wild West's past, but it's his journey that makes this character stand apart.—Clint Alwahab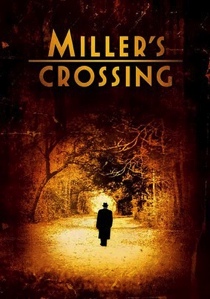 36. Miller's Crossing
Year: 1990
Directors: Joel and Ethan Coen
Like O Brother Where Art Thou a decade later, Miller's Crossing is a terrible choice for those who prefer their Coen films a little less Coen-ish. It's highly stylized, confusing and often ridiculous. But the parts that do work are glorious—Gabriel Byrne's casual indolence, Albert Finney's blustering menace, and most of all, John Turturro's masterful painting of the spectacularly weaselly Bernie Bernbaum. "Look in your heart!"—Michael Dunaway


35. Traffic
Year: 2000
Director: Steven Soderbergh
Steven Soderbergh's simulated documentary about modern drug culture twists and glides with a calculation as deep and complex as the cavernous topic it so effectively dissects. Ever the visionary, Soderbergh displays an objective, impartial eye (quite literally—he photographed the film as Peter Andrews), digging into his characters' explosive trajectories as they reach their tragic and ambiguous ends, and leaving us with more questions than answers.—Sean Edgar


34. Ran
Year: 1985
Director: Akira Kurosawa
For many, the answer to the question, "What is the only film you've heard of by Akira Kurosawa?", Ran is a multi-layered epic the likes of which are rarely encountered in modern cinema. (The recent string of wuxia-flavored, battle-rich movies coming out of China have the pageantry and blood-letting, but lack the depth.) Whether you come for the rich themes of power, betrayal and the angst of living in a nuclear age, or you just want to see King Lear through the lens of a Japanese master, Ran deserves more than cocktail-party lip service.—Michael Burgin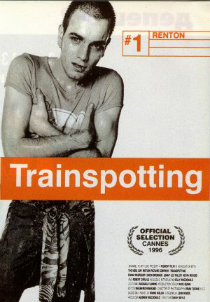 33. Trainspotting
Year: 1996
Director: Danny Boyle
Based on the gritty Irvine Welsh novel of the same name, this early film from the director of Slumdog Millionaire and Millions follows a thuggish group of heroin addicts in Scotland and features brilliant performances from young Ewan McGregor, Kelly Macdonald and Robert Carlyle.—Josh Jackson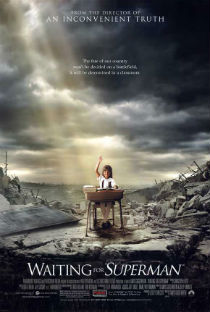 32. Waiting For Superman
Year: 2010
Director: Davis Guggenheim
In a year that gave us three major documentary features about the glaring need for educational reform in America, Davis Guggenheim's Waiting for "Superman" presents the most unavoidably compelling argument. In one of the biggest eye-openers, he shows that housing a man in prison (where inner city high school dropouts are statistically likely to wind up) costs three times as much per year as sending them (as kids) to even the most exclusive private school. Another—in order to bring the U.S. from close to last in developed-world education to close to first, we'd only have to get rid of the worst 10% of teachers. Like his previous epic An Inconvenient Truth, it's not the most balanced picture, but he does give the largest teachers' union their say. They're on the wrong side of history, however, and one day this film, like An Inconvenient Truth, will be seen as one of the turning points in the conversation.—Michael Dunaway


31. 4 Months, 3 Weeks and 2 Days
Year: 2007
Director: Christian Mungui
With eerily realistic performances and stunning direction, 4 Months, 3 Weeks, and 2 Days combines an uncomfortably forthright discussion of abortion with long, virtuosic handheld camera takes. In Cristian Mungui's hand, these shots are more than just a gimmick; they position the audience behind the camera and refuse to let us look away from the horrors on screen. At times, it's difficult to watch, but few films have ever displayed as perfect a marriage of form and content.—Sean Gandert