12 Tennessee Bands You Should Listen to Now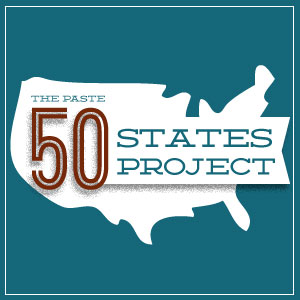 You don't have to be a music scholar (or a Tennessean, at that) to appreciate the enormous contributions the Volunteer State has made to American music history. To drop a few names: Elvis, Isaac Hayes, Dolly Parton, Big Star, Justin Timberlake. From Beale Street to Opryland all the way east to Appalachia, the 400-mile-long stretch of land we call Tennessee is a thriving home to more musical genres than you could count on all your fingers and toes: from country music to southern rock, from soul to Americana, from R&B and "dirty South" rap to underground garage, and on. Needless to say, it's all too rich and wide to be summed up comprehensively with a list so small, but here's to hoping this selection of 12 promising up-and-comers is a start.

12. Plainclothes Tracy
Hometown: Knoxville
Band Members: Kym Hawkins, Eric Grass, Brian Kelly, Jonathan Kahler, Blake Sensenbach
Current Release:Buffalo EP
There's some latent potential in Plainclothes Tracy, an unassuming five-piece that manages to jump from innocent She & Him crooning to all-out grunge in a moment's notice. "Wine Tilt's"'s rapid-fire lyrics and lurching guitars are a promising start.


11. Vinyl Thief
Hometown: Nashville
Band Members: Grayson Proctor, Logan Purdom, Andrew Broadway, Sam English, Alec Carpenter
Current Release: Rebel Hill EP
Vinyl Thief bring to mind an early Cold War Kinds— back when they were fresh, loud, and willing to take some chances. On "Rebel Hill," the real magic happens at the bridge, a funky dance break that gives the impression these guys have some tricks still waiting up their sleeves.


10. Cities Aviv
Hometown: Memphis
Band Members: Gavin Mays
Current Release: Digital Lows
Cities Aviv (a.k.a. Gavin Mays) was in a hardcore rock band before he dropped out of University of Memphis to pursue his rap ambitions at the age of 20. He earned national attention last year almost immediately after dropping his debut, Digital Lows. On last summer's single "Coastin," Mays schools other rappers atop some high-class violin samples.


9. Glossary
Hometown: Murfreesboro
Band Members: Bingham Barnes, Eric Giles, Joey Kneiser, Kelly Kneiser, Todd Beene
Current Release: Long Live All of Us
Located just 40 miles from Nashville, Murfreesboro—home of Those Darlins a local music scene vibrant enough to take Music City to task. Glossary has long been a part of the city's under-recognized rock scene. All their hard work after 14 years and seven full-length albums hasn't left them disillusioned, though. The horns and piano arrangements on —"Trouble Won't Last Always" are gleefully optimistic and un-hip.


8. The Black Cadillacs
Hometown: Knoxville
Band Members: Will Horton, Matthew Hyrka, Philip Anderson, Adam Bonomo, John Phillips, Kevin Hyfantis
Current Release: Run
Five out of six members of The Black Cadillacs are Tennessee natives, and the influences of the three cities they hail from—Memphis, Knoxville and Nashville—all ring clear in their music. "Classic Fool," a single off their brand new album Run, melds Smoky Mountain picking with country-style delivery and a blues-inspired melody.


7.The Memphis Dawls
Hometown: Memphis
Band Members: Holly Cole, Krista Wroten, Jana Misener, Nahshon Benford, Jonathan Mclaren
Current Release:The Memphis Dawls EP
The Memphis Dawls are a local folk "supergroup" of sorts. The trio of Holly Cole, Krista Wroten and Jana Misener have extensive experience with other projects, like Amy LaVere, in the Memphis area, but they started making music together in high school. The Dawls opened for Jack White when he stopped by Memphis this March, and he liked them so much he invited them to tour with him on a few other dates afterward. Can't blame him for being entranced, though; the Dawls' romantic harmonies and gothic storytelling tend to get under your skin.


6. Cherub
Hometown: Nashville
Band Members: Jordan Kelley, Jason Huber
Current Release:Mom & Dad
Electro-funk duo Cherub could practically be the mascots for a Twang-Free Nashville Movement, if such a thing existed. Their dance tunes may be geographically off the grid, but if I had to pick names, I'd land Cherub somewhere between Prince and MGMT. Whether you decide to take them seriously or not—and "Doses and Mimosas" essentially begs you not to—Cherub has a sweaty dance party to start somewhere, and it will happen with or without you.


5. The Apache Relay
Hometown: Nashville
Band Members: Michael Ford Jr., Mike Harris, Ben Ford, Brett Moore, Kellen Wenrich, Aaron Early
Current Release: American Nomad
The Apache Relay were formed in a college dorm room, but they sound big enough to fill up arenas. The big, swooping chorus of "Home is Not Places" is idealistic, but so polished it's hard not to be convinced. The guys from Mumford & Sons were apparently sold: they selected the band to appear on their stopover tours this summer.

4. Moon Taxi
Hometown: Nashville
Band Members: Trevor Terndrup, Spencer Thomson, Tommy Putnam, Wes Bailey, Tyler Ritter
Current Release:Cabaret
This five-man band—formed in 2006 at Nashville's Belmont University—treats preserving "breathing space" in their music like an art form. While they were in the studio recording their latest album, Caberet (which features a guest appearance from Matisyahu) the band says they aimed for the minimalism of bands like Radiohead. "Gunflower" hits that "less-is-more" nail right on the head, where a heart-wrenching chorus adds emotional weight to the song's simple structure.


3. Dirty Guv'nahs
Hometown: Knoxville
Band Members: James Trimble, Justin Hoskins, Aaron Hoskins, Michael Jenkins, Chris Doody, Cozmo Holloway
Current Release: Youth Is In Our Blood
The Dirty Guv'nahs are one of East Tennessee's most well-loved bar acts, and they are just not the type of band you analyze. The Dirty Guv'nahs are the type of band you dance to. I'll let you go ahead with that.
3000 Miles by Dualtone Music Group, Inc

2. The Kingston Springs
Hometown: Nashville
Members: Alexander Geddes, Ian Ferguson, Matthew DeMaio, James Guldry
Current Release: The Vacation Time EP
When you hear the confidence that coats every track The Kingston Springs play, you might be shocked to learn they only recently graduated high school. A certain bit of Nashville colors everything they touch, but their early work—on songs like "Weight of This World" from The Vacation Time EP— also shows off impressive range, incorporating bass-heavy blues (think Black Keys, sans polish, gone South) surf rock and folksy Americana.


1. Star & Micey
Hometown: Memphis
Band Members: Joshua Cosby, Geoff Smith, Nick Redmund
Current Release: Star & Micey
In their four-year career as a band, Star & Micey have crafted then steadily smoothed out out a brand of folksy pop that brings to mind Memphis legends Big Star and The Avett Brothers. Every live show I've seen of theirs (upwards of 20 at this point) feels like an all-out energy sacrifice, complete with backflips, crowd-mingling and full-throttle "bah-dah-bah"-ing. Can you fake that kinda stuff at the rate of 100 live dates a year? "So Much Pain" was the lead single to their 2009 self-titled debut, and though the band has come a long way since then (they recorded an EP with Modest Mouse producer Dennis Herring due this October), the song still tells you the one thing you should know about Star & Micey—they got some soul.
Others Tagged With