The 90 Best Movies of the 1990s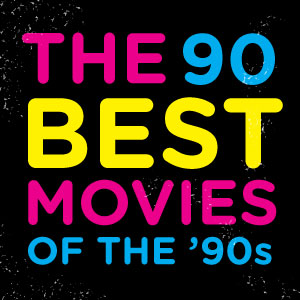 Page 1 of 9
It was shocking just how difficult the task was.
You'd think that narrowing down a list of the Top 90 films of any decade would be relatively painless. But even just my personal worksheet of no-brainers for the Best 90 Movies of the 1990s added up to over 100 films—not to mention everyone else's exhaustive picks. Maybe it was the birth of the modern American indie film movement, led by Steven Soderbergh and Richard Linklater, that produced such an explosion of memorable movies in the decade. Maybe it was the emergence of the New World Order (certainly the fall of Communism was directly responsible for Krzysztof Kieslowski, among many others, to do his finest work). Or maybe it's just that we all have a soft spot in our hearts for our post-college-era movies.
So what follows is a very unscientific gathering of the approximate collective opinions of our editors and film critics on the best movies of the 1990s. There are gaping holes, to be sure (even with a dozen nations on the list, foreign films are highly underrepresented, for instance). But we just couldn't resist sharing with you some of the fun we had in reminiscing about one of our favorite decades in film history.
90. True Romance (Tony Scott, 1993)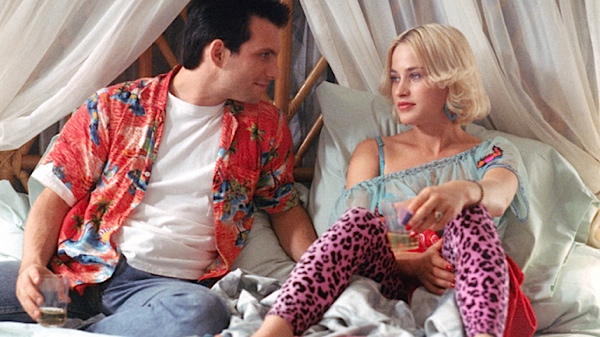 Is this the most deep, meaningful film on the list? Oh no. Does it bog down a bit in the second hour? Oh yes. But for at least an hour, it may just be the most fun you'll have watching any of these 90 movies. Quentin Tarantino wrote it, but Tony Scott directed it. You've probably already seen the all-time classic scene between Christopher Walken and Dennis Hopper. Christian Slater and Patricia Arquette's lead performances are supported by the likes of Samuel Jackson, Val Kilmer, Brad Pitt, Bronson Pinchot, James Gandolfini, Chris Penn and, most of all, Gary Oldman as a white pimp who thinks he's black. It's hilarious, it's sexy, it's quick, it's smart-assed, and it has a hell of a big heart.—Michael Dunaway
89. American Beauty (Sam Mendes, 1999)


Screenwriter Alan Ball mined his experience as an unsatisfied member of the television industry to pen American Beauty—a beautiful meditation on the hollowness of American suburbia and its materialism. Although Ball originally intended it for the stage, director Sam Mendes made the film intensely personal for each character, adding the kind of emotional heft that only a film—when expertly executed—can provide. This is the story of Lester Burnham's complete journey from imprisoned office worker to carefree teenager to enlightened adult, although each character undergoes a similar transformation. The film may nominally be about Burnham's obsession with the titular Angela Hayes, but its real message is that a more powerful beauty can be found in unexpected places. You just have to look closer.—Allie Conti
88. Forrest Gump (Robert Zemeckis, 1994)


Few films infiltrate the collective American psyche quite the way Forrest Gump managed. You've undoubtedly heard someone make reference to this 1994 classic—whether it was a classmate sarcastically yelling "Run, Forrest, run!" as you hustled to catch the bus, or someone busting out their best drawl to deliver, "Momma always said life is like a box of chocolates." The entire film is full of dialogue that's both moving and funny (my personal favorites include "But Lt. Dan, you ain't got no legs" and "I'm sorry I had a fight at your Black Panther party"). Forrest may be a simple man, but his story is our nation's story, and we all are run through the emotional gauntlet as we watch him hang with Elvis and John Lennon, fight in Vietnam and encounter many a civic protest—all while in pursuit of his true love, Jenny. Tom Hanks delivers an Oscar-winning performance, and Gary Sinise is heartbreaking as Lt. Dan.—Bonnie Stiernberg
87. Barton Fink (Joel and Ethan Coen, 1991)


While hung up with the intricate plotting of Miller's Crossing, The Coen Brothers took a break to write a script about a blocked screenwriter (Jon Turturro). Reminiscent of Stanley Kubrick and David Lynch at their most darkly satiric, Barton Fink depicts a self-important New York playwright who struggles to write a Hollywood wrestling picture while residing in a rotting hotel. A jaundiced metaphor for the compromised creative process of show business, Barton Fink delivers the deadpan comedy and quirky performances of the Coen's trademark, including Oscar nominee Michael Lerner as a bombastic studio chief, John Mahoney as a boozing, Faulkner-esque novel, and John Goodman as a cheerful salesman with a dark secret. Audiences can obsess over the meaning of lines like Goodman's "I'll show you the life of the mind!" but any answers the film holds are unlikely to be reassuring.—Curt Holman
86. The Truman Show (Peter Weir, 1998)


Before reality shows took over the world and VH1, there was a prescient little movie called The Truman Show. Strange, that there was a time in our culture when the thought of putting someone on television and watching their life unfold in a somewhat (or completely) falsified manner was morally wrong. But The Truman Show was more than just a critique on the reality shows of the future; Jim Carrey was the everyman hero, weary of living a life where he took no risks and saw no change. As he attempted to make new moves, he was met with such resistance that it made the very act of living a revolutionary process in itself. Laura Linney, Noah Emmerich and Ed Harris (as Christof, the all-powerful man behind the curtain) made up Truman's world and the cast of one of the most captivating and triumphant stories ever told.—Shannon M. Houston
85. Waking Ned Devine (Kirk Jones, 1998)


Waking Ned Devine may be the most feel-good heist flick ever made. Ned is an old-timer in a small Irish village who wins the lottery and dies from the shock of it. Two of his old-timer buddies, Jackie (Ian Bannen) and Michael (Fawlty Towers' David Kelly), decide to scam the big-city lotto agent into thinking that one of them is Ned, alive and well. What ensues is not so much a con-artist caper but more an Irish celebration of community, camaraderie and the spirit of human generosity. Other Irish themes championed: whiskey, lush landscapes, poetry, naked old dudes riding motorcycles, whiskey and the fiddle. Did we mention whiskey?—Ryan Carey
84. A Bronx Tale (Robert De Niro, 1993)


At this year's Tribeca Film Festival, Robert De Niro was asked to talk about his directorial debut, A Bronx Tale. He cited the young, inexperienced leads (Lillo Brancato and Taral Hicks) as the main factor in the film's success: "I like using non-actors. In A Bronx Tale, those were not actors. There were no kids I could ever find that would have been like those kids." Brancato and Hicks played Calogero (an Italian boy) and Jane (a black girl) respectively, two kids growing up—and falling for each other—in the racially charged '60s. De Niro captured that climate perfectly with a story that was part Bronx Gangster tale, part forbidden love story and part father/son drama. Brilliant, classic, cinema.—Shannon M. Houston
83. Burnt By The Sun (Nikita Mikhalkov, 1994)


This Oscar winner for Best Foreign Language Film from director/star Nikita Mikhalkov begins like one of Anton Chekhov's melancholy comedies and ends like a Stalin-era tragedy. Mikhalkov plays an honorable Russian general who faces the end of his career when his young wife's former beau reveals himself to be a member of the KGB. Mikhalkov's exquisitely-observed fable shows how totalitarianism destroys not just one good man, but an idealistic belief system and a civilized way of life. Instead of the ill-advised sequel, check out 12, Mikhalkov's ingenious remake of 12 Angry Men.—Curt Holman
82. Quiz Show (Robert Redford, 1994)


Released in a year filled with its share of lies and deceit, Quiz Show should be the official film of 1994. The true story of TV-game-show cheating in the 1950s appears mild next to the scenes of O.J. Simpson racing down a California interstate in a white Bronco, or Olympic skater Nancy Kerrigan being assaulted by rival Tonya Harding's hooligan friends. In what could have easily been downgraded to a comedy farce, director Robert Redford gives his characters an ethos of white lies that eventually crumbles into a full-blown national scandal, one that changes federal regulations and the way in which commercial sponsors control television. The excellent performances from John Turturro and Ralph Fiennes as quiz-show contestants put a face to the fraud and bring a more dramatic story to a piece of television's history.—Tim Basham
81. Braveheart (Mel Gibson, 1995)


Like any number of other artists, we should be able to separate the creator from the creation. Sure, what we might now know or think about Mel Gibson as a person might not be very nice but, wow, do few films say "epic" quite like this one? Sprawling, bloody, beautifully realized and rich with meaning, this film is everything we hope for from this type of film.—David J. Greenberg
Others Tagged With