Five Musicians Remember Jerry Garcia
Page 2 of 2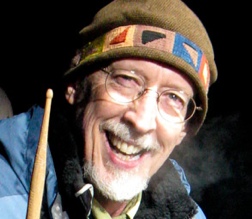 3. George Marsh, Garcia/Grisman
George Marsh, a San Francisco-based jazz drummer, composer, and educator, is currently the drummer for the David Grisman Sextet.
It was when Marsh moved to San Francisco in the late 1960s that he first met Garcia through The Committee, a San Francisco-based improv comedy group. However, the first time Marsh played in an organized setting with Garcia was in the early 1970s. At this time, Marsh was playing with the Jerry Hahn Brotherhood, and they had a performance at club called The Matrix in San Francisco. "You know he had his own group and I met him then and I was in the Jerry Hahn Brotherhood and we played there also," Marsh says. "So one of those times, it was set up that Mel Graves, the bassist, and myself and Merl Saunders played with Jerry one of the nights at the Matrix."
When asked about their first time playing together, Marsh recalls, "I was able to really feel it, and I knew he was really, really deeply listening. So we were really listening to one another, and the music went to that other place. … Music is dull, from my view point, when some of the players, for whatever reason, aren't listening deeply and there are many reasons for that, but there is a deep way of listening and he was there all the time. He was all about the music. He wasn't a superstar at that time. He became one later, where at the Matrix, there might be 25 people there. But in my mind, he was already fantastic at that time. In my mind, he was one of the great guitarists by that time and he really listened."
When asked about Garcia's personality, he describes Garcia as "very warm, very 'with you' when you talked to him and loved to talk about music."
Marsh was one of the musicians on Jerry Garcia's final recording session in July 1995, which was a version of the song "Blue Yodel #9." Garcia left for the Betty Ford Clinic the next day and died two weeks later. Marsh remembers that the session was last-minute, "I don't know why [Grisman] called me or if there were any other extenuating circumstances but I just came on in. It was fun. And we recorded at David's home at that time. He had a little studio in Mill Valley."
Marsh commented that Garcia was happy to be playing acoustic music. However, he noted Garcia seemed "troubled" after the last concert the Grateful Dead played before the recording session because "there was some kind of riot that had happened." Marsh is referring to the Grateful Dead's concert on July 9, 1995 at Soldier Field. This was Garcia's final show, and he died exactly one month later.
According to Marsh, "[Thelonious] Monk said 'just be who you are and that's what defines a genius.'" He continues by saying Garcia "was who he was," and, "The fact is that he became a superstar and at that time he was but it wasn't any different than when I first met him. We were just together playing music and that's what I liked about him. He didn't care about that. I have played with some people whose noses are way up in the clouds, but Jerry wasn't even close to that. He was another musician."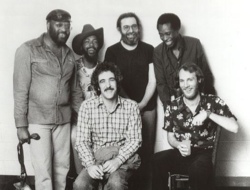 4. Ed Neumeister, Reconstruction
Neumeister, who, in recent years, has been working as an orchestrator with Hans Zimmer on films including The Dark Knight Rises, Sherlock Holmes: A Game of Shadows, and Inception, first began playing music when he was five years old after finding his father's trumpet in the closet. When he was nine, he joined the marching band. He recalls, "The band director looked at my mouth and saw I had a chipped front tooth. And he looked at my chipped tooth and said 'you know, you should play trombone because the trumpet might damage that nerve.'" However, Neumeister believes "the real reason was that he needed trombone players, and he was looking for any excuse to convince somebody to move to trombone."
Neumeister met Garcia through the band Reconstruction. Kahn and Garcia had formed the band, along with keyboardist Merl Saunders, drummer Gaylord Birch, and saxophonist Ron Stallings. Neumeister recalls how he became part of the band, "I think they rehearsed once or twice and they decided they would get another horn player, so Stallings recommended me, and actually Ron called me. He said, 'Yeah, we've got a gig on Saturday and we're rehearsing Thursday. It's just a door gig.'" Neumesiter knew who Garcia was but did not follow the Grateful Dead, "I had no idea to be honest the following that Jerry had. I showed up for that first gig and there were wall-to-wall people. It was at Keystone Berkley."
The first time Neumesiter met Garcia was at the rehearsal for the performance at Keystone Berkley. He remembers that Jerry was "just a guy, just a guitar player." As Neumesiter walked into the rehearsal room, John Kahn was the only person he knew at the time, so he "shook hands all the way around" before starting the rehearsal. He describes Jerry as "a very humble, just quiet guy." The band consisted of "just five guys in a room having fun." Neumesiter said that Garcia "never gave the aura of superiority in any kind of way even though he was the one drawing the crowd. There was no doubt about that…there was no ego involved. None of that superstar, whatever comes with being a superstar. I only noticed it when we showed up to the gigs. Jerry was just one of the cast. That's what he wanted to be."
Neumeister recalls Garcia's dedication to music. "He practiced all the time, or at least he always had his guitar in his lap. He was playing all the time, so whenever we had a rehearsal, on the breaks or before it started, he was moving on the guitar. He played really 24/7 it seemed like."
Neumeister recalls one specific instance of Garcia's devotion to his craft during a recording session. Neumeister, who had written the horn arrangements for the session, was discussing the arrangements with Garcia, "He decided for the recording we would extend the horn section—trumpet, some trombones—and we actually double tracked some of it so it was six horns. Jerry sat in the recording studio and not in the booth, so he could hear the track being mixed with the horns. He sat in with the horns, and he was very, very focused and concentrated and extremely detail-oriented. You wouldn't think this about Jerry sometimes, but he was looking for perfection. We were there until we got it absolutely perfect. He was really into it being really, really clean and tight. Of course that's what you want but on the other hand you think of Jerry as being this loose improviser."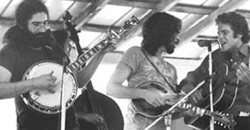 5. Peter Rowan, Old and in the Way
Rowan, a Grammy-award winner and six-time nominee, has a career that spans over five decades, including his time with bluegrass pioneer Bill Monroe. Rowan grew up playing music in Massachusetts and left college after three years to pursue music professionally in 1964. Rowan, who called Garcia the "reigning human genius of a certain era," played with Garcia in Old and in the Way and during that time wrote the songs "Moonlight Midnight" and "Mississippi Moon," which were both recorded by Garcia.
In the late '60s and early '70s, Rowan collaborated with musicians including David Grisman in the band Earth Opera and Richard Greene, who he had played with in Bill Monroe's band, in Seatrain. "Richard and I joined forces again in a band called Seatrain, and it ended up taking me to the West Coast," said Rowan. He took a few days off the tour and went to see his good friend Grisman, who was living at Stinson Beach and was producing an album for the Rowan Brothers, Peter's brothers. Rowan originally met Garcia through Grisman, "David and my brothers were living there at the beach—and he brought me up to Jerry's house one day."
After Seatrain, Rowan began playing with Garcia. Rowan and Grisman spent their mornings playing bluegrass on Stinson Beach. And one day, according to Rowan, "David said let's go up and see Jerry. That's what you do when you have bluegrass in your blood, you play all the time to try to further the music. And we went up to Jerry's house and there was Jerry standing outside in his garden with that banjo strapped on and he was playing. He played the banjo, just laughing, standing in the gardens. David and I drove up and we took our instruments out and just started playing out in the garden."
Rowan reflects on the period around the time Old and in the Way began, "We didn't exactly know what we were doing but we enjoyed going through the old song books." Rowan continues, "It was a great outlet for Jerry and someone told me that I didn't know how important this was for him. Of course we didn't know how important it was for him because we were all young and stupid. And he was touring with the Dead all the time and I figured that was his gig." Looking back, Rowan realizes the importance of that time in Garcia's life. In the evenings, after Garcia's children were in bed, Rowan and Garcia would play, and according to Rowan, "That was really a special time. We would just take out the songbooks and sort of really marvel at what was there in terms of what was there in bluegrass. Jerry was rediscovering his whole connection with the music and I think that was kind of connection that went back to his youth." Rowan continues, "Bluegrass represented a happy time for him, a time of growth, a time of discovery. And so every time that we played together, he was getting off on the sense of discovery that originally the bluegrass had been for him. He discovered something with Old and in the Way that made him really happy. And, to be around him, his happiness was infectious."
After hearing the news of Garcia's passing, Rowan wrote the song "Swimming in the Deep Blue Sea" for his friend. Rowan recites a few lines of the song, "I'm going swimming in the deep blue sea/Just these lonely whales and me/Deep down in the blue Pacific glow/Everybody's got a song to sing/Everybody's got a bell to ring/Ring it, sing it, all night long/First we're here and then we're gone/I know it won't be long/Till you're right back in my arms again."
According to Rowan, "it's a little picture of him in my mind's eye." Rowan says, "I was thinking about him and I had a guitar in an opening tuning. And I entered that space we always shared and those were the words that were there. I didn't try and write it. It just seemed to me the way Jerry probably felt deep down in his soul."
Others Tagged With