The 10 Best Moments of Oya Festival 2012
After spending the bulk of my travels back from Oslo to Atlanta examining some of Oya Festival's best moments, one of the things that stands out most from this five-day event is the location itself. Oya takes place at Medieval Park—a large public space that is home to the ruins of an 11th century church—as well as across the city at various nightclubs hosting official night shows. Beyond the Oya's obvious onsite elements, the festival also remains a short walk from the northernmost point of Oslofjord—an inlet that leads back to the North Sea—and offers a pristine view of the entire city as a backdrop. And thanks to Oslo's northern latitude, the sun didn't set until well into each headlining set.
The lineup included an impressive set of headliners including Björk, The Stone Roses, The Black Keys and Bon Iver. Many of Oya's top acts, however, came throughout the rest of the week in non-headlining slots. Here are 10 acts that flat-out impressed during Oslo's five-day festival.
10. The War on Drugs
Philadelphia rockers The War on Drugs turned out to be the best kind of early-afternoon opener, one which I pleasantly experienced as I walked from my hotel to Oya for the final day of the festival. Their slow-burning set eased onlookers into a pretty solid Saturday lineup, performing many cuts off their latest album, Slave Ambient, including "Baby Missiles," "I Was There" and "Come to the City."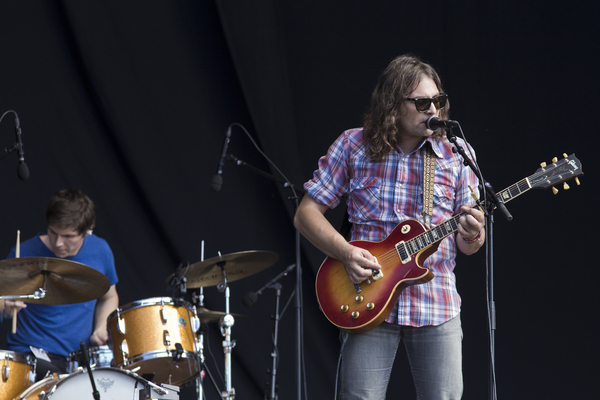 9. Highasakite
Don't let their cliché name and eye-rolling aesthetic turn you away from these local chill-wavers. It took me a minute to get past their faux-Indian garbs and war paint, but once I did they turned out to be one of the best Norwegian acts I saw all week.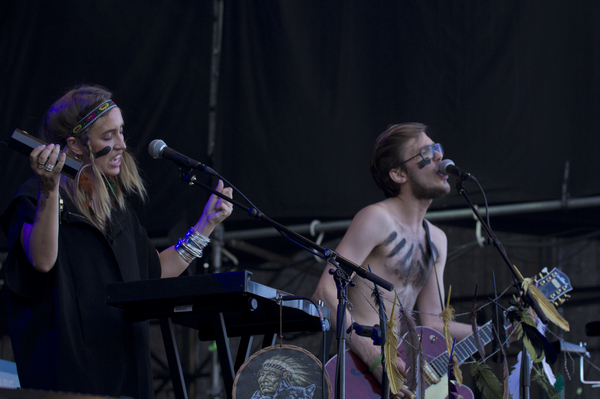 8. St. Vincent
St. Vincent blazed through an extremely cohesive set featuring mostly songs from her latest album, Strange Mercy, plus a couple fan favorites from her first two records—including "Actor Out of Work." Annie Clark was as consistent as she was enthralling, making her case as one of Oya's best performers this year.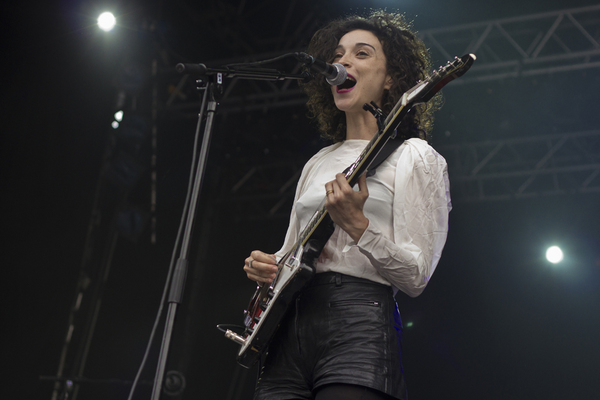 7. Therese Aune
Norwegian pianist/vocalist Therese Aune opened for Bowerbirds, bringing along a four-person backing ensemble to recreate the orchestral dream-pop she makes in the studio. With a full band, her music becomes sweeping and evocative, recalling the likes of Lost in the Trees or Typhoon. Aune's raw and haunting voice stands out, falling somewhere between Fiona Apple's harsh power and Regina Spektor's intimate delicacy.
6. Sondre Lerche
Longtime Paste favorite Sondre Lerche kicked off the festival's first full day as a proper ambassador for his native country, showcasing his cheerful Norwegian pop songwriting, intricate guitar playing and charismatic stage presence. He's been doing this for a decade, effectively reminding the Oya crowd on Wednesday of what he does so well.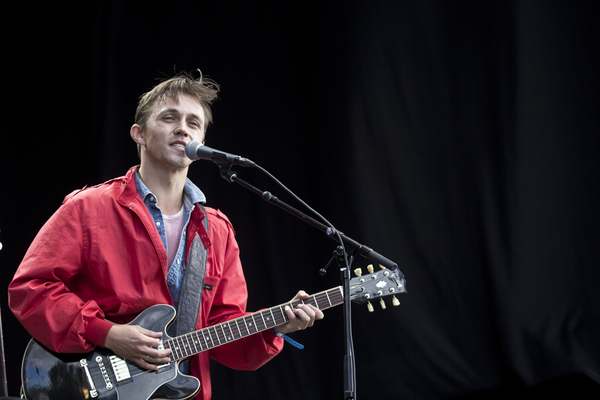 5. Baroness
In a country known for its metal scene, Georgia-based metal outfit Baroness delivered a set worthy of Norway's traditions. The foursome of John Baizley, Allen Blickle, Peter Adams and Matt Maggioniran dove into much of their latest double release, Yellow & Green, with a fierce intensity and technical precision.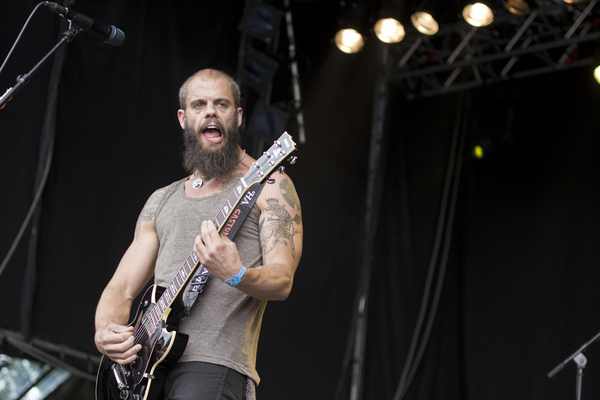 4. Bowerbirds
The North Carolinian folk trio's most recent album, The Clearing, has flown under the radar this year, hardly receiving the recognition it deserves. After them seeing them live for the first time at Johnny Dee's—a 200-person venue in the heart of downtown Oslo—I've fallen hard for the music of Phil Moore and Beth Tacular (plus drummer Yan Westerlund). Their new songs—particularly "Tuck the Darkness In" and "In the Yard"—come to life onstage, while older songs, including the stunning "Northern Lights" and "In Our Talons,"confirm that Bowerbirds' may very well have some staying power.
3. Feist
Feist, along with accompanying harmonizers Mountain Man, nailed their Wednesday performance at Oya. Drawing largely from her 2011 record, Metals, the group emphatically worked their way through cuts like "How Come You Never Go There" and "The Bad in Each Other." The Canadian frontwoman has always been talented performer, but over the past year she seems more confident and dynamic onstage than ever before.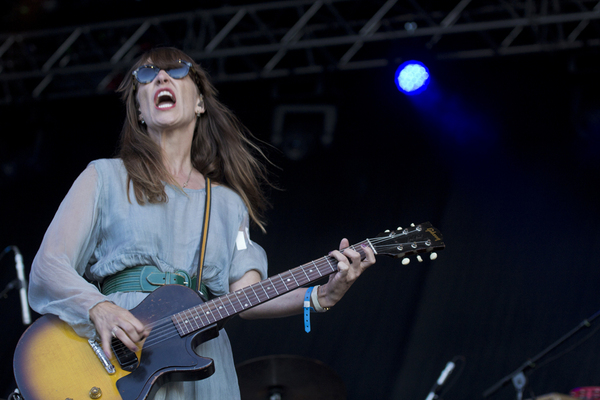 2. Willis Earl Beal
I didn't understand the hype behind Willis Earl Beal's 2012 album Acousmatic Sorcery. That all changed when I saw him live. Playing alone with just an analog backing tape, the experimental Chicago crooner draws from operatic interests to gospel-rooted influences, exhibiting it all an absolutely visceral display. At times, he's channeling Tom Waits; at others, Curtis Mayfield. Above all, his undeniable sense of musical urgency ensures that even his slowburning songs are performed with the emotional firepower few others can evoke.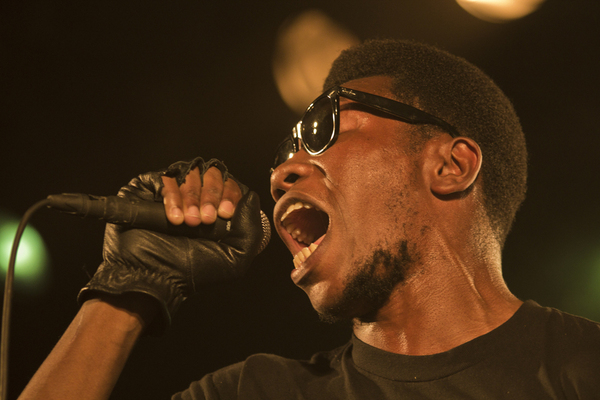 1. Charles Bradley
Backed by his impressive supporting band The Extraordinaires, the Screaming Eagle of Soul preached his universal sermons of love, heartbreak and struggle, belting out and dancing like it was his final performance. That's more or less the way Charles Bradley attacks all his live shows, doing so in revelatory fashion. I saw him convert masses of Norwegian fans—he even managed to crack the most serious of Nordic security staff chiefs into singing along with him (on his brilliant cover Neil Young's "Heart of Gold").
The most impressive moment came after his set when Bradley went into the crowd and proceeded to hug his fans. Not just some, but all of them—every single person until the entire crowd wandered away 25 minutes later. It's a rare sign to see a musician care that much about his fans. It was more comparable, rather, to the way a pastor tends to his congregation. And it's safe to say that Charles Bradley took us to church on Sunday.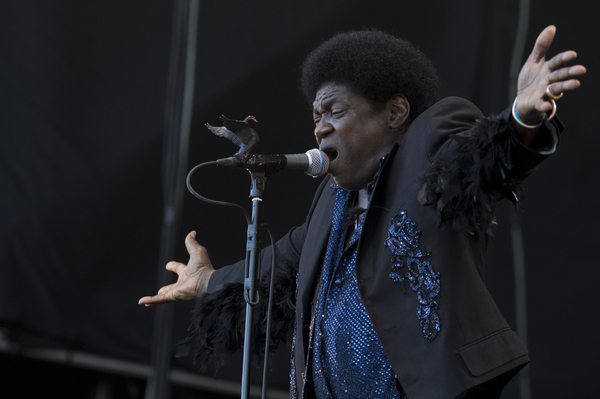 Others Tagged With