The 18 Best Kids' Movies on Netflix Instant
Page 1 of 2
If you're a parent, movie night can be an exercise in compromise, steering the young ones away from the abundance of terrible kids' movies out there. Children aren't always the most discerning filmgoers—a few cute talking animals in a preview and you can find yourself suffering through the 27th sequel of Air Bud as that adorable golden retriever tries his hand at rhythmic gymnastics.
But there are also some great kids' movies out there that grown-ups will enjoy as much as the kids, and many of them are just a couple clicks away on Netflix Instant. We've limited our list to movies, but we'd also recommend series like Avatar: The Last Airbender (the animated version, not the movie), the psychadelic zaniness (and good music taste) of Yo Gabba Gabba and BBC's Walking With Dinosaurs.
Here are the 18 Best Kids' Movies on Netflix Instant (last updated January 2013):

18. The Pirates Who Don't Do Anything
Year: 2008
Rating: G
For Ages: 3+
After all the cultural good that Christianity gave us over the last two Millennia, the second half of the 20th century wasn't exactly a high-water mark. But in the 1990s, Veggie Tales became the exceptional piece of genius pop culture in the typical Christian bookstore. And Larry the Cucumber was the biggest reason why. The Pirates Who Don't Do Anything doesn't always reach the peaks of some of those early TV episodes, but there's plenty of humor for parents of little kids.


17. Captain America
Year: 2011
Rating: PG-13
For Ages: 10+
Captain America took the idea of a superhero and made it a period piece by having Cap fight Nazis in this origin story that sets the stage for the upcoming Avengers movie. While it's not up to par with Iron Man among a more sophisticated audience, there's plenty here for the kids to enjoy.—Ross Bonaime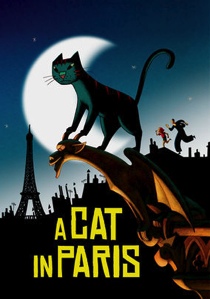 16. A Cat in Paris
Year: 2010
Rating: PG
For Ages: 10+
France is keeping the hand-drawn film alive with this gorgeous Oscar-nominated film about a black cat at the heart of a jewel robbery. Mobsters, a cat burgler, the police and a little girl play their own game of cat-and-mouse in a gripping mystery that brings Paris to life for kids and adults.


15. Time Bandits
Year: 1981
Rating: PG
For Ages: 10+
Time Bandits was really the first glimpse into what Terry Gilliam's style would become. Relying on Gilliam's Monty Python friends for much of its comedy, its episodic plot works mostly because it's a children's movie. It was an ambitious movie for Gilliam, and not all of it has aged well. Still, it featured some of the first truly Gilliam-feeling scenes, in particular when a horse bursts through its protagonist Kevin's door—the invasion of fantasy into reality has become a staple for what Gilliam would become.—Sean Gandert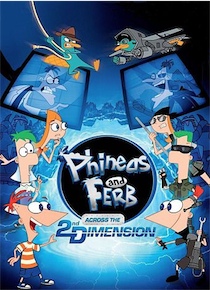 14. Phineas and Ferb The Movie
Year: 2011
Rating: G
For Ages: 3+
Tucked among The Disney Channel's awful TV lineup is an 11-minute show packed with intersecting plot lines, adventure in suburbia, intrigue and a pet platypus doubling as a super agent. "Hey Ferb, I know what we're going to do today," Phineas says each show before launching into his latest ambitious plan to pass the summer days, whether it's building a giant tree house that transforms into a giant robot or filming a movie or creating a time machine. Unlike most Disney shows, the kids have a deep-seated affection for both siblings and parents—even as Candice tries to bust her brothers. Creators Dan Povenmire and Jeff "Swampy" Marsh met while working on The Simpsons. Povenmire later worked on Family Guy, and the cleverness of those shows has wore off on both. And the movie captures all that's great about the show.


13. The Tale of Despereaux
Year: 2008
Rating: G
For Ages: 4+
Curiosity may have killed the cat, but it—along with fearlessness—make young Despereaux a most unusual mouse. The film from Gary Ross (Big, The Hunger Games) and Sam Fell (Flushed Away, ParaNorman) was adapted from Kate DiCamillo's 2004 Newbery Medal-winning novel. The gorgeous animation outshines the story, though it's engaging enough for the younger set.—Josh Jackson


12. Matilda
Year: 1996
Rating: PG
For Ages: 6+
There's something special in a Roald Dahl story; it's that certain bit of magic mixed with fantastic and obscene (sometimes grotesque) characters. He was able to pluck the conjured images of fright and wonder right from a child's mind. Matilda is one of the most magical of all these stories. The characters and acting are grossly exaggerated (as in any Dahl story), but the excitement in the scenes where Matilda exercises her powers are thrilling. The tiny heroine who defeats the giant, thunderous Mrs. Trunchbull and somehow overcomes all odds is a fantastical and exciting story.—Laura Medina


11. A League of Their Own
Year: 1992
Rating: PG
For Ages: 11+
Although a film about women's baseball during WWII, the real star of the feature is not one of the girls; it's Tom Hanks. His portrayal of a fallen baseball great trying to regain respect (and kick the bottle) is one of the actor's finer moments. Who can ever get tired of that famous quip, "There's no crying in baseball!" a staple that baseball commentators throw out like it's their fastball? It's still a great line mulled over to this day. That's when you know a movie has weight. Geena Davis and Lori Petty's sibling relationship is swell, too.—Joe Shearer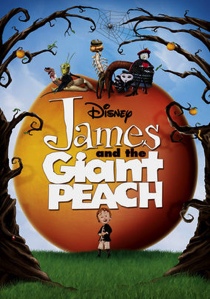 10. James and the Giant Peach
Year: 1996
Rating: PG
For Ages: 7+
When we think of Roald Dahl films, some of the first to come to mind are The Iron Giant, Willy Wonka & The Chocolate Factory, Matilda, The Fantastic Mr. Fox and James and the Giant Peach. But the list also includes the James Bond film, You Only Live Twice in 1967. Point is, the man could write a good story. He refused to allow an animated film to be made when he was alive, but his widow was thrilled with what Tim Burton did, and believes Roald would have been too.—Josh Jackson
Others Tagged With