The 25 Best Sports Movies of All Time
Page 1 of 2
Now that the Olympics are over, we've found ourselves yearning for the human drama that a good sports narrative provides. There's something inherently cinematic about competition—whether it's the suspense, overcoming obstacles, the glory of victory or that crazy desire to be something better than nature alone allows us to be. In other words, sports stories make for compelling movies. We have to wait four long years to hear Bob Costas narrate the next summer Games, so bide the time by revisiting the 25 best sports flicks of all time.

25. Major League
Year: 1989
Director: David S. Ward
We can all look back and laugh at this crazy cast of oddballs, but for those in northeastern Ohio, it was all too real at the time. Not until the sequel's release did the Cleveland Indians finally break out of their 30-year slump. Some will say it was the new stadium. Others, the even more superstitious ones (most baseball fans), may point to the dominance and swagger of Rick "Wild Thing" Vaughn, as portrayed by Charlie Sheen. (Fun fact: Sheen was actually a star pitcher in high school.) Whatever the case, the really bad times are in the past, and let's hope, for the sake of another one of these movies popping up, they stay there.—Joe Shearer


24. Senna
Year: 2011
Director: Asif Kapadia
Kapadia was already a BAFTA-award-winning narrative director, but there are plenty of narrative directors who haven't made the transition to documentaries effectively. He doubled the degree of difficulty by deciding to use all period footage of his subject, '80s and '90s Gran Prix legend Aryton Senna. He pulled it off in spades, creating one of the greatest sports documentaries of all time.—Michael Dunaway


23. A League of Their Own
Year: 1992
Director: Penny Marshall
Although a film about women's baseball during WWII, the real star of the feature is not one of the girls; it's Tom Hanks. His portrayal of a fallen baseball great trying to regain respect (and kick the bottle) is one of the actor's finer moments. Who can ever get tired of that famous quip, "There's no crying in baseball!" a staple that baseball commentators throw out like it's their fastball? It's still a great line mulled over to this day. That's when you know a movie has weight. Geena Davis and Lori Petty's sibling relationship is swell, too.—Joe Shearer


22. Breaking Away
Year: 1979
Director: Peter Yates
Like all the best sports comedies, Breaking Away is about a ragtag group of misfits. In this case, they're led by Dave, a cycling enthusiast obsessed with all things Italian. He and the rest of his teenage buddies in Bloomington, Ind. must deal with snobby Indiana University students, parents who just don't understand and the disillusionment that comes with finding out your heroes are cheaters. No worries, though: Dave and the Cutters (predictably) destroy the competition in the Little 500 race and forge ahead toward adulthood.


21. Remember The Titans
Year: 2000
Director: Boaz Yakin
It doesn't matter if you're as passionate about football as little Sheryl (Hayden Panettiere) or as ambivalent as Coach Boone's daughter: We guarantee you'll get a little weepy during this tale of a newly integrated high school team in 1971 Virginia. Between Denzel Washington delivering a monologue about the Battle of Gettysburg and the movie's dramatic ending (which we won't spoil for you), there are plenty of moments where busting out the tissues is appropriate. It's not a total downer, however; there are a bunch of scenes that'll bring a smile to your face, including whenever a young Ryan Gosling pops up as a goofy, Motown-loving defensive back.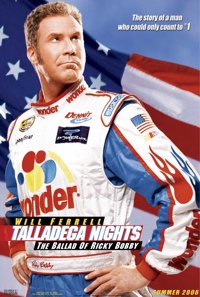 20. Talladega Nights
Year: 2006
Director: Adam McKay
There are so many reasons to love this movie: Will Ferrel and Amy Adams recreating White Snake's "Here I Go Again" video; Elvis Costello and Mos Def randomly hanging out with Ricky Bobby's French nemesis, delightfully played by Sasha Baron Cohen; Ricky Bobby trying to overcome his fears by driving with a cougar in the car. But the chief reason is Will Ferrell's prayer to "Eight-Pound, Six-Ounce, Newborn Baby Jesus, don't even know a word yet, just a little infant, so cuddly, but still omnipotent."—Josh Jackson


19. The Sandlot
Year: 1993
Director: David M. Evans
No other film captures childhood summer nostalgia like this classic about a group of boys in the early '60s who play baseball (nearly) every day at a local sandlot. When they aren't playing, the thing they "tolerated best" is going to the pool, where on one day, the geeky Squints plays out every boy's dream and lays a big one on the lifeguard, Wendy Peffercorn. Ah, one of the best and most appropriate uses of the Drifters' "This Magic Moment." And then, there's "the pickle"—where Smalls naively borrows and loses his step dad's Babe Ruth autographed ball, never hearing of the "lady" who signed it. Who says childhood is simple?—Joe Shearer


18. Murderball
Year: 2005
Director: Henry Alex Rubin, Dana Adam Shapiro
As a documentary that sets out to shatter our assumptions about quadriplegics, Murderball succeeds admirably by painting its characters as regular guys—or not even regular guys but testosterone-fueled jocks proud of their aggressive playing and proud of their dicks (which still function, they're quick to point out, even if their legs or arms don't). These young men play wheelchair rugby, which they aptly called "murderball" before it gained enough popularity to earn corporate sponsorship and a place in the Paralympic Games. It's a sport played by teams in armored wheelchairs who roll around on an indoor court, where knocking each other sideways incites a roar from the crowd. It has all the trappings of any other team sport, including hot-headed coaches, displays of bravado and nail-biting championship games. Despite all the adrenaline, the heart of the movie is something more important than just a game: it's acceptance of yourself. Each tough, competitive personality shelters a damaged but recovering self-image.—Robert Davis


17. Bend It Like Beckham
Year: 2002
Director: Gurinder Chadha
When Jess (Parminder Nagra) joins a football (er, that's soccer to us Yanks) team against her strict parents' wishes, she finds herself not only at odds with Mom and Dad, but caught in a love triangle with her teammate Jules (Keira Knightley) and their coach (Jonathan Rhys Meyers). This surprise coming-of-age hit struck a perfect balance between comedy and drama, poking fun at cultural differences while also raising serious questions about race relations and challenging a more conservative generation's set of beliefs.


16. Eight Men Out
Year: 1988
Director: John Sayles
Try to imagine for a second a world in which baseball players didn't get paid millions and millions of dollars. Back in 1919, the members of the Chicago White Sox had problems paying their bills just like the rest of us, and so they decided to throw the World Series in exchange for some gambling winnings. Unlike most sports movies, Eight Men Out isn't a glorious tale of victory or redemption; it's a sad story about desperate men who are forced to live with the dishonor of their actions for the rest of their lives. Say it ain't so, Joe.

Others Tagged With