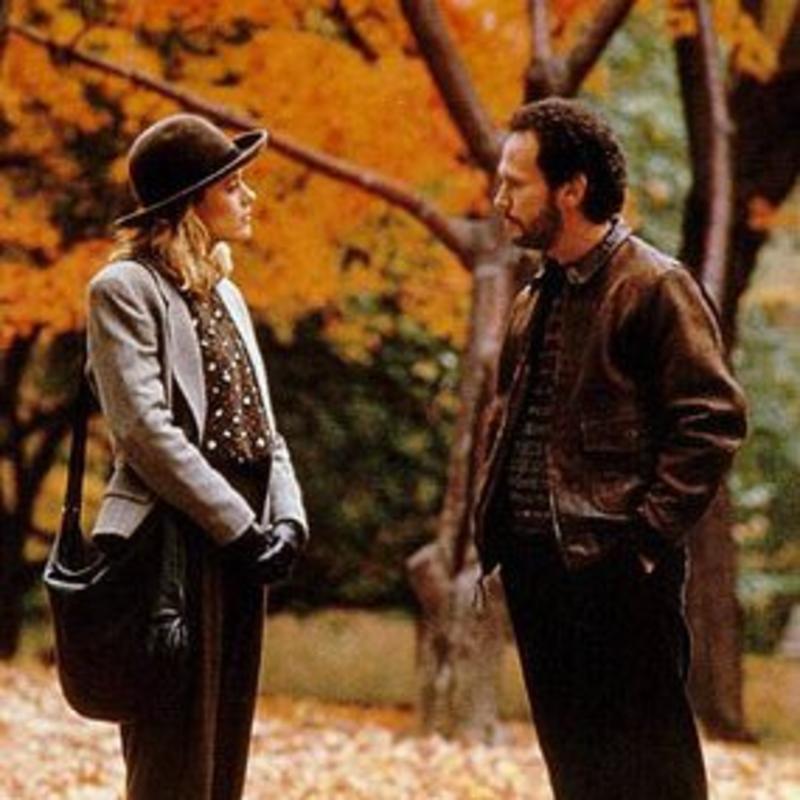 It's that time of year: The dog days of summer are long behind us, the leaves have changed and we're now sitting smack dab in the middle of fall. While autumn doesn't get nearly the same on-screen treatment as, say, winter or summer, that's not to say there aren't plenty of great movies that highlight the spirit of the season.
To be clear, we're not talking about horror movies here—although, sure enough, a couple of those did sneak their way onto this list. If cheap thrills and spooky effects are what you're seeking, start with these great zombie movies. Today we're here to count down the movies that capture fall in all its glory—sweaters, apple cider, turkey, leaves, the works. Without further ado, we bring you 15 classic fall movies.
1. Halloween
Year: 1978
Director: John Carpenter
Revisiting the slasher film that set a new standard in the genre is a no-brainer this time of year, but even beyond all the terror and the convenient October setting, this flick just feels positively autumnal. Whether it's the dead leaves that line the streets of the fictional Illinois town or the jackets Laurie and her friends sport as they hug their books to their chests and brave the crisp air on their way home from school, fall is omnipresent in this film—just like that pesky Michael Myers.
2. The Last Waltz
Year: 1978
Director: Martin Scorsese
Filmed on Thanksgiving Day 1976, this classic rock doc is a fall tradition for many. Pop it in while Mom's putting the finishing touches on the turkey, and you'll be completely taken in by The Band's incredible, star-studded farewell show. "King harvest has surely come" indeed.
3. Ferris Bueller's Day Off
Year: 1986
Director: John Hughes
There are a few clues in this Hughes film that would indicate it's supposed to be set in the springtime—most glaring is the fact that Ferris has already taken nine sick days this year. However, Von Steuben Day (the reason for the parade Ferris and friends so memorably crash) typically falls somewhere in mid-September, a time when warm, sunny days in Chicago are already a rare commodity. The idea of skipping out to enjoy the unseasonably warm weather combined with the Von Steuben Day scenes can only mean one time of the year for any German kid growing up in the suburbs of Chicago—and, sorry Mr. Hughes, but it's not the spring.
4. When Harry Met Sally
Year: 1989
Director: Rob Reiner
Yes, this romance stretches across several seasons, and yes, it features one of the most memorable New Year's Eve scenes on film, but who can forget Harry and Sally's autumn stroll through the park? It's enough to make even the most cold-hearted of us want to throw on a sweater, clutch a warm coffee and prowl the city in search of our own potential soulmates with which to exchange witty banter.
5. Good Will Hunting
Year: 1997
Director: Gus Van Sant
The city of Boston is almost a character in its own right in Good Will Hunting, and it looks mighty fine this time of year, as Sean (Robin Williams) calls out Will on a park bench in front of a canopy of fall colors, reminding him he doesn't know what the Sistine Chapel smells like. What better setting for a neurotic math genius/janitor to make some much-needed self-improvements than a New England fall?
6. Planes, Trains and Automobiles
Year: 1987
Director: John Hughes
Anyone who's ever endured holiday traffic on their way home for Thanksgiving can relate to this John Hughes tale—although hopefully you've never had to endure the sheer number of transportation mishaps (not to mention some accidental spooning) Steve Martin and John Candy go through.
7. Rushmore
Year: 1998
Director: Wes Anderson
The action in this Anderson classic spans an entire fall semester, kicking off with the beginning of the school year, moving through Halloween and Thanksgiving before wrapping up around Christmastime—and remaining awesome all the way through.
8. You've Got Mail
Year: 1998
Director: Nora Ephron
Sure, this romantic comedy is completely by-the-book, but that's what we love about it. It's proof that love is in the air this time of year. "Don't you just love New York in the fall?" Tom Hanks asks his online love in the pre-Match.com era. "It makes me want to buy school supplies. I would send you a bouquet of newly sharpened pencils if I knew your name and address." Sigh.
9. Hannah and Her Sisters
Year: 1986
Director: Woody Allen
The timeline of this Woody Allen classic spans two years, framed by Thanksgiving dinners hosted by Hannah (Mia Farrow) and Elliot (Michael Caine). The holiday serves as the perfect setting for family drama (sigh, doesn't it always?) as we are sucked into the kind of tale of adultery, existential crises and wit that only Allen can spin.
10. Scream
Year: 1996
Director: Wes Craven
It's set in a fictional California town, but what Scream lacks in fall foliage it makes up tenfold with spookiness, self-awareness and loving satire. It's a Halloween classic if ever there was one; it goes beyond being typical slasher flick by both poking fun at and paying homage to the genre. It doesn't matter if you like scary movies—if you're a movie fan at all, you'll find something to enjoy in Scream.
11. Rudy
Year: 1993
Director: David Anspaugh
Long before he was a hobbit, Sean Astin was Daniel "Rudy" Ruettiger, an unlikely football player with dreams of playing for Notre Dame. Rudy seems to lack everything he needs to achieve his dream—good grades, money, actual football ability—but if you think for one second that those minor details are going to get in the way of him achieving his goal, you've got another thing coming. Come for the inspiring sports tale, stay for the gorgeous shots of the Notre Dame campus in autumn.
12. Harold and Maude
Year: 1971.
Director: Hal Ashby
We don't mean to be morbid, but in a lot of ways, fall is the season of death. Leaves dry up, wither away and drop to the ground. Frost comes and kills what's left of our summer gardens. What better time, then, to revisit this tale of a suicidal, death-obsessed teen who falls for a septuagenarian who helps him rediscover his zeal for life? A "spring-autumn" romance if ever there was one.
13. Election
Year: 1999
Director: Alexander Payne
In a few weeks, we'll all head to the polls and cast our votes. And while it's much less serious than picking the next leader of our nation, Election pokes fun at this season's political process on a much smaller level, satirizing the system by focusing on young Tracy Flick (Reese Witherspoon) and her bid for student body president.
14. Dead Poets Society
Year: 1989
Director: Peter Weir
It's a classic tale of what many of us public-school kids imagined prep school to be: lots of strolling around a crisp, gorgeous campus in matching jackets and discussing poetry with an inspiring teacher—that is, until it all comes crashing to the ground thanks to some close-minded parents and administrators.
15. Garden State
Year: 2004
Director: Zach Braff
Fall brings with it a certain bleakness, and that feeling certainly finds its way into Garden State. Andrew (Zach Braff) returns home to New Jersey feeling as though the metaphorical garden he left has been frosted over. Dead leaves shroud the movie's Jersey backdrop, especially during a particularly memorable hamster funeral.
Others Tagged With