10 Sci-Fi/Fantasy Shows That Were Canceled Too Soon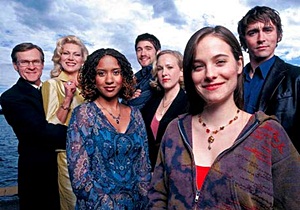 Science fiction and fantasy fans have a long history of TV heartbreak. The genre, full of mythology and requiring an attention span longer than the duration of a joke, isn't for casual viewers and doesn't always lend well to television's serialized nature.
One such show, the cult-classic Firefly (perhaps you've heard of it?), recently had a 10th anniversary reunion special broadcast on the Science Channel. In honor of Firefly's enduring popularity and impact on the genre, here are 10 sci-fi and fantasy shows that were canceled far too soon.

10. Jake 2.0 2003-2004
Before Chuck, there was Jake 2.0. The similar concept was as follows: Your normal, everyday computer genius gets infected with nanorobots and gains superhuman abilities. The show starring Christopher Gorham (Covert Affairs) aired on UPN for only 10 episodes before being canceled due to low ratings. While the network wasn't really known for high quality entertainment (besides the genius Veronica Mars, which moved to the CW following a merger with the WB), the show had an intriguing concept that was never fully realized.


9. Better Off Ted 2009-2010
This ABC satire starred Jay Harrington as Ted Crisp, the head of research and development at a soulless conglomerate where nothing is too far-fetched. In between creating suicidal turkeys and freezing co-workers, he often had to compromise his own ethics with that of his employer Veridian Dynamics. The show often broke the fourth wall making the audience more active participants; however, the show never caught on. ABC shocked everyone by renewing Better Off Ted for a second season, before canceling it after just 26 episodes.


8. Carnivàle 2003-2005
HBO left a lot of actors unemployed when it canceled Carnivàle, which followed the performers of a traveling carnival and the battle between good and evil. Unfortunately, the complex mythology and huge cast, including Nick Stahl (Terminator: Salvation) and Clea DuVall (Argo), didn't allow for informal viewers who were just looking for mindless entertainment. Two seasons into creator Daniel Knauf's six-year plan, the show was canceled and viewers were left hanging.


7. Terminator: The Sarah Connor Chronicles 2008-2009
The unnecessarily long title wasn't the only problem with this Fox show. It got off to a slow start and was on a network known for canceling shows prematurely (Arrested Development or Firefly…). Starring Lena Headey (Game of Thrones), Thomas Dekker (Heroes) and Summer Glau (Firefly), the story picked up after the events of Terminator 2: Judgment Day as Sarah and her son John Connor travel to 2007 in order to escape a Terminator sent to kill them. Another show that was coming into its own right before being canceled, TSCC had a lot of story left to tell.


6. Angel 1999-2004
It's hard to suggest a show that ran for five seasons and 110 episodes was canceled too soon, but such is the case with Joss Whedons Angel. A spin-off of the extremely popular Buffy the Vampire Slayer, Angel was finally coming into its own and stepping out from Buffy's shadow when it was canceled in 2004. And it wasn't just canceled, it was canceled on a cliffhanger, denying fans closure until the storyline continued in 2007's comic book series, Angel: After the Fall.


5. John Doe 2002
A man wakes up in the woods, nude, with no recollection of his past before this moment, however, seemingly able to know the answers to life's every mystery. Such is the concept of Fox's 2002 drama John Doe. Starring Dominic Purcell—who would later go on to star in the network's Prison Break—the series followed John as he attempted to decode his past while lending his expertise to the Seattle police department. Fox left viewers hanging on the character's fate after only 21 episodes, but thankfully in 2004 the cliffhanger mystery was finally solved in an Entertainment Weekly interview with the creators.


4. The Middleman 2008
Although ABC family is now mostly known for self-involved teens and their petty problems, in 2008 the network forayed into a new genre when it joined forces with Javier Grillo-Marxuach to bring his comic book series to the small screen. Starring Natalie Morales (of Parks & Recreation, not the NBC reporter) and Matt Keesler (Scream 3), the pop-culture-reference-infused show followed Wendy Watson (Morales) and the Middleman (Keesler) as they protected the world against villains big and small, human and alien. The show was canceled after 12 episodes, but was given a proper finale in the comic, The Middleman: The Doomsday Armageddon Apocalypse.


3. Dollhouse 2009-2010
Both Joss Whedon and Fox make their second appearance on the list with this show starring Eliza Dushku (Bring It On) as one of many "dolls" who gets programmed with certain skills/personalities for various high-profile clients. A show whose characters constantly reset after each episode and whose story arcs made each episode pertinent viewing made it a tough sell to mass audiences and the introductory season's slow start didn't help matters. As the writers began to focus on the entire ensemble cast, rather than just Dushku's Echo, the show really began to plant its feet only to be canceled after two short seasons.


2. Wonderfalls 2004
The brainchild of Pushing Daisies' Bryan Fuller, Wonderfalls starred Caroline Dhavernas as Jaye Tyler, who, despite having a degree in Philosophy from Brown University, works in a dead-end job at a Niagara Falls gift shop. Joan of Arcadia's quirky sister—in fact, the two shows premiered very close together on competing networks—followed the adventures of Jaye as she talked to inanimate objects. While gone too soon, that perfect 13-episode season survives on DVD, and one of the Wonderfalls-verse characters, Mary Ann Marie Beetle (Beth Grant), even crossed-over to Daisies in a Season Two episode.


1. Firefly (2002)
This sci-fi western only grew in popularity and enthusiasm after getting the axe in 2002 following 14 episodes of renegade space exploration. Continued fan support and campaigns led to a feature film, 2005's Serenity, appearances at Comic-Con and the recent reunion special. The cast continue to be mainstays on the small screen (including Nathan Fillion in ABC's Castle and Morena Baccarin in Showtime's Homeland), however fans will never allow them to forget their Browncoat past.

Others Tagged With