14 Musicians Share Their Thanksgiving Traditions
Page 7 of 7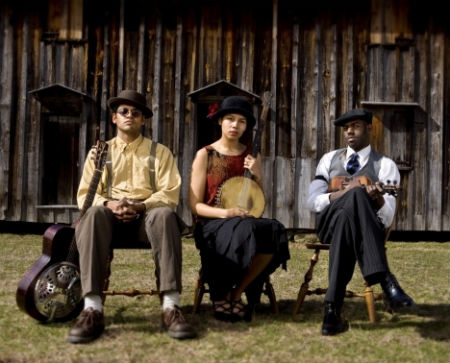 13. Carolina Chocolate Drops
What is your Thanksgiving tradition?
Rhiannon: My Thanksgiving tradition is family, family, family. On Thursday we always do a meal with immediate family; and in recent years both my parents with their spouses have been able to share a table, which has been really cool. We used to go out thursday afternoon to my maternal Grandmother until she passed – she used to make the sweet potato pies, which has passed on to my sister. NowAfter we eat we either watch a movie, or play board games, or both. On Sunday we go out to the country and have another meal with my dad's extended family…it's basically a weekend of eaten'. The instruments come out on Sunday (guitars, mandolins, banjos – and everyone sings). Also, in the last few years SOMEone has been in a show – either me, or my sister, or my sister's son. This year it's me!
Dom: Some of my fondest memories of my family gathering together are around Thanksgiving and Christmas. Thanksgiving is such a special time for family gatherings and food. After filling up on food, heading over to the TV and watching a little bit of football, or if football is not your game, spending the afternoon catching up with family, playing with the younger kids and thinking about that extra plate of leftovers when everything settles down.
How did it get started? How many years has this been going on?
Rhiannon: Since I can remember…Thanksgivings 1, 2 and 3! It's funny, now T-day has pretty much passed to the next generation (my parents generation) but I remember vividly when I was a girl the two big different extended family days – i'm biracial so there were some differences in the food but not as much as you'd think, cause both sides were from the country.
Dom: Nowadays, my wife and I will have a small dinner that we'll cook ourselves or we'll have a gathering over at a friend's bringing over a few plates of this and that but when I was growing we would have huge celebrations at my parents' house with all of the extended family coming over.
Give us a rundown of the food involved. What are the go-to dishes?
Rhiannon: Alrighty let's see—Thursday T-Day: Turkey and Ham, stuffing, cranberry sauce, sweet potato casserole, the usual suspects. Kale with feta cheese has become a staple thanks to my hubby, and NO Thanksgiving is complete without the family sweet potato pie. My grandmother wrote down the recipe like many cooks from her day (in other words, not exact) and my sister has spent like the last 15 years experimenting to get to the closest she can remember the taste of the official pie. She's pretty much got it these days! I do miss my cousin's mac and cheese.
My husband is from Ireland so it's been really fun educating him on the American Thanksgiving—cranberry sauce is always from a can. No, sweet potato casserole is NOT a dessert. If you want a green dish we'd better make it and bring it! :) He's become an amazing southern cook though I have to give it to him, he can make collards, pintos, and fried chicken that will make you want to slap your mamma.
The Sunday T-day is slightly different; my aunt's boyfriend does turkey and some other amazing meat. My other aunt always brings the creamy mash; my paternal Grandma used to make the banana puddin' (it's beyond her now) etc., etc., etc…Some of the biggest differences from when I was young are the substitutions—there's diabetes in the family so now some of the desserts are made with sugar substitutes, and the mac and cheese is made with Lactaid, and there's gotta be at least one gluten free bread. But everyone should be able to eat their favorite things on Thanksgiving!
Dom: The food lays out like this: turkey, stuffing, cranberry sauce, mashed potatoes, gibblet gravy, corn souflee, cabbage, candied yams, honey glazed ham, dinner rolls and green beans. My wife and I are a little more conservative since it's just the two of us where we'll have turkey, stuffing, regular gravy, mashed potatoes and cranberry sauce.
What are you washing it all down with?
Rhiannon: CHEERWINE!!! And lemonade—my grandma used to make lemonade so sweet it would make your teeth fall out. Sweet Tea.
Dom: When having a drink its a combination of white wine, water and soda as the meal progresses.
What's your stance on gravy? On turkey? On everything? Abstaining?
Rhiannon: There's always a tense moment with the gravy—my mom's partner takes great pride in lumpless yummy gravy. My husband and I have started buying the Turkey—I have this thing about free range and organic feed—I'm usually a vegetarian (for reasons that have nothing to do with idealism and everything to do with how meat is treated and processed in this country, but that's another story) but I do like turkey on T-day, so we just said we'd buy the turkey.
Dom: Gravy is one of the greatest parts of Thanksgiving. I'll put it on all of the major items on the plate. The Turkey, stuffing/cranberry sauce, mashed potatoes, while not needing gravy, I feel each should get a good helping of the brown stuff. If other items get a little gravy on them that's okay too.
Do all of the family members like this tradition?
Rhiannon: Everyone is fine with that, because they usually taste better.
Dom: I never grew up knowing anyone disliking having Thanksgiving dinner. I'm sure that it was always stressful for the main cooks in the kitchen as I have learned as my wife and I had worked on dinner on our own now, but at the same time the bonding of Thanksgiving is always happening in the kitchen as well as at the table. Though my Mom was main hostess and cook at our dinners she was never the only cook. We had all the women coming together and doing the work in the kitchen and all of the me would be at their beck and call to get supplies when needed and also to organize the ice chests with soda and beer. When it was all said and done everyone was set to eat some good food and they all knew they had contributed to it in some way. I hope no matter what you do, I hope folks at least sit down at the table with that in mind. Happy holidays folks!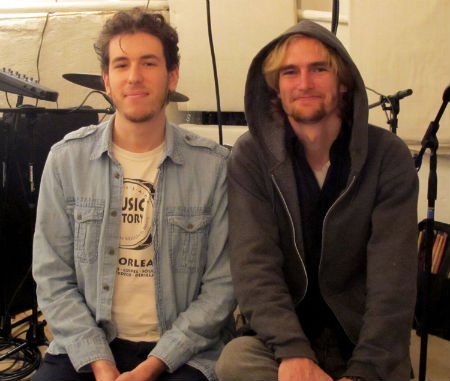 14. Dan Knobler of Mason Jar Music
What is your Thanksgiving tradition?
Most of the Mason Jar Music community settled in NYC from a variety of different places after college, and so most of us go back home for the holidays. We do have a Thanksgiving tradition of pooling all our different family's leftovers for a big meal over the weekend. It's a great little way to share everyone's family traditions and recipes.
How did it get started? How many years has this been going on?
It's been going on at least since we moved into our house three years ago. But as a native New Yorker, I've been hosting a similar event with friends for a while.
Give us a rundown of the food involved. What are the go-to dishes?
All the classics: turkey, gravy, stuffing, cranberry sauce, green bean casserole, sweet potatoes. Plus some family favorites: olive and onion tart, lemon cake, chocolate chip cookies, pumpkin chocolate chip muffins.
What are you washing it all down with?
Apple cider (and maybe a good bourbon after dinner).
What's your stance on gravy? On turkey? On everything? Abstaining?
I'm for it! On the turkey mostly, and on mashed potatoes, too. Carrie Crowell, my girlfriend and de-facto MJM community mom, makes an amazing white gravy from an old family recipe.
Do all of the family members/attendees like this tradition?
As far as I know…We try to be democratic; if you don't like something, speak up or duck out.
As a side note, I'm always in charge of the music at my family functions, and I have a Thanksgiving playlist that I update every year. I've had a bunch of family members discover new songs and artists from it, and when my cousin was in school in England, she asked for a copy of the playlist to use at their British Thanksgiving dinner.