The 50 Best Albums of 2012
Page 5 of 5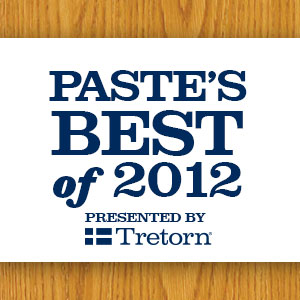 With Thanksgiving in our rearview mirror and very few albums left on the release calendar, it's time to look back at 2012 in music. We asked 32 different staff members and music writers for their favorite albums this year. They voted for 345 different LPs—representing just a fraction of the recorded music released since January 1—and we've narrowed it down to the 50 best. Of course, everyone's list looks different, and ours will look different than your own. The purpose of lists like these is simply to serve as a tool for discovery and discussion. Listen to some tracks you haven't heard, and let us know your favorites from 2012 in the comments section below.


10. First Aid Kit – The Lion's Roar
Much in the same way the timbre of Swedish sisters Johanna and Klara Söderbergmakes' voices make them seem older than their years, the songs seem to be born out of lives lived much longer than their own. How is it possible that these young women have had the sort of life experience to write the stories they do? Their songs are filled with wisdom gained from memories that seem to stretch a thousand years or more into the past. These are the words of truly old souls. The Lion's Roar continues much in the same fashion as the folk duo's first record, but the material on the new LP feels a lot bigger due largely to the use of a full band featuring the girls' father as well as producer Mike Mogis and Nate Walcott of Bright Eyes. While the girls hail from Sweden, they have never been shy about their American influences. Their affinity for American folk and country music is clearly evidenced in "Emmylou," a beautiful track featuring swells of a pedal-steel and light taps of wire brushes on the drums. The song is of course named for legend Emmylou Harris and reveres her work along with that of others of her time and genre, including her duet partner, Gram Parsons, and June Carter and Johnny Cash. It's the centerpiece of a gorgeous record.—Wyndham Wyeth

9. Beach House – Bloom
Picking up where Teen Dream left off, Bloom is another solid output from the Baltimore duo, one that's distinctively Beach House—light, whimsical, almost delicate and not unlike an actual blooming flower. Alex Scally masterfully crafts entrancing, methodical guitar arrangements that pair perfectly with Victoria Legrand's gauzy voice to form a dreamy, almost ethereal-sounding pop album that's as sweeping as it is audibly beautiful. But lyrically it's full of painful imagery of unrequited love and letting go of something to which you still feel attached. That's the Beach House's formula: juxtaposing themes of heartbreak, loss and longing with hypnotic rhythms that build upon each other and careen hazily to a sparkling chorus. But the band does it with more force this time around.—Michell Eloy

8. Japandroids – Celebration Rock
With a music landscape that's leaning more and more toward electronics and heavy production, Japandroids turned heads by doing just the opposite with this year's eight-track, zero-percent-fat Celebration Rock. It's an album that's bookended by the triumphant sounds of fireworks, but the real explosions lie in the chemistry of duo Brian King and David Prowse, filling out the record with just guitar, drums and vocals. Celebration Rock exists as a testament that chant-along, simple rock songs still have a place in the greater discussion of music, and you'd be hard pressed to argue otherwise after hearing "The Nights of Wine and Roses" and "The House that Heaven Built."—Tyler Kane

7. Dirty Projectors – Swing Lo Magellan
Dirty Projectors have a history of creating delightfully grandiose records full of complex, sprawling arrangements and bizarre concepts. For the group's sixth album, Swing Lo Magellan, Longstreth decided to take an approach that focused primarily on songwriting. The album certainly features a good amount of the avant-garde stylings the band has become known for (intricate vocal melodies, peculiar guitar lines, skittering time signatures), but Magellan also contains what must be some of the band's most straightforward material. The source of Swing Lo Magellan's charm, for it truly is a charming collection, is that it's a record that doesn't try be anything other than exactly what it is. The album's closer, "Irresponsible Tune," is a haunting ballad that falls somewhere between a roots recording and a hymn. Longstreth sings like an evangelical preacher, but instead of crooning about "marching in the light of God," he proselytizes about music, singing, "In my heart, there is music. / In my mind is a song. / But in my eyes, a world crooked, fucked up and wrong." How's that for unguarded? It's not pretty, but it's direct and honest and unafraid to stand naked for the world to see its scars.—Wyndham Wyeth

6. Alabama Shakes – Boys & Girls
As far as supersonic rises to fame go, Jeremy Lin could stand to learn a thing or two from the Alabama Shakes. Undeniably at the center of Boys & Girls is Brittany Howard's ascendant balladeering, which allows the Shakes to explore a sound made famous by the twin giants of Motown and Muscle Shoals. Her voice races from falsetto to growl to wail so quickly that she often changes direction mid-word, and that dynamism gives even the Shakes' slowest songs a restless, animal energy that is impossible to ignore. Howard's sound contains distinctive elements of Janis Joplin's flint and spontaneity, Aretha Franklin's depth and power and at times even the sweetness of Diana Ross. Despite the tendency of listeners to lump the band squarely into the category of soul revivalists, Boys & Girls is best enjoyed not as an anachronism but as a fresh take on the sounds from a bygone era. The Shakes have said they look to punk and hard rock as much as anything else, and the melding of those influences with the band's rootsy, passionate appeal results in a style all their own, free of cynicism and brimming with vitality.—Eli Bernstein

5. Sharon Van Etten – Tramp
For 47 minutes on her breakout third album, Sharon Van Etten is right there with you, whispering her tortured lullabies into your ear in the most intimate manner. It feels like an artful exchange, a private conversation between artist and listener. Despite vivid, winding melodies; transcendent singing; and a who's who of indie-rock guest stars (including Beirut's Zach Condon, The National's Bryce Dessner and Wye Oak's Jenn Wasner), it's shocking how minimal, how fragile these songs are. Though there are dense instrumental textures rumbling in the distance, Tramp is built mostly on sparse acoustic guitar. Its revelations are fixed in that intimacy, that private conversation Van Etten has designed to share with you, and you alone.—Ryan Reed

4. Fiona Apple – The Idler Wheel Is Wiser than the Driver of the Screw and Whipping Cords Will Serve You More than Ropes Will Ever Do
Ever since Fiona Apple began to comprehend the darkest realities of pop celebrity, she's been on a tear, and all of her eccentricities seem to be intact on The Idler Wheel: the reliance on big words and jumbled phrasing, the delivery that's somehow both intimate and operatic, the seemingly nonsensical poem-as-album-title. But musically, it's gaunt and foreboding, with Apple's voice and piano squarely at the forefront, while tour drummer Charley Drayton adds ambient flourishes of percussion rather than rhythmic propulsion. The fact that she can't get out of her own head—can't even begin to write a song that doesn't build on layers of self-conscious self-absorption and gritty self-loathing—may in fact be one of her greatest and most distinguishing strengths as an artist. And for all her famed prolixity, Apple can also fire off a startlingly concise line that puts her entire life into a new perspective. "How can I ask anyone to love when all I do is beg to be left alone?" may be the most perfect lyric she's ever written, neatly summing up both her neediness and her self-possession. To her immense credit, Apple never flinches at such uneasy insights and insoluble contradictions, which makes The Idler Wheel a tough but rewarding listen. She may work in a form that's notorious for its introversion, but at heart Apple's a pop extrovert: She makes it painfully and gloriously clear that her pain is our pain, that her horrors are universal.—Stephen M. Deusner

3. Titus Andronicus – Local Business
"I know the world's a scary place/that's why I hid behind a hairy face," sings now beardless Titus Andronicus frontman Patrick Stickles in "My Eating Disorder." The eight-minute song is the centerpiece to the Jersey five-piece's third LP, Local Business, which trades in the eccentricity of 2010's Civil War battle cry The Monitor for more unfiltered personal tales set to stein-swaying pub punk. Stickles has the ability to write meat-and-potatoes punk that is smart, unpretentious and fun—even when he's taking on personal topics like… well, an actual eating disorder. This collection is the band's tightest and most cohesive, and they do so without losing any of the grit. Titus Andronicus has emerged over the past seven years as a formidable punk rock unit—both live and on tape. And whether Stickles likes it or not, he's become somewhat of a modern-day working-class hero. With Local Business, he again does us proud.—Mark Lore

2. Father John Misty – Fear Fun
J. Tillman was putting out solo albums long before he was in Fleet Foxes, and his latest, under the moniker Father John Misty, often recalls his old band. But it also recalls John Denver, Neil Young and, at times, The Band. It's also the best realization of that old, forgotten genre descriptor "freak folk"—something a little stranger and more imaginative than his old group, but with the same big-sky atmospherics. Leaving his given name and self-serious songwriting behind freed Tillman to embrace his acerbic wit, and a relocation to Hollywood freed him to embrace a little more theatricality. The result is a collection of a dozen clever, gripping songs that haven't gotten old after countless listens this year.—Josh Jackson

1. Frank Ocean – Channel Orange
As a guest voice on Watch the Throne or a modest presence in the rabble-rousing rap group Odd Future, Frank Ocean tends to leave a calming effect on everything he touches. It's interesting, then, that he seems at his most comfortable when he's making big statements, like the one he made with that letter he posted to his Tumblr on July 4, a response to a music critic who asked about gender pronouns on his new album. The letter, originally intended to be liner notes for the physical copy of Channel Orange, told the story of Frank's first love, who happened to be a male. It was a soft, lovelorn thing that reached for understanding, rejecting labels. "Whoever you are, wherever you are, I'm starting to think we're a lot alike," the letter began. "Human beings spinning on blackness, all wanting to be seen, touched, heard, paid attention to."
That right there, that compassionate understanding of human nature, is the guiding ethos behind Channel Orange, a very beautiful album about not-so-beautiful people. Prostitutes and pimps, drug mules and drug lords, rich kids with too much money to be happy, and at moments, the narrator himself—these are the cast of alienated, paralyzed SoCal misfits swirling around in Frank Ocean's moral imagination.
Restraint is key to the execution ofChannel Orange, a neo-R&B album that, for all its layered beauty, never overwhelms. Ocean's not one to shout his words, so his well-wrought stories reveal themselves as organic, integrated parts of the mix. From "Start" to "End," Channel Orange is a narrative album meant to be heard in the traditional manner. It sounds best when taken in that way.
The whispy "Thinkin Bout You" makes a case for Ocean as an R&B revivalist, while the sunny, Motown-inspired choruses of "Sweet Life" and "Forrest Gump" recall Stevie Wonder for all the right reasons. The dealer on "Crack Rock" is forbidden from attending all his family functions, discovering how "little he matters" when he winds up in the middle of Arkansas with nothing to his name but his crack pipe.
That's precisely the thing, though. In Ocean's imagination, these broken people do matter. The stories of their sad, empty lives have to be told—if, for no other reason than for their capacity to enrich our understanding of people who aren't like us. Across cultural, religious and lingual distances, he's grasping at commonality. Whoever you are, wherever you are, Frank Ocean has been starting to think we're a lot alike.—Lane Billings
Thanks to our 2012 judges: Rachel Bailey, Max Blau, Ryan Bort, Justin Cober-Lake, Philip Cosores, Stephen Deusner, Sean Doyle, Lindsay Eanet, Jonah Flicker, Laura Flood, Jessica Gentile, Holly Gleason, Beca Grimm, Douglas Heselgrave, Geoffrey Himes, Josh Jackson, Tyler Kane, Mark Lore, Laura Medina, Evie Nagy, Joel Oliphant, Dacey Orr, Zachary Philyaw, Hilary Saunders, Jason Schneider, Bud Scoppa, Alex Skidmore, Nathan Spicer, Bonnie Stiernberg, Jay Sweet, Brian Tremml, Dan Weiss