The 50 Best Movies on Hulu Plus
Page 1 of 5
Narrowing down the 50 best movies on Hulu Plus was actually more difficult than similar lists we've done for Netflix Instant and Amazon Prime thanks to Hulu's deal with Criterion. With hundreds of classic films in the Criterion Collection spanning the last century of movie-making, you could almost pick at random and discover something worthwhile. But we wanted to highlight our favorites, old and new, all available alongside New Girl, The Voice and South Park with your monthly subscription.

50. Supersize Me
Director: Morgan Spurlock
Year: 2004
At turns funny, outrageous and disturbing, celebrity documentarian Morgan Spurlock steps in front of the camera to participate in a 30-day experiment in fast-food eating. Eating McDonald's morning, noon and night causes him numerous health problems at an alarmingly immediate rate. A picture is worth a thousand words, and Spurlock's brutally honest depiction of the multiple, often ugly, physical and emotional ailments resulting from his new diet is the most effective cautionary tale that could have been made about the most ubiquitous fast-food chain in America.—Emily Reimer


49. Stagecoach
Director: John Ford
Year: 1939
By the time director John Ford had cast the role of the Ringo Kid for Stagecoach—loosely based on a short story by Guy de Maupassant—both the genre he was working in (the Western) and the actor he snagged (a towering Iowan named John Wayne) were entrenched in the backwaters of B-movie-dom. But when Ford's camera zooms in on the Ringo Kid, saddle in one hand and Winchester rifle in the other, against the stunning and inhospitable Monument Valley landscape, one can't help but feel a rush. This 1939 landmark is a masterful sketch of surprisingly complex characters (town drunk, Southern belle, gambler gentleman, milquetoast midwesterner, brassy floozy, blowhard banker, etc.) thrown together on a journey through Apache country. It's easy to marvel at legendary stuntman Yakima Canutt's death-defying moves, and enjoy the soundtrack that recast American folk songs—or you can simply be gripped by the thrill of the ride.—Andy Beta


48. Pale Flower
Director: Masahiro Shinoda
Year: 1964
While Seijun Suzuki and Nagasi Oshima were blowing up Japanese film's stylistic traditions, Masahiro Shinoda's Pale Flower is a much subtler and in some ways more timeless film, attempting to destroy the cliches of the Yakuza genre not by reinventing them but by diving deeper into their meanings. Pale Flower sits comfortably as one of the darker noir films ever made, beginning with a gangster's release from prison after serving a three-year term for murder. He immediately heads back to his old haunts and connections but much of his lust for life is gone except when it comes to gambling. He meets a femme fatale with the same passion and the two begin playing together, amidst which Yakuza violence is heating up. It's a film couched in nihilism that deglamorizes Japanese gangsters in the same way that Martin Scorsese would deglamorize American ones a decade later in Mean Streets—the honorable thieves that were such a part of earlier depictions of Yakuza are replaced with thugs and low-lifes.—Sean Gandert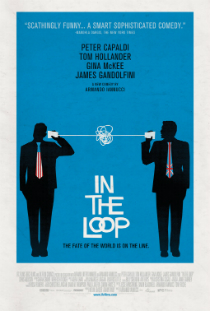 47. In the Loop
Year: 2009
Director: Armando Iannucci
If clever verbal humor were easy, we'd have more comedies like In the Loop. But it's not, and this one stands in a class of its own. It's the most quotable film of the decade—by miles—and the cynical potty mouths on screen are so articulate and creative that, after the avalanche of witticisms, you're left with the lingering sense that you've seen not just a funny movie but also a wicked political satire of the highest order, the kind where the absurdity speaks for itself.—Robert Davis


46. The Blob
Director: Irvin S. Yeaworth Jr.
Year: 1958
This cult sci-fi film is notable for it's ingenious special effects despite a crew whose main experience came from working on religious films, as well as helping to launch the careers of actor Steve McQueen, in his first leading role and composer Burt Bacharach, who wrote the theme song "Beware of The Blob."—Wyndham Wyeth


45. Lola Montès
Director: Max Ophuls
Year: 1955
Way back in the early 2000s, the films of German-born, Paris-based director Max Ophuls languished out of print. His fin de siècle Europe, aristocratic mores, women on the verge of nervous breakdowns and loooooong tracking shots fell out of sight. But with the availability of the fever dream of his financially and critically catastrophic last feature, Lola Montès, our portrait of the artist in his final years is complete. Eliza Rosanna Gilbert—a dancer and actress most often called by her stage name, Lola Montès—pioneered the "cult of celebrity." Paramour to composers Franz Liszt, Frederic Chopin and Richard Wagner, not to mention numerous dukes, counts and even King Ludwig I of Bavaria, her affairs were fodder for the papers, and sometimes cause for riots. Ophuls anticipates such modern media circuses, eschewing simple biography for his heroine and setting her in a context more grandiose and garish: a real circus.—Andy Beta


44. Stranger Than Paradise
Director: Jim Jarmusch
Year: 1984
Jarmusch has fashioned a wildly idiosyncratic, stylish and coherent body of work. In the early '80s, right out of film school, Jarmusch inadvertently helped define the American independent movement when his second feature, Stranger Than Paradise, found an audience of people who enjoyed its hip-but-relaxed pace, deadpan humor and apparent awareness of world cinema. The film is stylistically simple, with even fewer shots than the film he made during school, Permanent Vacation, and it seemed to satisfy a hunger for movies that eschew Hollywood formula. That hunger didn't go unnoticed by the industry, which has since created specialized subsidiaries of major studios, festivals like Sundance and cable channels that champion "independent" filmmakers.


43. The 400 Blows
Director: François Truffaut
Year: 1959
The 400 Blows serves as François Truffaut's debut, as well as his most personal. The semi-autobiographical story focuses on Antoine Doinel, a young boy who turns to a life of petty crime as a result of being neglected by his parents. The film is the first of five films that focus on Antoine at various stages in his life.—Wyndham Wyeth


42. Y Tu Mama Tambien
Director: Alfonso Cuarón
Year: 2001
A road trip along the coast of Mexico turns out to be one of sexual discovery for two punk teenagers (Gael Garcia Bernal and Diego Luna). Meanwhile, the trip turns out to be the bittersweet final adventure for their older female companion (Maribel Verdu), as she struggles with a life full of regret and roads not yet traveled. Y Tu Mama Tambien is at times playful and seductive, but slowly reveals itself to be a substantive dual story involving both coming-of-age and coming-to-terms.—Jeremy Medina


41. Like Water For Chocolate
Director: Alfonso Arau
Year: 1992
An adaptation of Laura Esquievel's novel about Mexican cooking and magical realism, Like Water for Chocolate depicts the passionate but forbidden love between two young people, Tita and Pedro. As Tita cooks, her moods and emotions directly enter her food, evoking violently powerful reactions—sometimes positive, sometimes disastrous—in all who eat her cooking.—Emily Reimer
Others Tagged With