The 50 Best Movies on Hulu Plus
Page 4 of 5
Narrowing down the 50 best movies on Hulu Plus was actually more difficult than similar lists we've done for Netflix Instant and Amazon Prime thanks to Hulu's deal with Criterion. With hundreds of classic films in the Criterion Collection spanning the last century of movie-making, you could almost pick at random and discover something worthwhile. But we wanted to highlight our favorites, old and new, all available alongside New Girl, The Voice and South Park with your monthly subscription.

20. Pandora's Box
Director: G.W. Pabst
Year: 1929
A beautiful and promiscuous young woman is forced to flee the law after killing her fiance on their wedding night. She eventually ends up in London where she works as a prostitute at a brothel. There's a whole list of reasons why Pandora's Box has stood the test of time. Many have to do with G.W. Pabst and his unique sensibilities, but the most important is Louise Brooks, the film's centerpiece. Wooing us with her deep dark eyes and elusive beauty, the American actress didn't just bring to life a character we could never forget—the mysterious and erotic Lulu—in a performance of a lifetime. She also paved the way for women of her era, expressing individuality and feminism in the 1920s.—David Roark


19. The General
Director: Buster Keaton and Clyde Bruckham
Year: 1926
Plot: When Yankee spies steal his locomotive and kidnap his girlfriend, a Southern railroad engineer ("The Great Stone Face" Buster Keaton) is forced to pursue his two beloveds across enemy lines.
Why it matters: While a few Charlie Chaplin pictures give it a run for its money, The General is arguably the finest silent comedy ever made—if not the finest comedy ever made. At the pinnacle of Buster Keaton's renowned career, the film didn't receive critical or box-office success when released, but it has aged tremendously. It's a spectacle of story, mishmashing romance, adventure, action (chases, fires, explosions) and comedy into a seamless silent masterpiece.—David Roark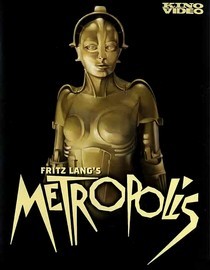 18. Metropolis
Director:Fritz Lang
Year: 1927
Though in hindsight the actual story proves pretty wacky, Fritz Lang's last silent film—before his second masterpiece M—could be called the blueprint for all sci-fi films that followed it. Whether the groundbreaking special effects, the visual scope or the intricate set design, greats such as Ridley Scott, George Lucas and Stanley Kubrick have borrowed from it (Lucas modeled C-3PO directly after the Maria robot). Metropolis, heavily influenced by the books of H.G. Wells, also stands as the first dystopian film in history.—David Roark


17. Three Colors Trilogy (Krzysztof Kieślowski, 1993-94)
Red
White
Blue
Director: Krzysztof Kieslowski
Year: 1993-94
Are we cheating? Okay, maybe we're cheating. But at the very least, it's a cheat that many of our colleagues have engaged in before. And since Krzysztof Kieslowski himself saw his three masterpieces Blue, White, and Red as a three-part story, we feel the cheat is justified. What's unquestionable is the richness of Kieslowski's achievement, or the impact the three films have had on world cinema. Taking as his inspiration the three themes of the French Revolution, captured in its eternal slogan Liberte, Egalite, Fraternite! (Liberty, Equality, Brotherhood!), Kieslowski embarks on a quest to more fully explore his lifelong themes of chance, destiny, freedom, art and even transcendent meaning itself. In the face of such a unified vision, it feels belittling to evaluate the masterful performance of Juliette Binoche in Blue against the crisp dialogue in White against the lush cinematography in Red. One can only stand back at marvel at the Polish master's accomplishment.—Michael Dunaway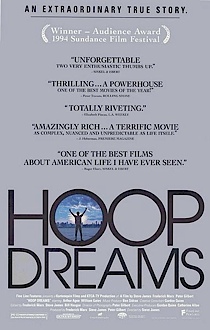 16. Hoop Dreams
Year: 1994
Director: Steve James
Seldom has a film, narrative or documentary, so probingly explored the American Dream. In this case, the version of the dream that young William Gates and Arthur Agee have bought into is redemption (and fortune and fame) through athletic achievement. That the odds are stacked so heavily against those dreams ever coming true only makes their dearest hopes that much more poignant. Steve James famously spent nearly eight years making the film, and despite its nearly three-hour running time, it doesn't feel long at all. Every frame feels essential.—Michael Dunaway


15. The Gold Rush
Year: 1925
Director: Charlie Chaplin
Alongside City Lights, The Gold Rush remains Charlie Chaplin's pinnacle as a filmmaker and actor. He agreed, calling it a personal favorite amongst his immense body of work. With stunning set pieces and memorable scenes, including the famous roll dance and shoe-eating dinner, the film provides one of the earliest and profoundest examples of dramedy in cinema. In quintessential Chaplin fashion, it weaves together slapstick and melancholy, generating both laughs and cries for the lonely yet hilarious Little Tramp.—David Roark


14. The Seven Samurai
Director: Akira Kurosawa
Year: 1954
One of several Criterion Akira Kurosawa films featured on Hulu, The Seven Samurai is considered to be on of the most influential films of all time and one of a select few Japanese films that have a lasting appreciation in the West. The film tells the story of a village of farmers who enlist the help of seven masterless samurai to protect them from a gang of thieves stealing their crops. The Magnificent Seven (1960) takes the plot of Kurosawa's film and places it in the Old West—Wyndham Wyeth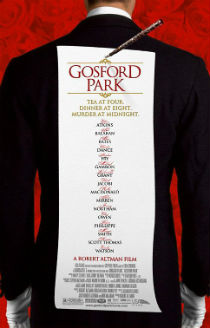 13. Gosford Park
Director: Robert Altman
Year: 2001
Robert Altman's ambitious murder mystery aptly demonstrates his signature style of filmmaking. He assembles a large cast of superb actors and allows them to act out their roles, in some cases even improvising, while the cameras roll. The result is an Agatha Christie-whodunit meets a post-modern exploration of the dying class system in England. Not unlike the British Sam Mendes' treatment of American suburbia in American Beauty, no one but an outsider can so acutely skewer a culture's idiosyncrasies as Altman does here. And only this famed "actors' director" could have attracted such an illustrious and talented cast, who can make the tautly written lines sing and the emotionally fraught scenes hum with intrigue and tension.—Emily Riemer


12. Night of the Living Dead
Director: George A. Romero
Year: 1968
There were zombie movies long before George Romero shot his debut film, but none defined the genre so thoroughly. All the hallmarks are here for the first time: the band of survivors, the violent power grabs, the stoic hero/martyr, the potential for social metaphor. Too bad so few filmmakers (Romero included) forgot to copy his grim humor and stark black-and-white film stock, which makes everything so much more frightening.


11. Buena Vista Social Club
Director: Wim Wenders
Year: 1999
Before his fascination with movies—especially American B-movies—led him to direct, Wim Wenders studied medicine and philosophy, then dropped out of school to try painting. Perhaps this varied background accounts for the ambition and distinctiveness of this auteur, who can take a four-continent road trip (Until the End of the World), tell of a supernatural love affair via mundane details and philosophical musings (Wings of Desire), or document the Cuban music scene (Buena Vista Social Club) and mark them all with his unmistakable fingerprint.—Tim Regan-Porter

Others Tagged With