10 Best Music Festival Moments of 2012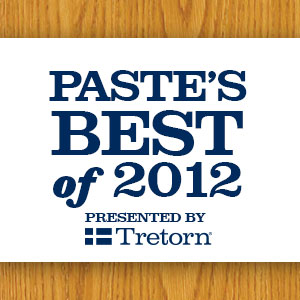 Paste's Best of 2012 series continues through Dec. 31 and is made possible by our friends at Tretorn.
Festivals are a perfect breeding ground for those once-in-a-lifetime musical moments. When you take an array of talented artists and gather them together amid droves of like-minded music lovers, the energy can lead to anything. Here are the music festival moments that stayed with us this year.

10. Sigur Ros – Lollapalooza (Chicago, Ill.)
Backed by small strings and horn sections, lead singer Jónsi Birgisson's beguiling falsetto captured the crowd's attention instantaneously as they careened through some of their earlier work. The set only improved from there, as there was a patience to Sigur Rós' performance that's rarely seen in musical festival settings. In the first 15 minutes, the group played only two songs, slowly building each one from mere plucks on a piano to a full, crashing orchestral crescendo. On the stage screens, images of forests and rippling water faded into grainy live shots of the band, making the performance feel that much more ethereal. — Michell Eloy (Photo by Josh Darr)

9. The Beach Boys – Bonnaroo Music & Arts Festival (Manchester, Tenn.)
The threat of a thunderstorm couldn't interrupt the good vibrations during this set. Light rain began to sprinkle down on the What Stage field half way through the set as the band began "Wouldn't It Be Nice" and winds picked up as the band transitioned into "God Only Knows," but the crowd didn't seem to mind as the band wove through their extensive song bank from hit to hit. The whimsical nature of the set had me covered in goosebumps, making it not only my favorite of the year, but one of my top 'Roo moments of all time. —Lindsay Hughes
(Photo by Mark C. Austin
8. Death Grips – Coachella Valley Music & Arts Festival (Indio, Calif.)
8. MC Ride of the California punk-rap group Death Grips might be a perfectly nice fellow when he's off stage, but even his sound-checks are intense, and when backed by the tortured-android squealing of producer Andy Morin and the neck-breaking fills of spazz-god Zach Hill, he at least seems like he's one rude comment away from murdering an entire concert crowd with his bare hands. But the dude has a sense of humor as well. After beating us in to submission with cuts like "Guillotine," Ride noticed that one of the giant inflatable balloons the crowd was passing around had landed on stage. He kicked it back in to the crowd, and spent much of the set bouncing it back and forth with us while still being coming off as intimidating as fuck. — Michael Tedder

7. Charles Bradley – Oya Festival (Oslo, Norway)
Backed by his impressive supporting band The Extraordinaires, the Screaming Eagle of Soul preached his universal sermons of love, heartbreak and struggle, belting out and dancing like it was his final performance. That's more or less the way Charles Bradley attacks all his live shows, doing so in revelatory fashion. I saw him convert masses of Norwegian fans—he even managed to crack the most serious of Nordic security staff chiefs into singing along with him (on his brilliant cover Neil Young's "Heart of Gold"). The most impressive moment came after his set when Bradley went into the crowd and proceeded to hug his fans. Not just some, but all of them—every single person until the entire crowd wandered away 25 minutes later. It's a rare sign to see a musician care that much about his fans. It was more comparable, rather, to the way a pastor tends to his congregation. And it's safe to say that Charles Bradley took us to church on Sunday. —Max Blau (Photo by Max Blau)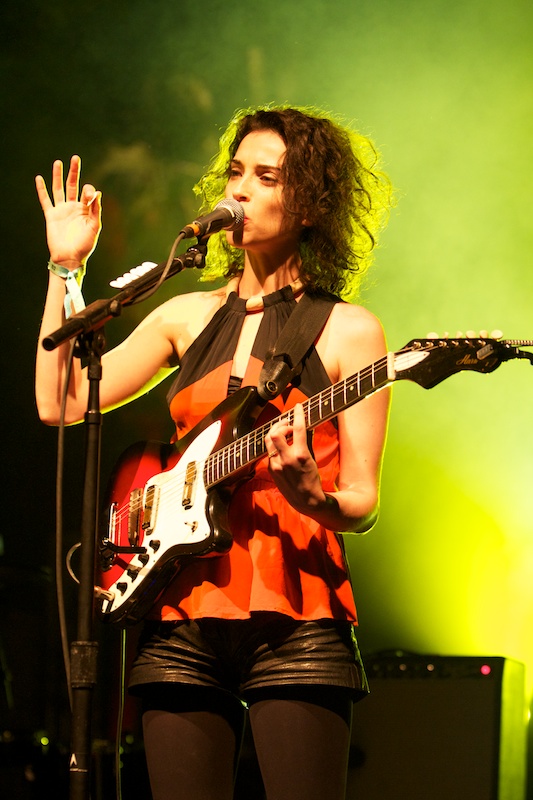 6. St. Vincent – Coachella Valley Music and Arts Festival (Indio, Calif.)
St. Vincent makes smart, immaculately cutting albums, but it's the live show that proves she's one of the most full-bodied, slash-and-burn guitar players going today. So it was a bit counterintuitive that the best moment of Annie Clark's set came after she handed off her guitar to a touring keyboardist for the premiere of the charging punk song "Krokodil," which we were promised "is not on the Internet, or the world yet." Clark jumped down to sing directly to fans in the front row, and then at some point a "screw it" look flashed across her face, and she started crowd surfing while singing the "Kroko-Kroko-Krokodil" refrain. The crowd went from amped to apeshit, but her steely-eyed death-angel expression made it clear that any ungentlemanly mosh-pit conduct would not be tolerated. —Michael Tedder (Photo by Chris Garmon)

5. Stevie Wonder – Outside Lands Music & Arts Festival (San Francisco, Calif.)
while others wandered off to the other stages, thousands of us packed in tight, ready to be treated to the legendary Stevie Wonder—and what a treat it was. It was impossible to not smile as the 62-year-old soul man played through his two-hour set, belting out lyrics, jamming the harmonica and absolutely commanding the keys like he was no older than 25. Though he would shuffle slowly across the stage, often being led by one of his backup singers, it was truly amazing to see the man transform before our eyes into a jubilant performer the moment his hands touched the keys. The set featured most every Stevie fan favorite, including "Superstition," "Sir Duke" and "Isn't She Lovely," in addition to a number of covers such as Marvin Gaye's "How Sweet It Is" to Michael Jackson's "The Way You Make Me Feel." For his final pre-encore song, Wonder dedicated "Happy Birthday" to everyone in the crowd, before returning with The Beatles' "She Loves You" and finally ending on The Temptations' "My Girl." It was a spectacular set—probably a once-in-a-lifetime chance for many people. — Bo Moore (Photo by Suzi Pratt)

4. Rubblebucket – Wakarusa Music & Camping Festival (Ozark, Ark.)
The dance-pop octet took to the stage on Wakarusa's opening day for the first of two performances during the festival. Rubblebucket welcomed festivalgoers with high energy, vibrant neon scarves, colorful dancing blobs and foot-stomping-fun tunes. The band joined the crowd to dance and, on their second performance, carried a homemade "tunnel" through the gathering of fans, giving listeners who passed through a few seconds of private dancing. —Wyndham Wyath (Photo by Grace Gude

3. Flaming Lips – Hangout Festival (Gulf Shore, Ala.)
As the sun set on Gulf Shores on Sunday night, Flaming Lips fans were treated to a veritable greatest hits set featuring favorites like "Do You Realize??" "Yoshimi Battles The Pink Robots Pt. 1" and "The Yeah Yeah Yeah Song" before the band was joined by Phantogram to perform Pink Floyd's Dark Side of the Moon in its entirety. The most memorable moment came during "Money," when Wayne Coyne and company released balloons filled with cash into the crowd—whose members were surprisingly mellow about the whole thing, refraining from trampling one another and opting instead to keep the psychedelic vibes going. — Bonnie Stiernberg (Photo by Mark C. Austin)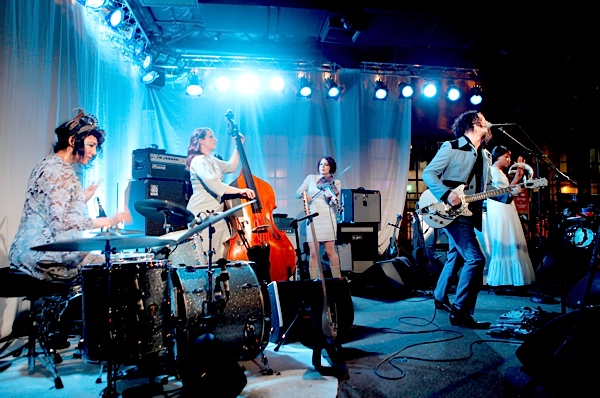 2. Jack White – South By Southwest (Austin, Texas)
Jack White's gear could have filled up a third of the floor space inside the 500-person-capacity Stages on Sixth. But the size of the venue didn't matter as White played two sets, one backed by ladies, one backed by men. After jostling with fans up near the stage for the first set, we headed back by the bar during intermission and spent the next batch of songs alongside John C. Reilly, Norah Jones, James Mercer, Olivia Wilde and Jason Sudeikis, who played drums on our hands during "Seven Nation Army." When White closed with "Goodnight Irene," we drank shots with Bill Murray and coaxed him up onto the bar, where he sang alongside the wonderfully gracious Stages on Sixth staff.— Josh Jackson (Photo by Jo McCaughey)

1. Vil Kilmer with The Black Lips – Fun Fun Fun Fest (Austin, Texas)
Val Kilmer got on stage with the Black Lips at Austin's Fun Fun Fun Fest, ranted about God and the death of rock and roll, set an amp on fire and then cut his shoulder-length hair off with a knife and threw the hair into the audience.
Fans who had been paying attention to rumors knew that Kilmer was shooting a scene for an upcoming yet-untitled Terrence Malick film set in the Austin music scene (Rooney Mara was on guitar; Michael Fassbender (!!!) stood stage right in sunglasses), but that didn't make it any less weird. Before filming started, Kilmer asked the crowd if they wanted to hear any Doors songs (LOL), introduced the other celebrities on stage and launched into his portrayal of a character that we can only speculate is an aging, losing-it rocker. Mazel tov to the Black Lips for scoring the gig as his backing band, we guess. — Evie Nagy (Photo by Evie Nagy)
Others Tagged With