The 10 Best Comedy Albums, DVDs & Specials of 2012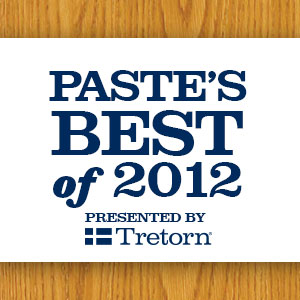 Page 1 of 2
What a long, funny year it's been. For the purposes of this list, we're focusing on releases as opposed to "best comedians." This is for practicality more than anything. How to weigh a comedian like Louis C.K., who spent the bulk of his year working on a television show and touring, versus a comedian like Paul F. Tompkins, who put out a CD, a DVD, and a regular podcast? So, the 10 folks below all released something—CD, DVD, or a special, be the latter on television or via download—in its first incarnation in 2012. (Patton Oswalt's My Finest Hour, for example, came out on DVD in April 2012, but on CD in September 2011, thus making it ineligible.) Here are the 10 best comedy releases of 2012:
10. Dan Telfer – Tendrils of Ruin
The dinosaur champion now owns the Tycho Brahe game too.
RIYL: science, baby zombies, astronomer jokes
Buy it here.
9. Jim Hamilton – Poems About the Ocean
This Wisconsin expatriate gets a lot of laughs out of a few words on his stunning debut album. More, please.
RIYL: Red Hot Chili Pepper jokes, puns, deadpan one liners
Buy it here.
8. Rob Delaney – Live at the Bowery Ballroom
The Twitter king self-released his first stand-up release, including material about rich kids, neck tattoos and a Friendly Sanchez—you'll have to watch to figure out the latter.
RIYL: sex jokes, oceans vs. lakes arguments, encouraging self-released comedy
Buy it here.
7. Paul F. Tompkins – Laboring Under Delusions
Released in both CD (A Special Thing) and DVD (Comedy Central) formats this year, dapper funnyman Paul F. Tompkins' Laboring Under Delusions hilariously obsesses over working toward success while in constant fear of "being yelled at." Unsurprisingly, it's imminently relatable.
RIYL: Tom Arnold punchlines, stories about famous people, commiserating over terrible jobs
Buy it here.
6. Billy Wayne Davis – Billy Wayne Davis
This Seattle-by-way-of-Nashville thinking man's redneck offers a delightfully refreshing upending of the usual corn-bred stereotypes. His accent messes with liberals and his material confuses conservatives, which puts him in an amusing spot. Mostly importantly, though, he's funny, and you'll be hearing more from him soon.
RIYL: Bill Hicks, real talk, toppling stereotypes
Buy it here.
5. John Mulaney — New in Town
"When people make fun of me, I deserve it," John Mulaney says here. The 29-year-old Saturday Night Live writer then backs up that premise by mercilessly mocking himself throughout. "I've had a very easy life," he told Paste shortly after New in Town's release. "It seems like people should be able to come to me and say, 'Fuck you.'" Um, sorry, dude, you're great?
RIYL: self-deprecation, dated references, Stefon Zolesky
Buy it here.
4. Tig Notaro — Live
"Hello, good evening, hello, I have cancer, how are you?" So begins Tig Notaro's brave August set at Los Angeles' Largo, which was later sold on Louis C.K.'s website as a 30-minute track called Live. It's a stunning, singular moment in comedy, and one that, thankfully, had a happier follow-up just a couple months later. Here's to Notaro's continued health, and a regular-old album next.
RIYL: dark humor, Steven Wright, triumphing over adversity
Buy it here.
3. Dylan Brody — Chronological Disorder
Those looking for typical, setup-punchline humor should search elsewhere. Dylan Brody's a self-described "purveyor of fine words and phrases," and Chronological Disorder is short on neither. His touching, thoughtful, intelligent, amusing tales get to the heart of what it is to be a struggling human in a confusing place, pushing the envelope of what can or should be considered stand-up comedy in the process. Why this man doesn't have a podcast is anybody's guess. Until he gets one, there's this.
RIYL: getting teary-eyed, radio raconteurs, lengthy stories
Buy it here.
2. Kyle Kinane — Whiskey Icarus
"[With] any decent story you can translate to somebody else, nobody has to be there," Kyle Kinane told Paste back in 2011. "It's just a matter of sitting down and finding the right details." On Whiskey Icarus, his first Comedy Central special, Kinane follows up and improves upon the expert storytelling he exhibited on his uproarious 2010 debut album, Death of the Party. It's unreasonable to think he'll just keep getting better, but we're gonna hope for it. In the meantime, you won't find a better storytelling comedian going.
(Note: This aired on Comedy Central in late November and won't be available for purchase until early 2013.)
RIYL: classic-rock references, gravel-voiced mischief makers, beards that just won't quit
1. Hannibal Buress — Animal Furnace
Hannibal Buress is a subtle expert at the art of comic delivery. Much like the perfectly weird title of this release (try reading it out loud after his name), he's goofily absurd. But he's also like a a weird mentor, handing out life advice shrouded in ridiculous use cases. The former 30 Rock and Saturday Night Live writer has lately seen the small screen as sidekick on The Eric Andre Show, but his real love is stand up. Which is great, because he truly shines when he's on a stage puzzling through life's great weirdness for our benefit.
RIYL: Odd Future jokes, Mitch Hedberg, absurdly profound life advice
Buy it here.
If you're feeling all self-satisfied since you've heard everything included above, click on to the next page, which includes a smattering of superlatives, up-and-coming comics and various other humorous ephemera for those whose hunger for laughs is truly insatiable.