The 10 Best Music Documentaries of 2012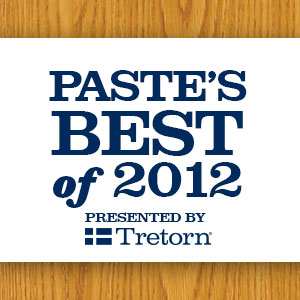 Page 1 of 2
Paste's Best of 2012 series continues through Dec. 31 and is made possible by our friends at Tretorn.
When all your favorite bands are on Twitter and Instagram, it can seem like you've got the inside scoop on all that goes on off stage. But there's nothing like a well-crafted documentary to see what went into the music you love so dearly. This year saw directors like Spike Lee, Jonathan Demme and Kevin Macdonald filming some iconic music legends. But it also showed that little-known filmmakers documenting smaller acts can create just as a powerful a story. Here are the 10 Best Music Documentaries of 2012.
10. How to Grow a Band
Director: Mark Meatto
A good film—and a good band, for that matter—can be much like The Wizard of Oz. If everything goes just right, if the curtain doesn't get pulled back, then the audience can find itself part of a great and powerful experience. But with How To Grow A Band, director Mark Meatto proves that, sometimes, a look behind the curtain can yield just as amazing of an experience. Meatto followed the folk-formal-fusion-but-don't-you-dare-call-it-bluegrass band Punch Brothers for two years: on tour, in studio, on the street, in the living room, in comfort and in flux. The portrait of the band that emerges is clear and precise. We come to know the band so well that the music is comfortingly familiar by film's end; we come to the know the band members so well that we can hear each individual personality filter through each song. And that's what How To Grow A Band is really about. Meatto shows us how five virtuosos come together to take traditional music in a new direction.—Joan Radell
9. Bad25
Director: Spike Lee
Airing on ABC on Thanksgiving Day, Spike Lee delved deep into Michael Jackson's Bad—both the album and the tour—a quarter century after its release. With no more records to break after Thriller, Jackson poured the pressure on himself, pushing himself and everyone around him to take things even bigger. With current interviews with folks like Quincy Jones and Martin Scorsese (who directed the BAD short film) and historical interviews with Jackson, Bad25 captures the moment in pop history. But it's the candid moments that are most special. While the TV version was just over an hour, you can see the full 123-minute documentary coming to DVD in February, including a clip of Jackson dancing with Sheryl Crow, a section on his purchase of the Beatles' catalog and interviews with Stevie Wonder and the Biebs.
8. Carol Channing: Larger Than Life
Director: Dori Berinstein
Carol Channing is such an endearing, sharp, funny personality that director Dori Berinstein could easily have just thrown her camera on a tripod, have the 90-year-old musical theater legend spin anecdotes for an hour and a half, and had a great documentary. Thankfully, what she made is even better. Sure, Channing still tells those stories about her life and stage career in her paradoxically inimitable-yet-oft-imitated style. But there are also heartfelt testimonies from fellow actors and personalities, most legends in their own right, about how talented and genuine she is. Carol Channing: Larger than Life is like a warm cinematic hug from Shubert Alley, not to be missed by anyone with even the remotest passing interest in Channing or Broadway history.—Dan Kaufman
7. Crossfire Hurricane
Director: Brett Morgan
Oscar-nominated documentarian Brett Morgan (On the Ropes) interviewed The Rolling Stones on the eve of the band's 50th anniversary. "No cameras were allowed in the room," he lets us know at the beginning of Crossfire Hurricane. But immediately we're taken back to one of the band's earliest tours of America, where they reigned as the bad boys to The Beatles' cleaner image. With tons of concert clips, interview footage and backstage moments—much of which was previously unreleased—it's an entertaining story about natural entertainers. Courtney Love liked it enough to invite Morgan to helm the upcoming Kurt Cobain documentary.
6. Neil Young: Journeys
Director: Jonathan Demme
Neil Young Journeys is director Jonathan Demme's documentary of the last two nights of Young's solo world tour performing at Toronto's Massey Hall. The uncut performances, almost entirely from his 2010 album Le Noise, are interspersed with footage of Young driving around his hometown of Omemee, Ontario, in a 1956 Crown Victoria. In the car, he tells stories about his childhood, showing Demme the places where he grew up, almost all of which have been completely destroyed. Demme's third documentary about Young assumes that his audience has a deep biographical knowledge of Young, but it's enchanting to watch. There's a reason he has had such a long and successful career as a musician and performer: watching him is enthralling and, at times, chill-inducing. The film offers a rare chance to experience an incredibly intimate performance from a rock-and-roll icon.—Emily Kirkpatrick