The 10 Best Music Documentaries of 2012
Page 2 of 2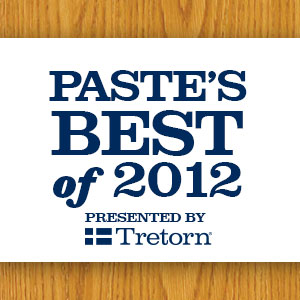 When all your favorite bands are on Twitter and Instagram, it can seem like you've got the inside scoop on all that goes on off stage. But there's nothing like a well-crafted documentary to see what went into the music you love so dearly. This year saw directors like Spike Lee, Jonathan Demme and Kevin Macdonald filming some iconic music legends. But it also showed that little-known filmmakers documenting smaller acts can create just as a powerful a story. Here are the 10 Best Music Documentaries of 2012.

5. Big Easy Express
Director: Emmett Malloy
What happens when you have all the members of Mumford & Sons, Edward Sharpe & The Magnetic Zeros and Old Crow Medicine Show on an old, historic train traveling 2,800 miles throughout the American Southwest playing shows in the unlikeliest of places? Lots of jamming, a set with a high-school band and a hell of a lot of fun. If you have any interest in the Americana/folk-pop movement, Big Easy Express will give you a glimpse into its motivation, showing even those now-enormous pop stars in Mumford playing around in their roots.
4. Under African Skies
Director: Joe Berlinger
Joe Berlinger's fascinating, immersive documentary Under African Skies celebrates the 25th anniversary of Paul Simon's landmark Graceland album and examines the firestorm of controversy that it ignited.The narrative core of the film is Simon's 2011 return to South Africa to stage a reunion concert and, most poignantly, a conversation between him and Dali Tambo about their opposing stances 25 years ago and where they find themselves today. To his credit, Berlinger presents all arguments impartially and leaves the viewer to come to his or her own terms with Simon's motives and actions.—Clay Steakley
3. Marley
Director: Kevin Macdonald
It's not entirely clear why director Kevin Macdonald decided to make a documentary about the musician Bob Marley, a cultural icon whose life has been recounted countless times through a variety of mediums. Macdonald claims it's because he wants to understand why Marley continues to speak to legions of fans around the world. Whatever his reasons, he's clearly up to the task. Marley offers an expansive and at times fascinating perspective on the man through interviews with his fellow former Wailers, family, and childhood friends. The film is fairly detailed concerning Marley's songwriting and musicianship from his early ska days up through the release of Catch a Fire. After this, however, it skips through his catalogue, choosing to focus more on his personal life, conversion to Rastafarianism, the tumultuous state of Jamaican politics, and his prolific womanizing—all of which are important elements of the artist's character.—Jonah Flicker
2. Searching for Sugar Man
Director: Malik Bendjelloul
"The Story of the Forgotten Genius" is such a well-worn formula for music documentaries that it was already being parodied more than three decades ago in This is Spinal Tap. In Searching for Sugar Man, as Swedish director Malik Bendjelloul begins to tell the story of Rodriguez—the Dylanesque folk rocker who released two apparently brilliant albums in the early 1970s, then disappeared—it appears he's traveling a familiar road. But that road takes a sharp left turn when we learn that bootleg recordings catapulted Rodriguez to stratospheric heights of fame in apartheid-era South Africa. (When a record-store owner is asked if Rodriguez was as big as the Rolling Stones, he matter-of-factly replies "Oh, much bigger than that."). In fact, his uncensored depictions of sex and drugs were so thrilling to South African musicians that he became the patron saint of the Afrikaner punk movement, which in turn laid the groundwork for the organized anti-apartheid movement that eventually brought the regime down. It's just a shame that Rodriguez never lived to see it—he burned himself to death onstage in the middle of a show. Or overdosed in prison. Or shot himself alone in his apartment. Or… could he still be alive? Bendjelloul's film manages to create an aura of mystery and suspense around a search that actually unfolded 14 years ago—a "detective documentary" set in the very recent past.—Michael Dunaway
1. Shut Up and Play the Hits
Directors: Will Lovelace and Dylan Southern
A year ago, hundreds of friends and thousands of fans converged on Madison Square Garden for LCD Soundsystem's farewell performance. All the while, the cameras were rolling, resulting in Shut Up And Play the Hits, a documentary that follows James Murphy and the band in the days leading up to, during and after the tumultuous four-hour farewell. Directors Will Lovelace and Dylan Southern use a staggering number of cameras and crosscut liberally to provide an experience that's arguably even better than seeing the band live (okay, maybe not quite that good but…). And the scenes outside the concert footage are equally compelling. —Michael Dunaway/Bo Moore