The 10 Best Web Series of 2012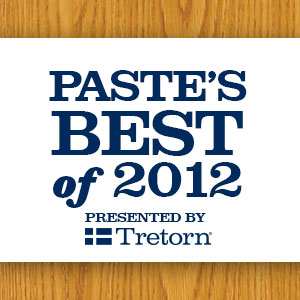 Paste's Best of 2012 series continues through Dec. 31 and is made possible by our friends at Tretorn.
The best TV isn't always on TV. Joss Whedon and Felicia Day proved years ago that a web series doesn't always mean a tiny audience. And this year, H+ also showed that it doesn't mean tiny budgets. From epic sci-fi to single-cam comedy shorts, 2012 was a great year for the web. Hulu and Netflix have even jumped into the game with the latter launching five new series in 2013 (including Jenji Kohan's Orange Is the New Black and the return of Arrested Development). Cutting the cable is only getting easier as the quality of offerings are finally catching up to their diversity. Here are the 10 Best Web Series of 2012.
10. Escape My Life
"Escape My Life" is one part blatant commercial for Ford and the other an actually funny mini-sitcom. Natasha Leggero stars as Skylar, a costume designer who signs a contract to get a free Ford Escape. What she doesn't realize is that the car comes with Barry, played by Joe Lo Trulio, a product specialist who must follow around Skylar 24 hours a day to tell her the different features of her new car. The series, directed by Zombieland's Ruben Fleischer, quickly overcomes the awkward advertisement aspect, and proves that Leggero and Trulio deserve sitcoms of their own.—Ross Bonaime
9. Jake & Amir
Every week since 2007, "Jake & Amir" have released great web videos that have not only placed CollegeHumor at the vanguard of online video humor, but have also cemented the duo as one of the greatest comedic pairs on the Internet. Jake usually plays the straight man to Amir, a lazy, unintelligent manchild that eats little more than McDonalds nuggets and believes himself to be Jake's best friend. "Jake and Amir" is a twisted take on buddy comedy that can go in weird places, and usually does, bringing thousands to see watch their newest stories every Tuesday.—Ross Bonaime
8. The Booth at the End
Hulu added original programming last year with a sci-fi series about a mysterious man in a diner who can make dreams come true…for a price. The Faustian setup is full of desperate people (including a nun who hides her cross when speaking to this particular Mephistopheles in the pilot). The threads intertwine with plenty leading to tragedy, but others leading to self-discovery. Season 2 changes diners, but the the man in the booth at the end is still making deals.—Josh Jackson
7. Brody Stevens: Enjoy It!
The comedian is a favorite of Sarah Silverman, Tim & Eric and Zach Galifianakis; he's appeared in some of the most successful comedies of all time; and he has one of the most amazing beards you'll ever see. Yet you may not know the name Brody Stevens. One of HBO Go's first digital series—Brody Stevens: Enjoy It!—follows the comedian through his ups (reuniting with his sister) and downs (getting arrested and institutionalized). His Andy Kaufman-esque style might not be everyone's cup of tea, but Brody Stevens: Enjoy It! is a fascinating look at the inner workings of a man that many believe to be a comedic genius.—Ross Bonaime
6. Hardly Working
The staff of CollegeHumor is probably the closest group the Internet has to the cast of Saturday Night Live. Their short web videos are a constant source of comedic amusement, so it's great to see the writers behind these videos in front of the camera in "Hardly Working." These sketches, which feature writers such as Streeter Seidel, Patrick Cassels and Dan Gurewitch, amongst others, are some of the best on CollegeHumor, and have birthed some of the greatest Internet characters like The Phantom of the Office and Gale Beggy. It's an office unlike any you've ever seen where time traveling and deaths are just, well, another day at the office.—Ross Bonaime
big>5. Puppet Dreams
Neil Patrick Harris is no stranger to web series. You may know him as Doogie Howser or Barney Stinson, but he'll always be Dr. Horrible to me. In his latest series, he's Neil, and he sleeps a lot, and when he dreams, he dreams in puppets. Making its home on the Nerdist channel, Puppet Dreams features decidedly adult humor—the first two episodes feature a puppet angel choir singing to Neil as he plummets to his death and puppet doctors shocked by his…er…non-puppet anatomy. Bonus points for a reunion with Captain Hammer himself, Nathan Fillion. If only the weasel had a hammer.—Josh Jackson
4. The Guild
Season 6 of The Guild picked up with Codex (Felicia Day) entering the working world while still trying to wrangle her guild members into sanity. But her dream job keeps her going, for all of two minutes before her psychotic boss and nosy guild members have her doubled up on panic attacks. This season has maintained the show's original charm and quirk factor while pushing character development to the forefront, keeping it entertaining without being cliché. A new episode airs on Geek and Sundry (Day's indie, Youtube channel brainchild) every Tuesday.—Frannie Jackson
3. Comedians in Cars Getting Coffee
Jerry Seinfeld didn't stray far from Seinfeld's "show about nothing" concept for his 2012 web series, Comedians in Cars Getting Coffee. Each episode features nothing more than Seinfeld picking up a different comedian and taking them out for a cup of coffee either in New York or L.A. It's the perfect format for Seinfeld's everyday, "did you ever notice?" comedic style, however, as he riffs hilariously with guests like Alec Baldwin, Ricky Gervais and Larry David on everything from old stand-up stories to the meaning of the look the waitress just gave them. The most affecting, heartfelt and funniest episode is the series' last, in which Seinfeld takes out former co-star Michael Richards, who opens up about his post-Kramer life and takes Seinfeld on an ill-fated detour to meet Sugar Ray Leonard. Read our review of the series' first episode featuring Larry David here. You can watch all 10 episodes for free at comediansincarsgettingcoffee.com;Ryan Bort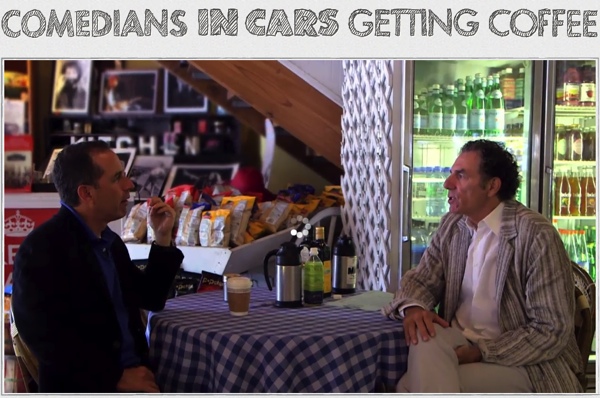 2. H+: The Digital Series
With 48 episodes, Bryan Singer as a producer and a budget over $1 million, H+ is not your average web series. The futuristic show is centered upon "H+," a cutting-edge implant that wires the human brain to the Internet. When a mysterious Internet virus kills one-third of the world's population, the implant's creator is left searching for answers. And so begins dozens of flashbacks and flashforwards surrounding the cataclysmic event, leaving you to piece together the story. While the anachronistic plot would leave even J.J. Abrams puzzled, wading through the confusion is worth it as character connections are slowly revealed. Plus, who doesn't want to see Alexis Denisof (of Buffy and Angel fame) speak with an Irish accent? Two new episodes air on the H+ Youtube channel every Wednesday.—Frannie Jackson
1. Burning Love
It's amazing that it's taken this long for someone to make a great parody of reality TV. "Burning Love" stars The State's Ken Marino as Mark Orlando, a bachelor fireman who just wants to find love. Mark goes on the show "Burning Love" with 16 bachelorettes to find the right girl, all while Michael Ian Black as Chris Harrison hosts. In the first season, Mark met the sweet Christian Mandy, played by Kristen Bell, Ken Jeong as the ballerina Ballerina and Natasha Leggero, the slutty girl who never wears pants. Like the stylistically similar Children's Hospital, it's hilarious in how close it gets to the source material it parodies, with a great cast of unusual, but familiar characters.—Ross Bonaime