The 15 Best Gadgets of 2012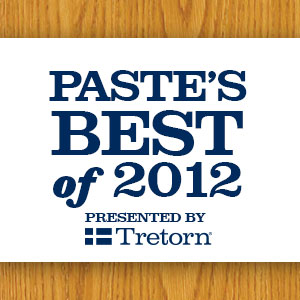 Page 1 of 3
Paste's Best of 2012 series continues through Dec. 31 and is made possible by our friends at Tretorn.
With Tim Cook taking the reins at a transitioning Apple, it seems like there's no better time for others to pounce with their own advancements in smartphones, tablets and laptops this year; We've seen great advancements from the likes of Google and Samsung on that front.
But what's more exciting are the unexpected surprises we see on the gadget front. This year, we saw awesome advances in cameras, speakers—even lightbulbs experienced great improvements. Here are our 15 favorites gadgets of 2012. Tell us yours in the comment box below.

15. Switch Lighting Co. Switch Bulb
From $43


The first LED lightbulb range that can replace pretty much all of your traditional bulbs. Switch's appeal is as simple as that—until now, if you wanted to replace traditional lightbulbs in your home for low-energy ones, you'd immediately run into trouble if you wanted to mount one in an awkward place, or you wanted it to run bright at 100 Watts, or even if you wanted one on a dimmer.
Switch's bulbs also feature a unique liquid-cooling method and they look great too. Sure, they're pricey per bulb, but as each bulb is reckoned to last up to 25 times longer than conventional incandescent bulbs, they've made low-energy lighting pretty much a no-brainer.—Simon Munk
14. TDK Wireless Sound Cube
$299


It's stylish, functional and super portable—anything a tech-loving music fan could ask for. TDK's latest wireless design is the Sound Cube, which is essentially a room-filling sound device that sits at one point in the room. The cube device features four 2" drivers, two 5.25" passive radiators and a 5.25" subwoofer in a complex package: enough power to crank some tunes on a Friday or quietly fill a room on a Sunday morning. Add in auxiliary ports and a charging port for USB devices and a remote control and you've got one of the most effective portable stereos on the market.—Tyler Kane
13. GoPro Hero3
From $199


What got its start in extreme sports and has been recently billed as the world's most versatile camera just got a little more powerful. The GoPro Hero3 takes what many loved about its easy-to-use, super-sturdy predecessor and improved with a smaller size, lighter weight and much more power. With built-in Wi-Fi Remote and compatibility with any tablet that runs a GoPro app, here's a camera that's not just for extreme sports enthusiasts anymore.—Tyler Kane
12. Samsung Galaxy S3-
From $199 with service plan


This is it: the King Daddy of all Android super-phones. Featuring a beautiful design that feels great (even in one hand) and an incredible, perfectly-sized 4.8-inch display, this phone became the one to beat in 2012. Samsung's Android overlay really came into its own here: not only was the user interface easy to understand—even for first-time smartphone owners—but it was also decidedly powerful. The Galaxy S3's ability to easily share data via NFC with its S Beam feature or its ability to truly multi-task with Pop Up Play, or even its Smart Stay feature that detects whether or not you've fallen asleep while reading, make it one of the most feature-rich phones on the planet. Powerful, beautiful, and as feature-loaded as can be, the Galaxy S3 has changed the way many of us look at our cellphones.—Nathan Snelgrove
11. Kindle Paperwhite


$119
The Kindle Paperwhite is a huge step up for the Kindle lineup, and one that makes what was already one of the best e-readers around far better. The improved resolution is the first huge deal: with over 60 percent more pixels than previous Kindles, the Paperwhite is a big step up as far as pixel density goes. It's not a Retina-quality screen, but it's a huge (and necessary) improvement that makes the Paperwhite a little closer to the paper-like quality that Amazon has been pushing all along. Beyond that, a new built-in light can increase the screen's brightness for night-time reading without damaging your eyes. Thanks to the e-ink screen technology, the Kindle is a lot gentler to read than any LCD screen, and the Paperwhite is easily the best Kindle e-reader yet. My advice? Get the $140 model without advertisements.—Nathan Snelgrove