Paste's 15 Best Live Photos of 2012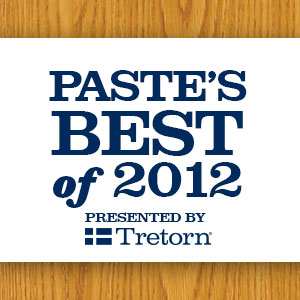 Concert photography can be a tough task. With so many factors that contribute to the beauty of a live performance, it's the photographers job to express the chemistry between the musician and the crowd with only silent, still images. A live photo can be great for many reasons, whether it captures a crowd's vitality from a unique angle, catches the musician in a particularly intense moment or reveals the sweaty camaraderie of a hot, sticky festival. These 2012 images from Paste photographers all have that extra spark. See all the photos at the bottom of the list.
15. Childish Gambino – Bonnaroo
In this photo from Mark C. Austin, Donald Glover's electric stage presence is evident in his feirce facial expression.
14. Diamond Rugs – Atlanta, Ga.
Clint Alwahab shows the white-hot intensity of supergroup Diamon Rugs' performance with this closeup.
13. The Atlas Moth – Pitchfork Music Festival
Call if passion, concentration or just plain fun, this facial expression captured mid-song by Josh Darr makes for quite an insight into Atlas Moth's performance.
12. Foo Fighters – Deluna Festival
Although the Foo Fighters may be on hiatus now, the band is known for frontman Dave Grohl's live sets that don't hold back. Allyce Andrew's photo of Grohl shows just why they're such a great live band, hair-flip and all.
11. The Lumineers – Seattle, Wash.
All-access at The Lumineers show allowed Chris Nelson to snap this shot of the enormous crowd during The Lumineers' set, giving us a small insight as to what it's like for these guys during their performances.
10. Gogol Bordello – Hangout Music Festival
Gogol Bordello is known for outrageous antics onstage, so it was no surprise that photographer Mark C. Austin was able to snap this sweat-streaked shot at Hangout Fest.
9. Of Monsters and Men – Chicago, Ill.
Taken from behind these Icelandic folksters, this photo from Josh Darr visually expresses the chemistry that allows for such fabulous harmonies.
8.Givers – Fun Fun Fun Fest
Allyce Andrew provides a glimpse into the fun of Fun Fun Fun Fest with this mid-motion shot of Givers.
7. Grace Potter – Atlanta, Ga.
Bobby Russell shows us why audiences all over the country have been captivated by Grace Potters flailing dance moves and rock-star stage presence.
6. Bloc Party – Chicago
In another backstage shot, Josh Darr captures the expansive crowd erupting over Bloc PArty's emotive performance.
5.The Flaming Lips – Hangout Festival
It's no surprise that Wayne Coyne provided a visually stimulating performance for fans in Gulf Shore, Ala., but that doesn't make Mark C. Austin's confetti-filled photo any less awesome.
4. Sleigh Bells – FYF Fest
This picture of the noise pop duop against a grey sky a great snapshot of their chemistry on stage.
3. Arctic Monkeys – The Woodlands, Texas
This mid-air shot from Mark C. Austin embodies all that's fun and rowdy about the Arctic Monkeys in concert.
2. Andrew WK – Atlanta, Ga.
Taken within the expansive crowd, you can see why every show with Andrew WK is a party.
1. Matt & Kim – Seattle, Wash.
You never know what kind of madness Matt & Kim will cook up in their live performances, and Kirk Stauffer's photos from their performance in Seattle express the best of this high-energy duo.
Check out the gallery below for the 15 Best Live Photos of 2012, and then peruse the links above for the full galleries.
Others Tagged With