The 15 Best Paste Live Videos of 2012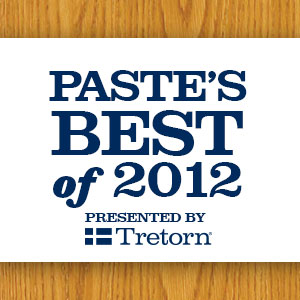 Page 1 of 3
Obviously, we at Paste are fans of live music. From witnessing the performance tradition at Newport Folk Festival to scouting out new bands at SXSW, we're always after the next great concert experience. And we're often able to document these amazing performances. Whether we've sought them out at festivals or they've been kind enough to grace us with their presence at the Paste office, here are the 15 best live videos we recorded this year.
15. March Fourth Marching Band – "Science"
This enormous band is every bit as fun as their name, which is taken from the Fat Tuesday on which they were formed. Naturally, their outrageous rendition of new track "Science," filmed at a playground at Telluride Blues and Brews Festival is no less enthralling.
14. Hospitality – "Friends of Friends"
Our Paste parties during SXSW are always a good indicator of which bands we'll be seeing more of, so when Hospitality's album made our Best of 2012 list we had to look back at their performance at the Stage on Sixth. Needless to say, their on-stage chemistry and unfailing energy comes alive in this video of their song "Friends of Friends" live from Austin.
13. Hey Rosetta! – "Seventeen"
This summer we took Live at Paste on the road, stopping off at Aloft hotels around the country and collecting videos from our favorite artists in various cities. This video of "Seventeen" encompasses the acoustic sound and upbeat nature we've come to love about the Canadian band.
12. Arkells – "On Paper"
When the Arkells stopped by our office, they played through a few high-energy tunes and even did a Hall & Oates cover. Needless to say, it was a welcome work-day treat.
11. Reptar – "Sebastian"
Reptar is a band that really thrives in a live setting. Lead singer Graham Ulicny has a knack for getting the audience involved, and it's evident in this video from the Paste SXSW party. Unconvinced? Watch as somewhat-forced hand holding transforms into a "nasty" dance party.