The 20 Best Mobile Games of 2012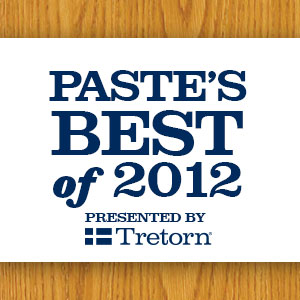 Page 1 of 2
Paste's Best of 2012 series continues through Dec. 31 and is made possible by our friends at Tretorn.
A good mobile game understands the power of impulse. It should be cheap enough to rack up impulse buys, like a candy bar or tabloid in a grocery store check-out line. It should also be quick and easy enough to pick up, plboyfrienday and then put away at a moment's notice. Our list of the best mobile games of 2012 is full of games perfect for brief patches of free time, but with unlockable perks or deeper mechanics that will keep you engaged past those fleeting moments.
Our list was voted on by a number of regular freelance contributors to Paste's games section and then tabulated and compiled by Paste's games editor Garrett Martin (aka me). Ballots were cast by myself, Simon Ferrari, Ryan Kuo, J. P. Grant, Richard Clark, Stu Horvath, Mitch Krpata, Joe Bernardi, Dan Crabtree, Luke Larsen and Casey Malone. Here are the 20 best mobile games of 2012.

20. Pocket Planes
Developer: Nimblebit
Platform: Android / iOS
Pocket Planes buzzes like a good pop song. The gameplay is repetitive, catchy and best in small doses. It's pure and simple pop gaming—addicting, sweet and crunchy, but sure to leave you with a mouth full of cavities.—Luke Larsen

19. Hero Academy
Developer: Robot Entertainment
Platform: iOS
Since the success of 2009's Words with Friends, developers have been eagerly trying to find a way to implement its turn-based multiplayer format into other games and genres on mobile devices. Hero Academy is one of the first games to make that multiplayer format work in another genre—in this case, the strategy board game. Excellent use of multiplayer matchmaking aside, Hero Academy is a surprisingly deep tactical strategy game that forces the player to think, overthink and agonize over every move they take. That alone is the mark of a compelling strategy game.—Luke Larsen

18. Uplink
Developer: Introversion Software
Platform: iPad
Imagine the '90s cyber-crime movies Hackers or Sneakers in videogame form. That's Uplink, a remastered version of the 2001 PC hacker sim. Few games effectively exploit the balance between power and vulnerability. Uplink does. Hacking a well-defended mainframe makes you feel like a superhero, but you never stop looking over your shoulder.—J. P. Grant

17. Call of Cthulu: The Wasted Land
Developer: Red Wasp Design
Platform: Android / iOS
It's fitting that the grim setting of World War I should figure prominently in a game about unimaginable horrors. Call of Cthulhu: The Wasted Land is the latest videogame foray into H.P. Lovecraft's Cthulhu mythos. Primarily a turn-based strategy game, The Wasted Land adapts some of the tabletop Call of Cthulhu RPG's systems. In both its mechanics and its aesthetics, The Wasted Land demonstrates keen reverence for the source material. It's a striking debut from a promising small studio.—J.P. Grant

16. Angry Birds Star Wars
Developer: Rovio
Publisher:
Platform: Android / iOS
Angry Birds Star Wars takes the best of classic Angry Birds and Angry Birds Spaceand puts it in a setting that automatically conjures warm fuzzy feelings. It's the level design here that makes this an undeniably well-refined product—it's balanced, varied, and all-around delightful to play through. One star is easy enough to figure out for casual gamers, but achieving three stars still feels like a true accomplishment. Angry Birds Star Wars is the video game equivalent of going on vacation—even if for just minutes at a time.—Luke Larsen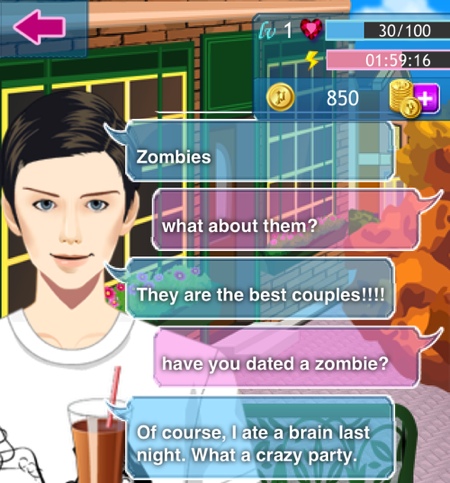 15. Boyfriend Maker
Developer: 36 You Games
Platform: Android / iOS
Sure he was a bastard and a racist, ELIZA's evil son, but he was taken from us far too soon. Boyfriend lived in our pockets for only a little over a week before being virtually jailed for his sexy crimes against users aged 4+. We cooked for him, we dressed him, and we chatted him up for five-minute spurts before he reminded us that he was out of energy. Some said it was our curiosity, or our loneliness, or the last gasp of our obsession with Asian culture. We were probably only bored, but Boyfriend was slightly less awful than most of the people who live in our computers.—Simon Ferrari

14. Super Crate Box
Developer: Vlambeer
Platform: iOS
There's a primal appeal to Super Crate Box's basic set-up for anybody who ever spent time in arcades or played the 2600 or Nintendo Entertainment System. Simple controls and self-evident goals help Super Crate Box tap into a wellspring of nostalgia, and, like Angry Birds and other easily grasped mobile games, those aspects also welcome the non-enthusiast into the fold.—Garrett Martin

13. Bad Piggies
Developer: Rovio
Platform: Android / iOS
Functional successor to Amazing Alex and spiritual successor to Angry Birds, Rovio's Bad Piggies offered mobile gamers some creative license in the developer's winning three-star physics-puzzle formula. Though not met with as much critical success, the swine's mechanical misadventure has every bit as much charm as its feathered cousin, and a dash more ingenuity.—Dan Crabtree

12. Monsters Ate My Condo
Developer: PikPok
Publisher: Adult Swim Games
Platform: Android / iOS
Monsters Ate My Condo, with its single-swipe gameplay and seizure inducing neon aesthetic, kept me up at night. Sitting in bed, lit only by my iPhone, I tried to keep the monsters happy while growing my tower ever higher. But like the best endless puzzlers, it beat me again and again. Deleting it was the only way to get a good night's sleep ever again.—Casey Malone

11. Angry Birds Space
Developer: Rovio
Platform: Android / iOS
Angry Birds Space transports all the unpredictability, frustration and addiction of Angry Birds to outer space. It takes the basic foundations of the original and supplements them with various gravity effects. It's not too dissimilar to Super Mario Galaxy in that way—the basics of an old favorite reinterpreted with new physical twists. It tweaks the formula enough to justify its existence and to send even the most reformed Birds fanatic into a time-devouring relapse.—Garrett Martin
Others Tagged With