The 20 Best Webcomics of 2012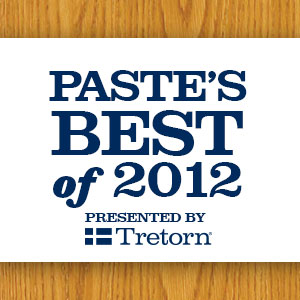 Page 1 of 2
Paste's Best of 2012 series continues through Dec. 31 and is made possible by our friends at Tretorn.
As we tried to sift down the best webcomics to a reasonable number, Paste realized one thing: There are many, many, many webcomics on the internet. Most good and some great, their panels stretch endlessly throughout cyberspace like stars in the galaxy. The biggest challenge for webcomics authors isn't just providing captivating content, but letting the public know it exists. Every binary nook and cranny hides an amazing amount of talent that could very well be published by any major comic hub, which unsurprisingly, has been happening quite a bit lately.
Two of the authors on this list began writing printed monthlies of major properties this year alone, but it also works the other way as well. Some the of the folks below hold formidable resumes filled with the most iconic characters in mainstream comics or cool projects in animation and beyond. The medium is an anarchy of talent and experience. Format, content, approach, and sanity vary wildly, with pixelated dinosaur clip-art standing side by side with aristocratic swords-women. And it's all amazing. With the above in mind, a curt warning: if your'e looking to confirm the webcomics you've been reading since you've been literate, you've come to the wrong list. Paste has honed down an eclectic gaggle of the work that made us laugh, cry, and occasionally cringe, offering one sample of the brilliant diversity of work available within a few keystrokes.

20. Three Word Phrase
by Ryan Pequin
Ryan Pequin has been producing comics for a long time at a swift pace. Often filthy but gleefully so, his strips have become more polished over the past few years while remaining improvisational and imaginative. Rendered in a goofy, cartoony style, with plenty of scatological humor and cursing, Pequin's work often leave us laughing besides ourselves. (HB)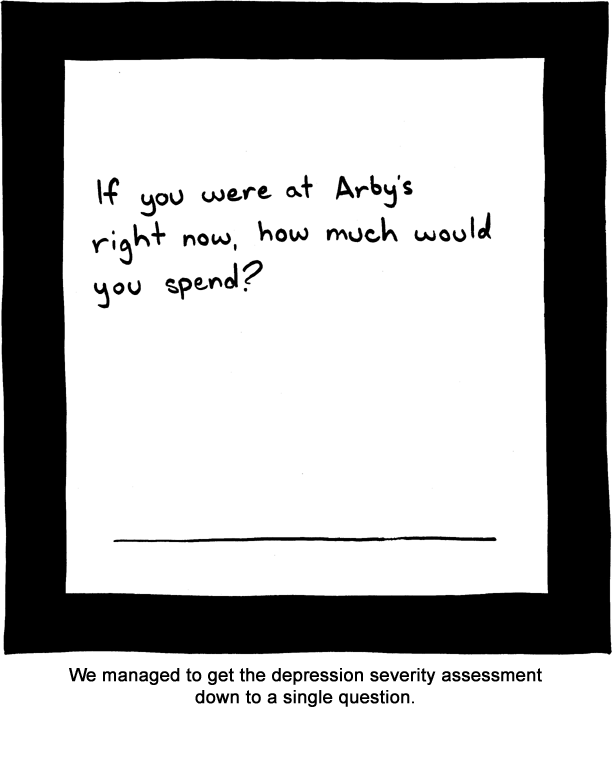 19. Saturday Morning Breakfast Cereal
by Zach Weiner
Zach Weiner has a particularly acute radar for all of the social oddities of domestic living. Looming truths and devastating realities are the punch lines waiting to slap the reader in the face after innocuous introductions. Regardless of whether the day's strip is a single graphic or tiered storyline, Saturday Morning Breakfast Cereal is a provocative voice in the webcomic community that has yet to lose its satirical edge. (SE)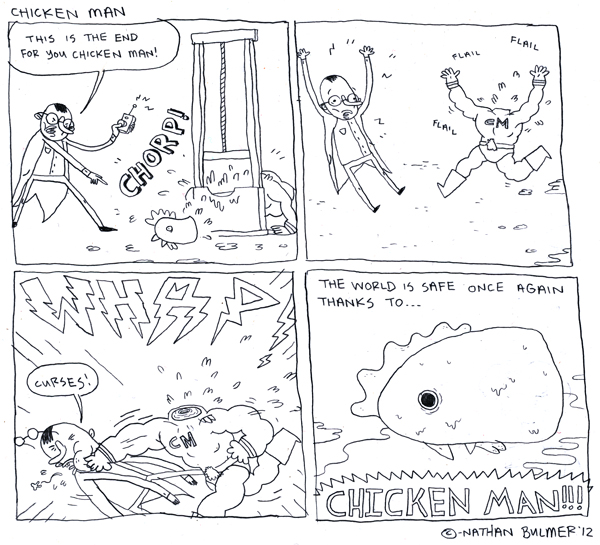 18. Eat More Bikes
by Nathan Bulmer
Thanks to Koyama Press' recent publishing of Nathan Bulmer's work, Eat More Bikes has brought many readers up to scale on a project that's been developing for a long time on a frequent basis. Bulmer updates daily, which is hard to believe considering the quality of his strip. Four panels laid out in a square allow for consistent pacing, and he loves to switch things up in the final reveal, often upending expectations. There's nothing particularly deep going on here, but Bulmer covers an impressive variety of topics, and the humor is appreciably dirty and silly in equal parts. (HB)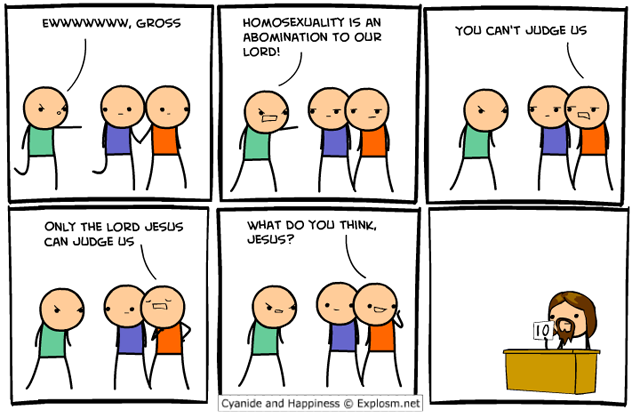 17. Cyanide & Happiness
by Kris Wilson, Rob DenBleyker, Matt Melvin, and Dave McElfatrick
The double entendres and non sequeturs have flown furious and daily from Cyanide & Happiness since the strip's creation in late 2004. There aren't too many lines authors Kris Wilson, Rob DenBleyker, Matt Melvin, and Dave McElfatrick won't cross, but it's hard to be offended when you're laughing so hard. It also takes rare guts to devote your webcomic to a depression week where jokes are substituted for soul-crushing anticlimax panels that still manage to be witty. Welcome to the funniest buzzkill on the Internet. (SE)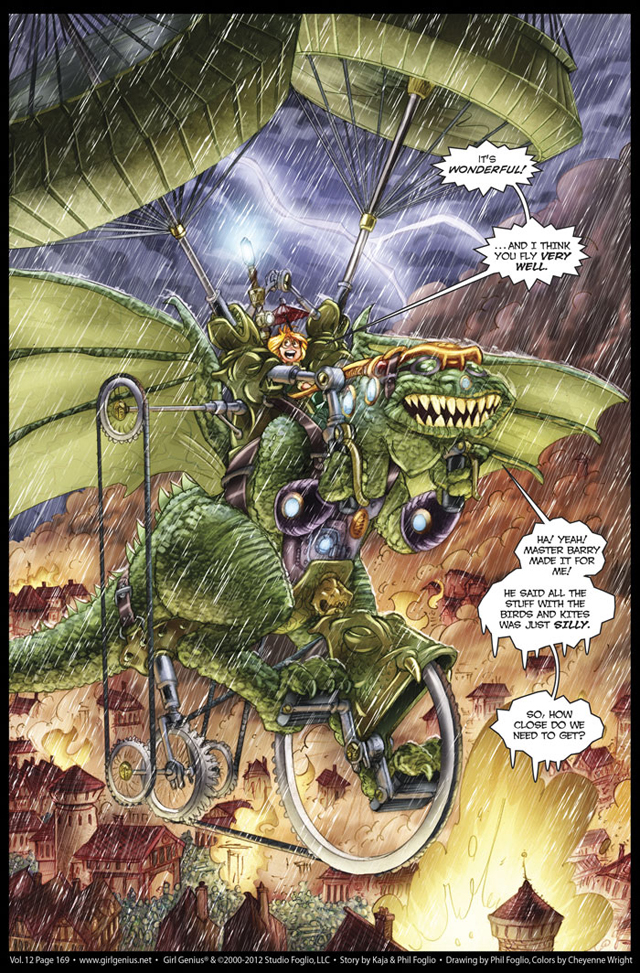 16. Girl Genius
by Kaja Foglio, Phil Foglio, and Cheyenne Wright
One of the longest-running comics on this list, Girl Genius is a treasure of lavish art and pulpy twists. Like a cross-breed between Ralph Bakshi's animated features and Philip Pullman's His Dark Materials novels, Girl Genius features an intoxicating "Gaslamp Fantasy" universe where science and whimsy coexist in all of the best ways. After eleven years, Agatha Heterodyne remains one of the most relatable heroines in any medium, flexing smarts and sass without the use of lingerie. (SE)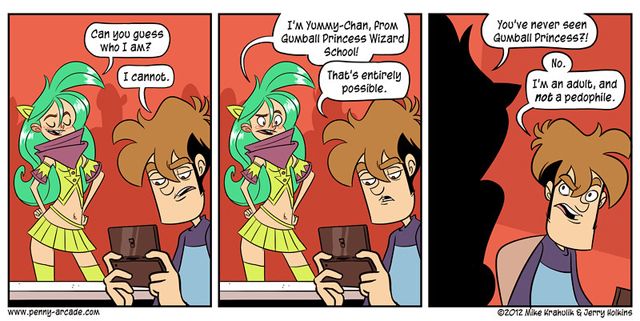 15. Penny Arcade
Jerry Holkins and Mike Krahulik
Since its debut in 1998, Penny Aracade has dominated the webcomic genre with its hardcore gamer appeal and vibrant art. Writer Jerry Holkins and artist Mike Krahulik channel themselves into two-dimensional avatars Tycho and Gabe, tackling timely industry news three frames at a time. In addition to some sharp and occasionally controversial writing, Krahulik's vivid illustrations take the production value of webcomics to a gorgeous standard with absorbing colors and concrete storytelling. It may only take a few seconds to read the latest pun from this odd couple, but the sweat poured into these panels will make the eye linger for far longer. (SE)



14. Girls With Slingshots
by Danielle Corsetto
Girls With Slingshots is one of the best online sitcoms you're not reading. Featuring an ensemble of wandering 20-somethings with very real problems and dreams, it's hard not to feel an intimate bond with Hazel and her circle that extends past their two dimensions. This year introduced some rough patches for the cast, but the recent focus on dating party fouls has provided a hilarious balance on the rom com tight rope. We can only hope that the recent "Our Boobies Are Magic" brochure is included in the next print volume. (SE)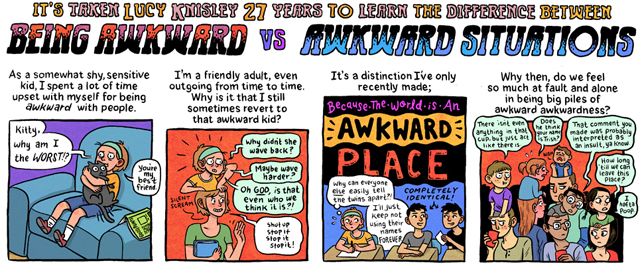 13. Stop Paying Attention
by Lucy Knisley
Lucy Knisley's web comic isn't updated all that frequently, but when it is, it's worth the wait. Knisley's not afraid of words, and her multipanel contributions are meditative, introspective, and smart. They also convey process, in the sense that she's usually working through an idea rather than driving toward a thesis. And they're lovely. Knisley has a rare gift, and she seems to keep getting better. Her coloring is a pleasure, incorporating a rainbow of bright hues without anything clashing, and her hand lettering is clear and distinctive. Knisley has longer projects in the works, but her Web site shouldn't be overlooked. (HB)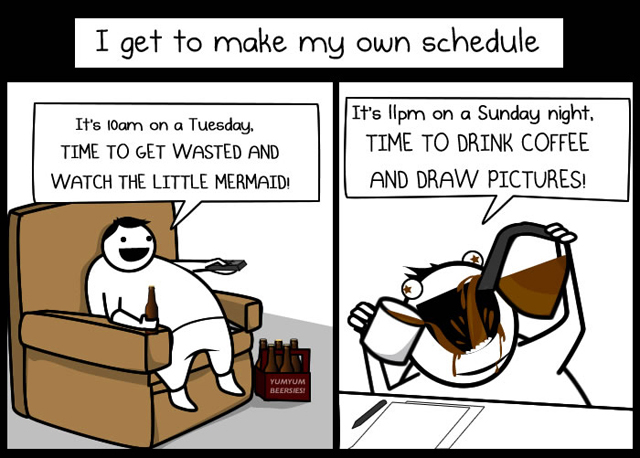 12. The Oatmeal
by Matthew Inman
Matthew Inman's career may have been eclipsed this year by a certain Tesla museum fundraiser and a legal battle that resulted in a $220,000 donation to the National Wildlife Foundation and American Cancer Society, but that doesn't mean that the The Oatmeal hasn't remained one of the coolest webcomics around. Meticulously researched and bitingly funny, Inman continues to mine the annals of desktop culture to provide some of the most relevant commentary on the binary generation…or whatever esoterica catches his fancy that day. (SE)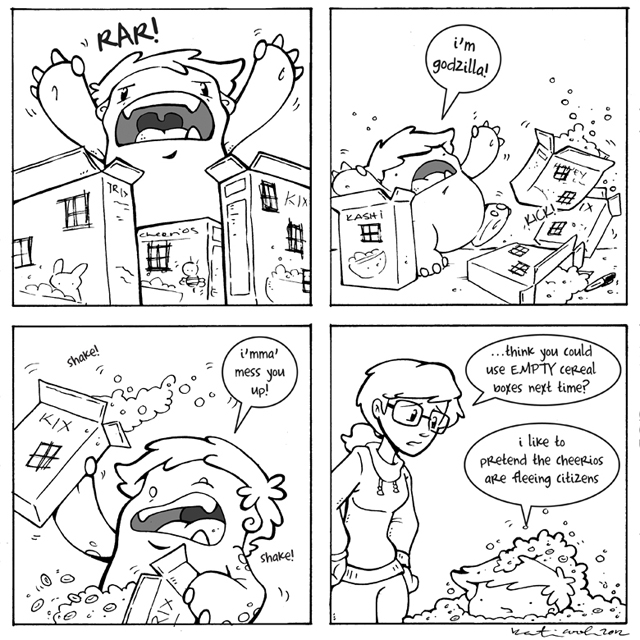 11. Gronk
by Katie Cook
Much like Ryan North, Katie Cook creates endearing webcomics about scaly green monsters while supporting a day job on the print comic of a major cartoon (the deceptively cool My Little Pony: Friendship Is Magic in Ms. Cook's case). It's not hard to see why Cook is in such demand; Gronk is that rare all-ages creation that manages to elicit belly laughs with a heaping side of adorable. The comic stars a snaggletooth monster who cohabitates with a quarter-life-crisis cutie, (a creative in a cardigan and black-frame glasses? When can we cast Greta Gerwig?) her goofy cat, and lovable Newfoundland. Along with the occasional chocolate chip pie recipe, this is chicken soup for the websurfer's soul. (SE)